Reception blog
Ann Brown (a.brown) on: Reception blog
It was lovely seeing everybody at parent's evening. We hope it was helpful and informative.
This week we have been writing speech bubbles, encouraging the children to segment the words as they write. In our maths work the children have been learning to use the language of more and fewer and comparing sets of objects. They have been working practically to find 'one more' using numbers up to 20.
Thank you for all your donations for 'Children in Need'. The children have thoroughly enjoyed dressing up today, making Pudsey Bear masks and counting spots.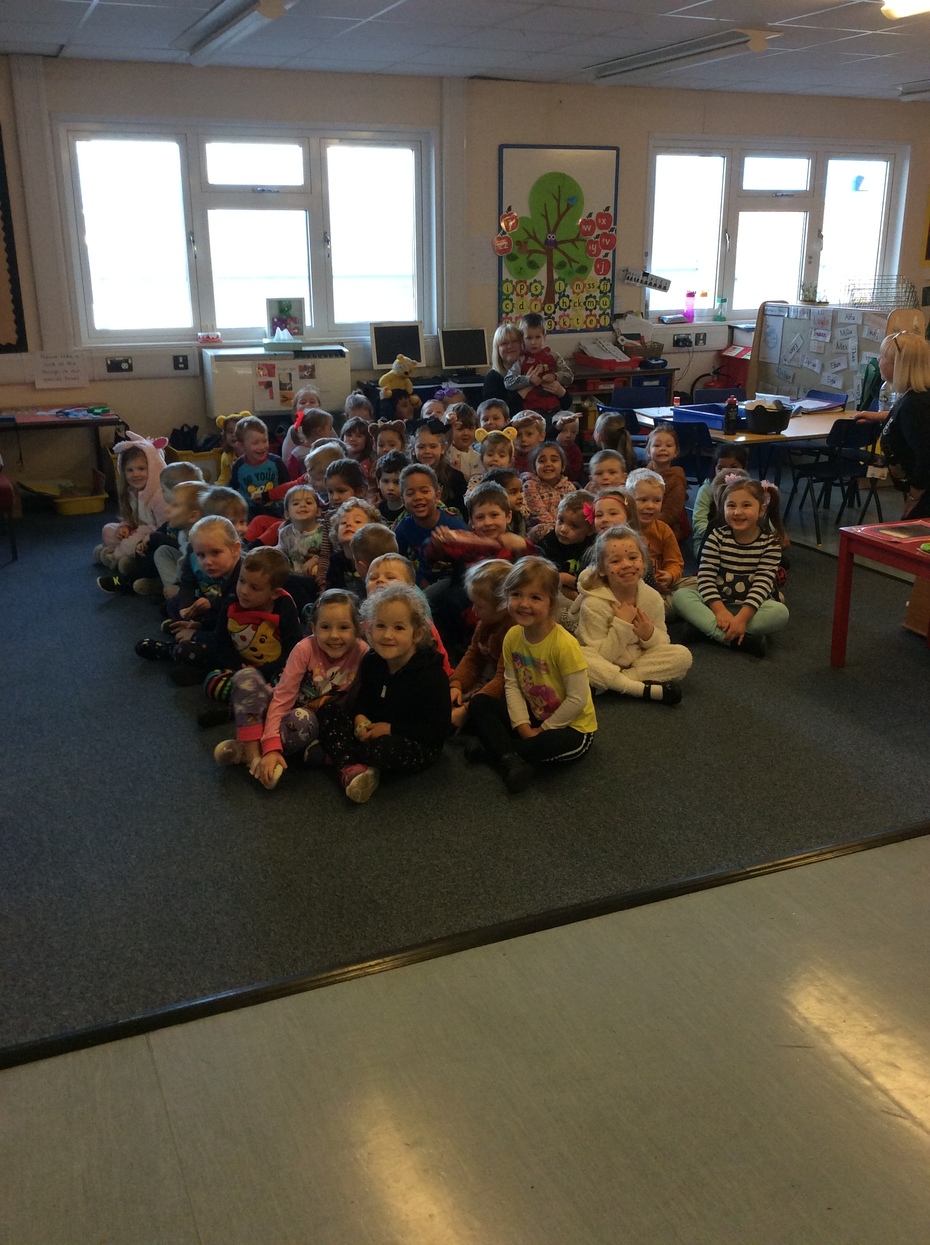 ---
Autumn 2 Week 2
Ann Brown (a.brown) on: Autumn 2 Week 2
As part of our work on Traditional tales, this week we have been retelling the story of Little Red Riding Hood. The children have been segmenting and writing cvc words to create a list of things to take to Granny. They are enjoying dressing up as the characters and acting out the story in the home corner.
In phonics we have have started to learn the phase 3 graphemes. We hope you are enjoying listening to your child read. Don't forget to sign the reading record book each week and make sure it is brought into school every day.
In maths we have been looking at money, identifying and naming each of the coins. Why not give your child the job of buying something at the shop and letting them have experience of handling small amounts of money. The children have shared their experience of Bonfire night and have enjoyed printing pictures of the night sky.
---
Reception class
Ann Brown (a.brown) on: Reception class
We have begun our new half term on the theme of Traditional Tales. We went to the Nature area, to explore signs of Autumn and to search for characters from traditional stories. We found lots of pigs hiding, counted them carefully and then used natural materials from the environment to build houses for them, just like in the story of The Three Little Pigs.
We are sharing lots of traditional tales at school - you could read these together at home.
This week, we have given all the children a reading book and reading record. Please could you listen to your child read their book regularly and write a short comment/sign to say you have done so. Please send the book and reading record in each day, in your child's book bag. Thank you!
The children are continuing to enjoy hunting for shapes around the classroom and printing with shapes to create pictures and patterns. We have been discussing the properties of the shapes and using their correct mathematical names.
Outside, we have loved developing our fine motor skills by investigating and decorating pumpkins and playing amongst the fallen leaves.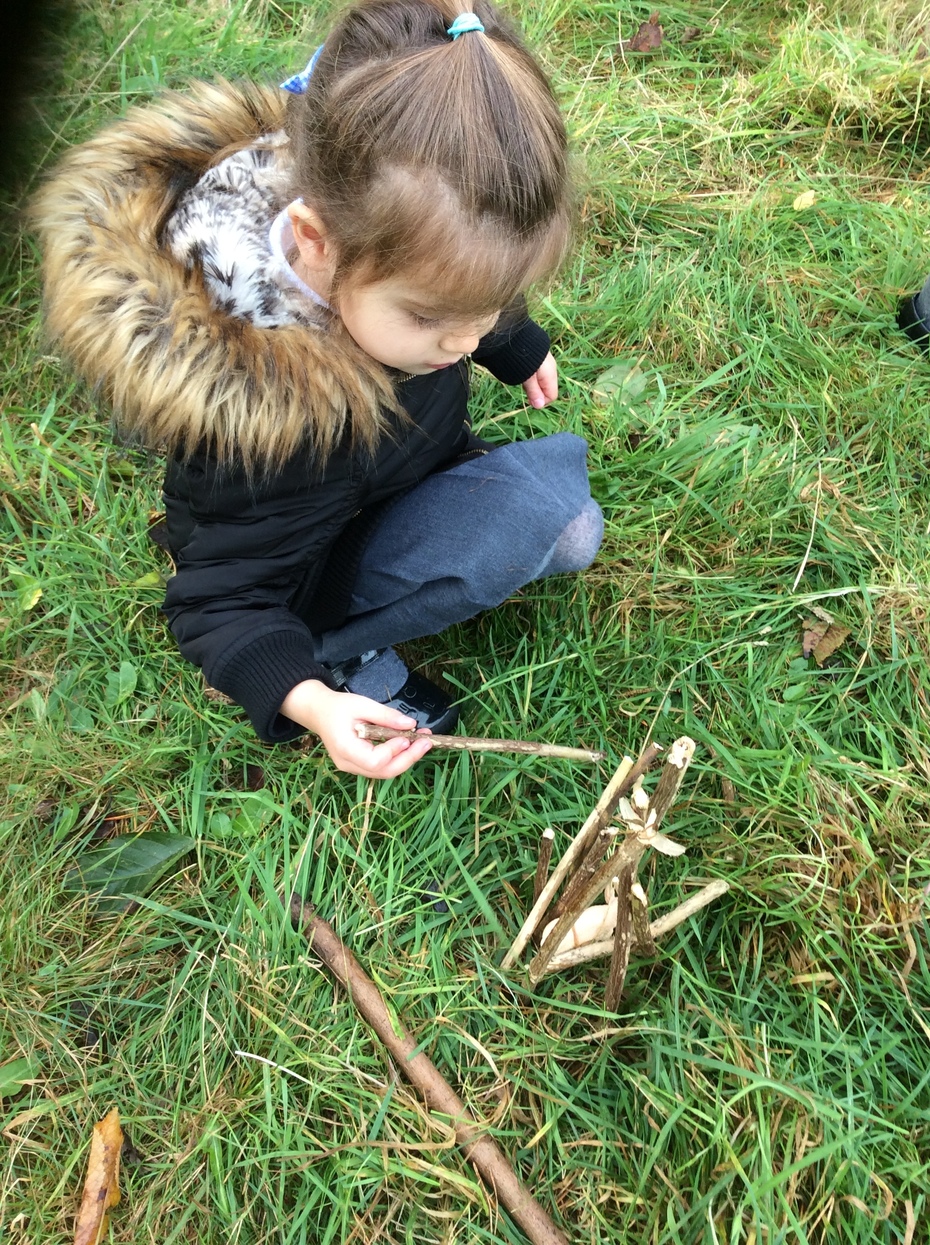 ---
Reception
Ann Brown (a.brown) on: Reception
What a wonderful start to the week we had. Our school trip to Cannon Hall Farm was fantastic and everyone had a thoroughly good time. The weather was perfect, our parent helpers were brilliant and all your children were very well behaved. The children started the day playing on the adventure playground and then we had our lunch. This was followed by a tour around the farm with one of the farm guides. The children saw a lovely variety of animals and were lucky enough to see the farmer milk one of the cows. They were also given the opportunity to stroke a rabbit and a guinea pig. The meerkats were wonderful and definitely one of the highlights.
The children have enjoyed coming to school in their P.E kits and although the weather has been a little disappointing, we have enjoyed having a jog around the playground, dancing to songs on the carpet and some of us have even tried to sing and dance in the rain.
---
Enter text...
Reception Blog Summer 1 week 6
Our caterpillars have now become beautiful butterflies! We waited for a dry, sunny day and released them outside successfully. They were so ready to fly away and we enjoyed a moment of magic as we watched them start on the next part of their adventure!
We are continuing to enjoy listening to classical pieces every day. We loved 'Jupiter' from The Planets Suite and are now listening to Handel's Water Music. We are learning songs about mini beasts which we are looking forward to performing in our class assemblies.
We are exploring floating and sinking outside whilst the weather is so good. The children have been making predictions and testing them. We have also been finding half and sharing between 3 and 4 groups in Maths.
We hope you have a lovely week and look forward to seeing the children back after the break, when we will be starting the half term with a visit to our school allotment to plant some seeds.
Reception Class
admin on: Reception Class
We all had a fabulous end to last week! Race for Life was a great success - please continue to send in any outstanding sponsor money. Our healthy picnic on Friday afternoon was also lovely - the children enjoyed making and sharing fruit kebabs and other healthy snacks.
This week all of the children had an opportunity to visit their new teacher and classroom, they all enjoyed themselves and are looking forward to having an exciting time in year one. We have rounded off this week with a very successful Sports Day. The children thoroughly enjoyed themselves and had great fun running, jumping and even throwing a javelin. We hope you enjoyed watching the various events.Thank you for all your support, especially those very healthy parents who took part in the parent races.
---
admin on: Reception Class
First of all, a big thank you to all who attended our class assemblies. The children were very pleased to see you there and were proud to share their learning. We hope you enjoyed the songs and seeing what we have been learning in recent weeks.
This week, we have visited the allotment with Mr. Fowler and found out about the different fruits and vegetables growing there. These included beans, potatoes, raspberries, strawberries and some spiky gooseberries. We talked about how to tell whether the fruits were ripe and why the tomatoes need to be inside the polytunnel. The children could talk about plants needing sunshine and water to grow. We are looking forward to tasting some of the produce soon!
We have been practising for Sports Day with the Total Sports coaches, working on our running, throwing and catching skills. We look forward to seeing you at Sports Day next week.
We are excited about our trip to Cannon Hall Farm on Monday and are looking forward to seeing the animals and finding out what happens on a working farm.
---
admin on: Reception Class
We have continued to explore the world around us this week, enjoying looking for minibeasts outside. We seem to have a lot of stripy snails in the Reception garden!
We have been reading the story 'On the Way Home' by Jill Murphy and thinking of ways we can change the story to create our own pages. We will be writing these up to create our own class books. The children have loved this story and it has inspired them to retell it in the form of puppet shows and role play.
We took part in the school performance poetry event on Monday morning, performing two poems about caterpillars, linked to the growth mindset theme used throughout the event. The children did brilliantly and used loud, clear voices and lots of actions. Well done!
The seeds that we planted with Mr Fowler are already beginning to grow. We are observing the changes carefully and the children have been delighted to see them grow so quickly. We also have some tomato and strawberry plants in our garden, which the children have been looking after.
---
admin on: Reception Class
Despite the miserable weather, we've had a great start to the new term. At the beginning of the week Mr. Fowler, our school caretaker, came to help us plant some seeds. We will keep these watered and watch them grow in the classroom. We have already visited our school allotment and plan to go again to find out how the fruit and vegetables are developing.
We have been writing instructions about how to plant a seed, using 'bossy verbs'. In maths we have been solving problems with number doubles.
On Thursday (Polling Day) we enjoyed spending the day in the Year One classrooms and exploring the different resources. The children were enthusiastic about the change in routine and were a credit to you all. Well done for having such confident, resilient children!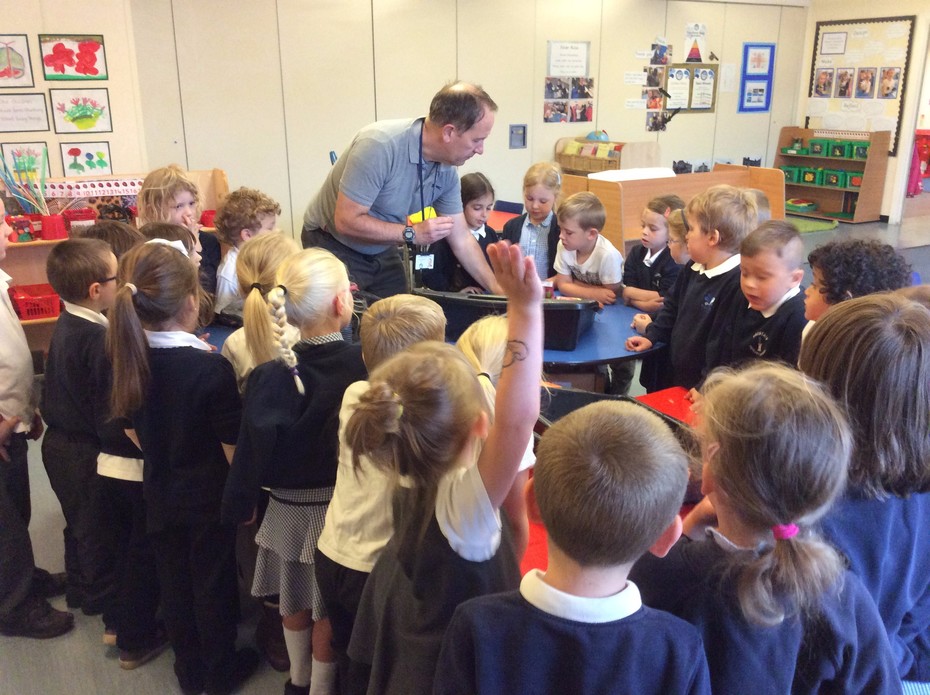 ---
admin on: Reception Class
Despite the weather, this week we have continued playing outside in our mud kitchen. You may have noticed our muddy shoes and clothes. Thank you for being understanding about this as we are having a fantastic time in it! We have continued to learn our story 'The Enormous Turnip' and we made story maps to help us retell the story. We have been thinking about 'one more' and have used it a lot when playing. We have also been practising writing our numbers. The older children have been learning about the 'g' sound and have been making silly soup. Our younger children have been listening carefully to musical instruments and trying to copy patterns. We look forward to seeing you next week at stay and play where we can show you all the things we have been learning this half term!
---
Reception Blog Summer 1 week 4
This week, we have been enjoying listening to classical music as we have been coming into Reception. We like the marching sound of Aaron Copland's 'Fanfare for the Common Man'! We then designed and made instruments to accompany ourselves when we sing our mini beast songs. We thought about ways to join materials together and how to decorate the instruments to look like mini beasts. We have been reflecting on our work and are very proud of our creations!
We have been practising counting backwards in Maths, which we are using to help us subtract. You could practise counting back at home.
We are now starting to attend whole school assemblies, in preparation for transition to Year 1. We will now begin to award 'Star of the Week' certificates on Fridays.
Reception Blog Summer 1 week 3
We have been continuing to think about how we care for animals this week, with the arrival of the Fountain Pet Shop in our role play area! We are using this to think about how we look after pets carefully and also to practise using money as we buy and sell items.
We have begun to learn the story of 'The Very Hungry Caterpillar' and are very excited that our own caterpillars have now built chrysalises around themselves. The children love observing and discussing these and are looking forward to what comes next!
In PE we have been pretending to be different animals, learning to jump in different ways. We have been kangaroos, frogs and gazelles. We loved pretending to move around the jungle!


..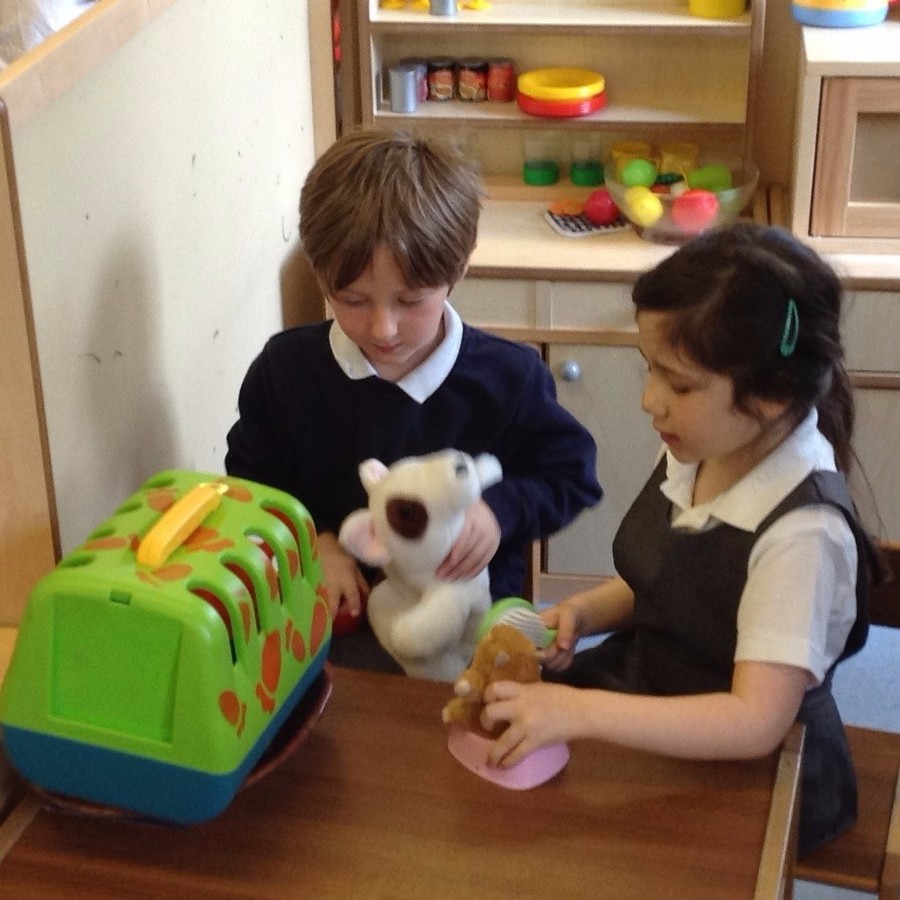 Teacher's Blog: Week 6
This week, we have been bringing in teddies from home so that we can make things for them in our various areas of provision. We have seen castles for dragons in the blocks and some amazing outfits and furniture in the workshop! The children have certainly been inspired, working with a clear purpose and function in mind for their models.
Miss Gordon has been continuing to work with the children on the theme of how we keep ourselves healthy and safe. We have been listening to stories about why we should wash our hands and how we cross roads safely. We practised using a zebra crossing in our playground and talked about how we stay safe when we are out and about with our parents.
In Maths, we are working on time this week. We are thinking about what happens at different times of the day and timing how long various activities take.
We hope you have a lovely Easter break and we are looking forward to the visit from Zoolab on the first day back after the holidays! We would welcome any electronic contributions to the children's profiles on 2Simple, if you would like to let us know about any exciting experiences or learning over Easter. Simply reply to the email you were sent from 2Simple containing your child's profile.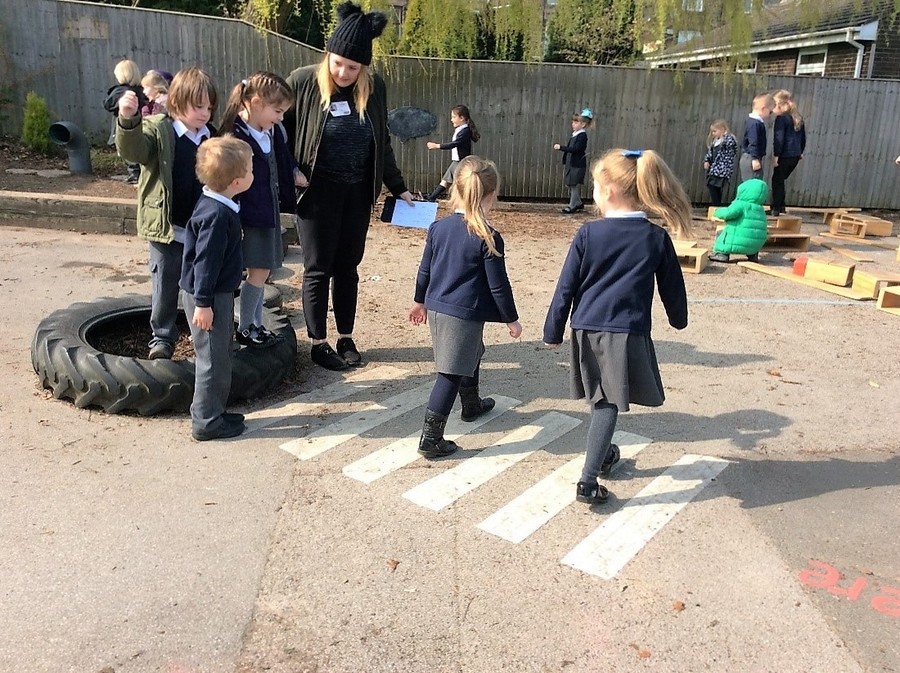 Teacher's Blog: Week 5
This week in Maths the children have been exploring weight and learning how to use a balance to compare the weight of objects. In Literacy we have been enjoying reading 'Five minutes Peace'. We have been retelling the end of the story and writing some fabulous sentences about it.
Last week, as part of 'Black History week', we started to create some beautiful artwork thinking about skin tone and close observation. These are now complete and will be on display in the main school building for all to see.
The children may have mentioned that we have a new teacher in Reception. Miss. Gordon is a teaching student who will be working primarily with RPB over the next 8 weeks. Miss. Brown and Mrs. Pullinger will still be teaching in the class as well. This week Miss. Gordon has been doing some work with the children about healthy eating.
With Mother's Day coming up we are all looking forward to a special weekend. We have been talking to the children about what makes their mum special and the kind things that they can do to make her smile.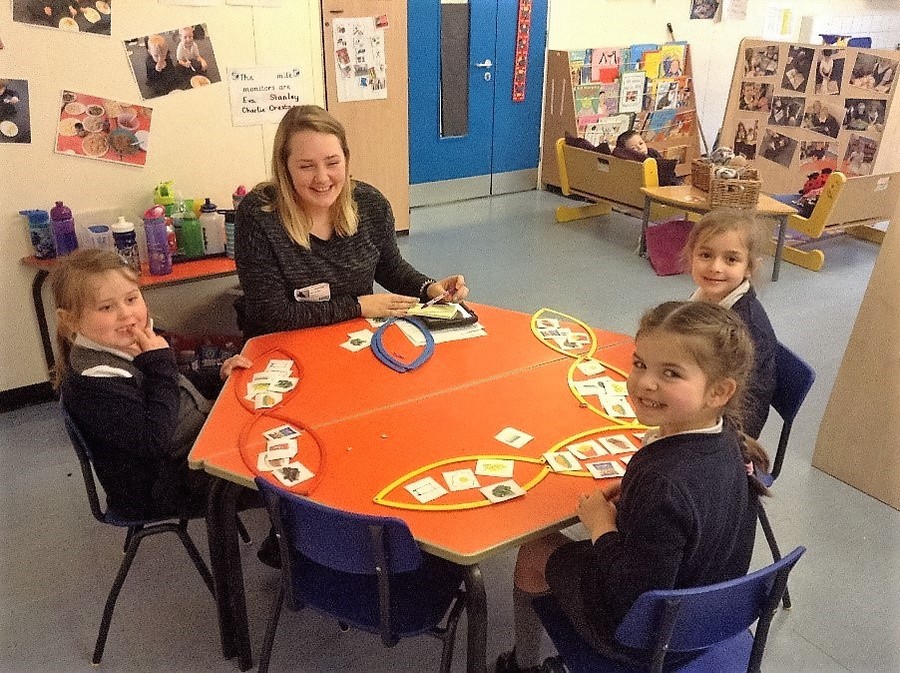 Teacher's Blog: Week 4
We began Black History Week with a world buffet! We tried lots of different foods from other countries and enjoyed sampling new flavours. We described the foods in our writing and talked about our favourites.
We have also been learning to mix skin tones in paint and have been using these to paint carefully observed portraits of ourselves and each other. We have thought about how to make colours lighter and darker. We have also been measuring our own feet this week and using our foot template to measure larger objects. We have enjoyed a book called 'Whoever You Are' and have learned part of the story to perform to our parents. It is about how we might all be different, but inside our hearts are just the same!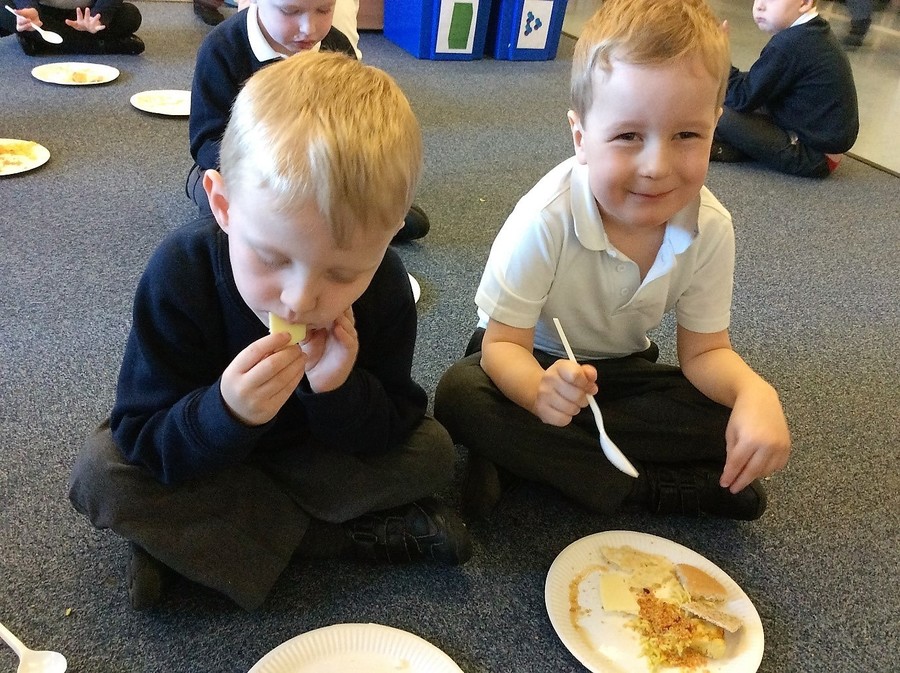 Teacher's Blog: Week 3
We have been continuing to think about our families this week and have been learning the story 'Five Minutes Peace', using a story map and actions. We have enjoyed retelling the story and then writing the beginning.
Some of our grandparents came to visit this week, to tell us about what life was like when they were children. We would like to say a big thank you to those who volunteered to come in - the children really were fascinated to find out about how things were different in the past. They could not quite believe some of the things they heard!
We have also been enjoying making lots of models in our workshop area. The children have been able to explain their ideas and talk about the purpose of their model. We have had some very creative pieces made, including several items designed for teddies to use!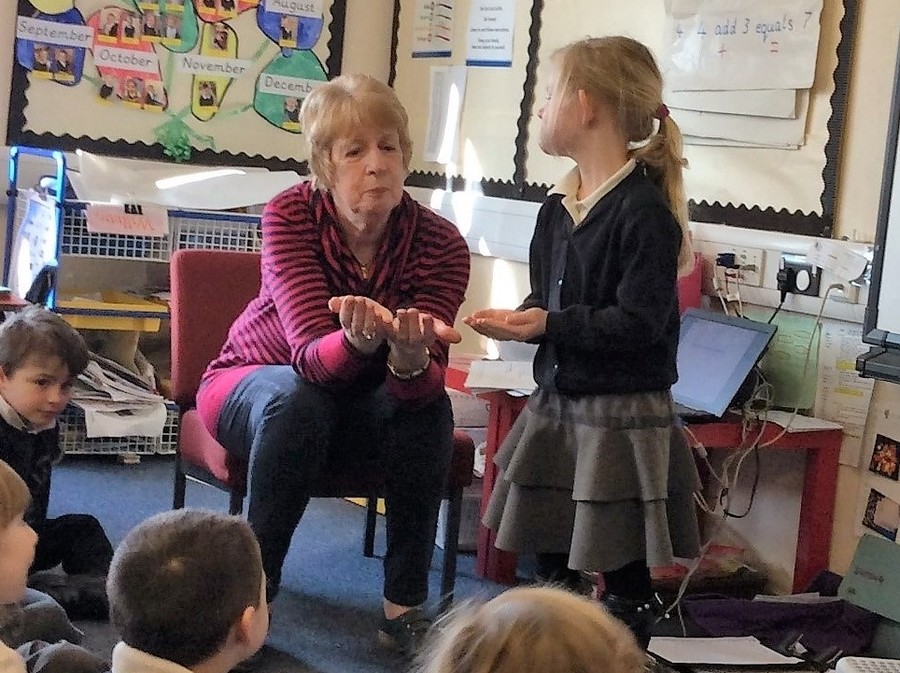 Teacher's Blog: Week 2
We are always very keen to follow the children's interests in Reception and this week the children have continued to be very interested in looking after babies. We discussed ways in which we could find out more about babies and one child suggested we ask a mum! We therefore asked Edward's mum to bring in baby Harry and the children loved hearing about what Harry needs and how he is cared for. The children had lots of great questions to ask and have loved exploring the baby equipment that Edward's mum left for us.
The children have also shown a great interest in teaching one another and setting up their own pretend schools. They have taken turns to be the teacher and have been helping one another learn the tricky words, numbers and graphemes!
We shared lots of favourite stories on World Book Day and loved having some dads in Reception to read to the children. The children all looked super in their outfits!
Teacher's Blog: Week 4
This week, we have been finding out about why people celebrate Chinese New Year. We heard the story of how the animals had a swimming race to decide the order in which the years would be named. We talked about how the rat won the race, even though he was not the best swimmer!
We have continued to learn how to speak and write in sentences, retelling parts of the Chinese New Year story. We are now trying to use full stops, capital letters and finger spaces in all of our sentences.
We have also had fun painting Chinese characters for the names of the different animals. Chinese New Year will be celebrated on Saturday, beginning the year of the Rooster.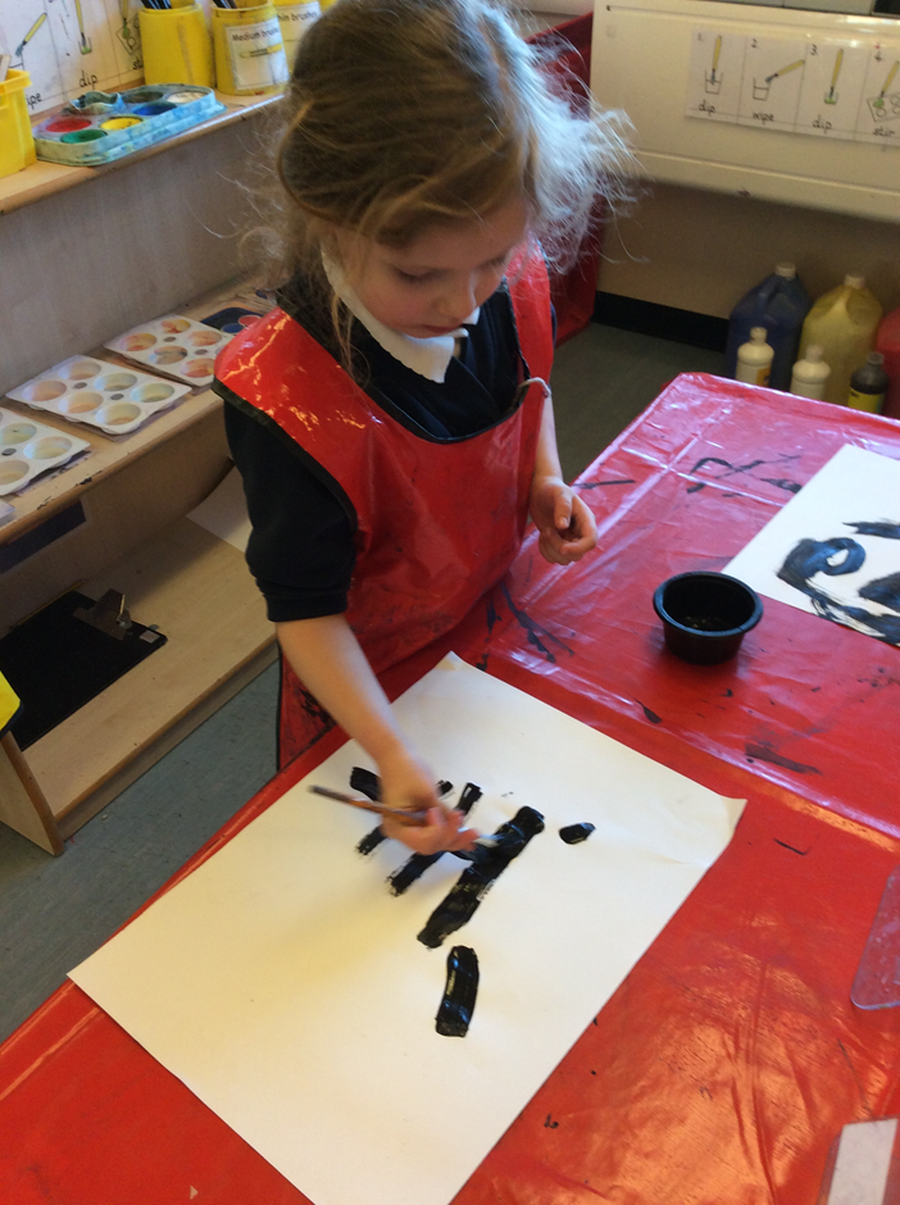 Teacher's Blog: Week 3
This week we have continued to focus on ice and 'all things cold' in our learning. We have been finding out about the people and animals that live in very cold places. We have learned the names of some polar animals and explored how Inuit people live. The children have made fishing rods in the workshop. They have set up arctic scenes in the small world area and have pretended to go ice fishing and build shelters and houses.
In maths we have been learning to add. We have been practicing adding 2 groups of objects using small numbers up to 10 and extending this to within 20. You might like to practice this at home using the language of add, altogether and equals.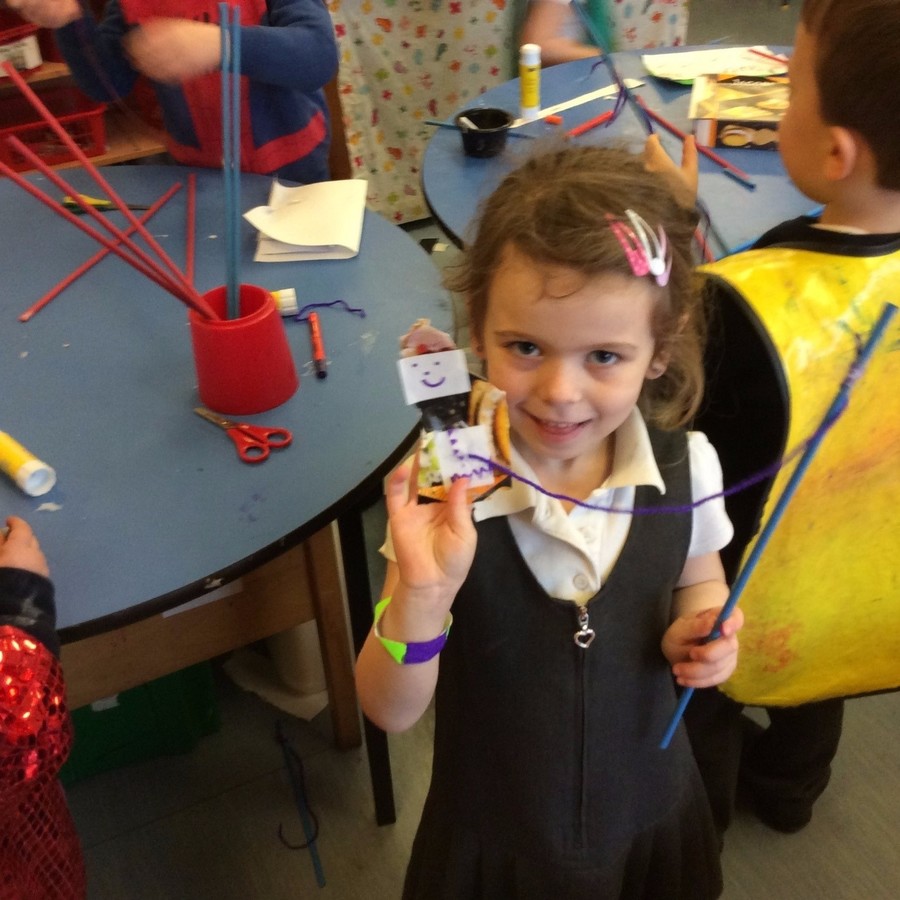 Teacher's Blog: Week 2
We have had great fun exploring ice this week! Some toys were frozen in blocks of ice and we had to try to get them out. We persevered with this task really well, trying different approaches until the toys were freed! You might like to make some ice shapes or models at home and bring them in to show us all.
We have been reading the story 'Betty and the Yeti' by Ella Burfoot this week. We have been writing sentences about Betty and have learned how to use actions for capital letters, finger spaces and full stops. We have had animals from cold countries in our small world area this week and have been making characters from the story in the dough.
We also want to say a big well done to the children, for a great first week of PE lessons in the hall.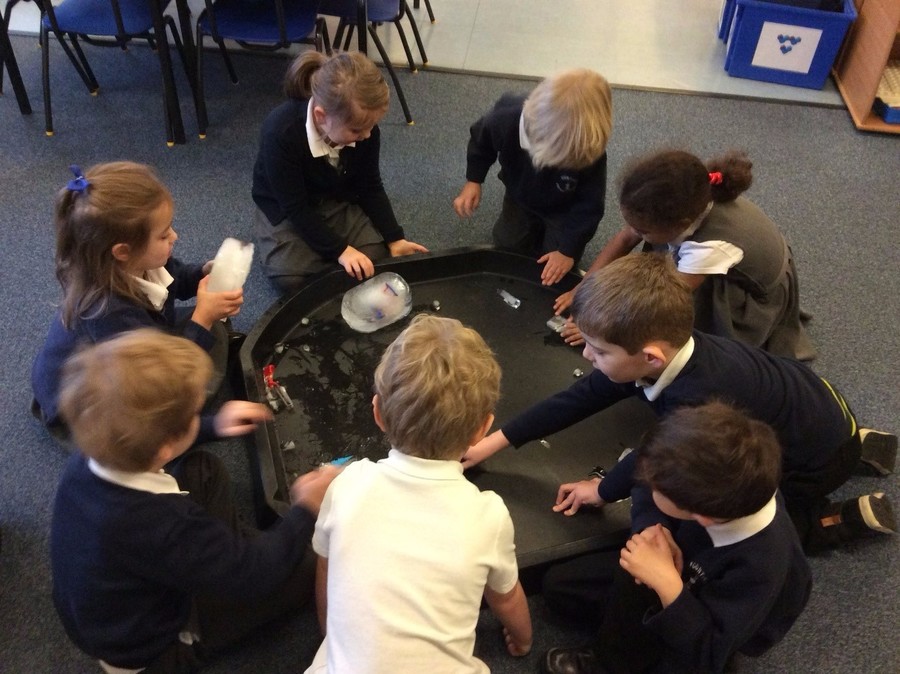 Teacher's Blog: Week 1
It was lovely to welcome all the children back after Christmas! They have come back ready to learn and pleased to see their friends.
We have been thinking about how we can help others as part of our learning in R.E. Some children have volunteered for monitor jobs in the classroom. They are excited about taking on these new responsibilities. We will make sure that all the children get a chance to do one of the monitor jobs over the course of the year.
Next week, we will be starting our P.E. sessions in the hall. Please remember to send your child's kit into school.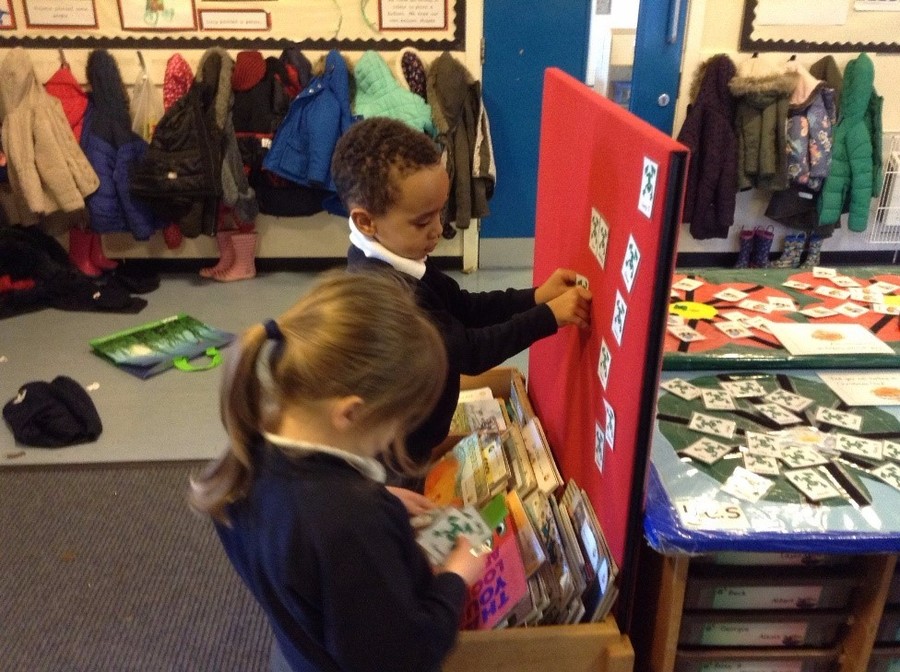 Teacher's Blog: Week 7
First of all, thank you to everyone who came to our Christmas assembly. We hope you enjoyed it! As well as getting ready for the assembly, we have been exploring clay this week. We have compared it with dough and used a range of tools and techniques to shape it. We have used the clay to make Christmas-themed models. We have also enjoyed sharing lots of Christmas books this week and have discussed which ones we like best and why. We hope you all have a lovely Christmas and look forward to welcoming you back to school in the New Year!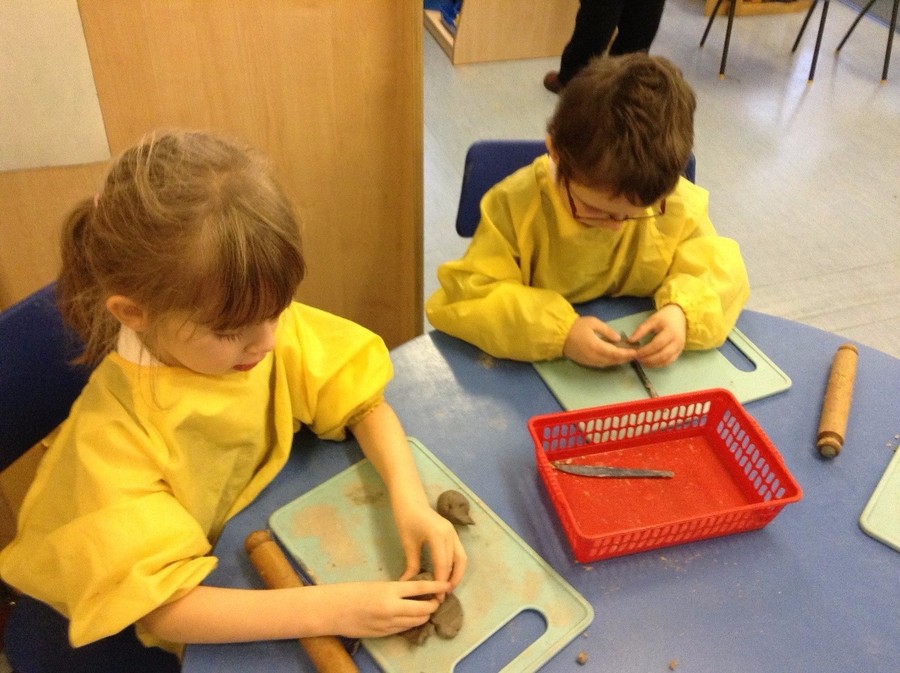 Teacher's Blog: Week 6
We are now well and truly into the swing of Christmas in Reception! The children have been using their printing skills to create Christmas cards and will be further personalising them by adding mixed media (e.g. sequins, collage materials, etc). They have also been writing lists to Father Christmas, practising their writing skills. They have enjoyed dressing up in Christmas outfits and costumes and role-playing. We have also been talking about the Christmas story and the children have used small world toys to retell it. Many of the children also thoroughly enjoyed the school Christmas lunch on Thursday and enjoyed wearing their party hats well into the afternoon. We are preparing for our Christmas assembly next week and look forward to sharing our Christmas learning with you on Tuesday morning at 9:30am.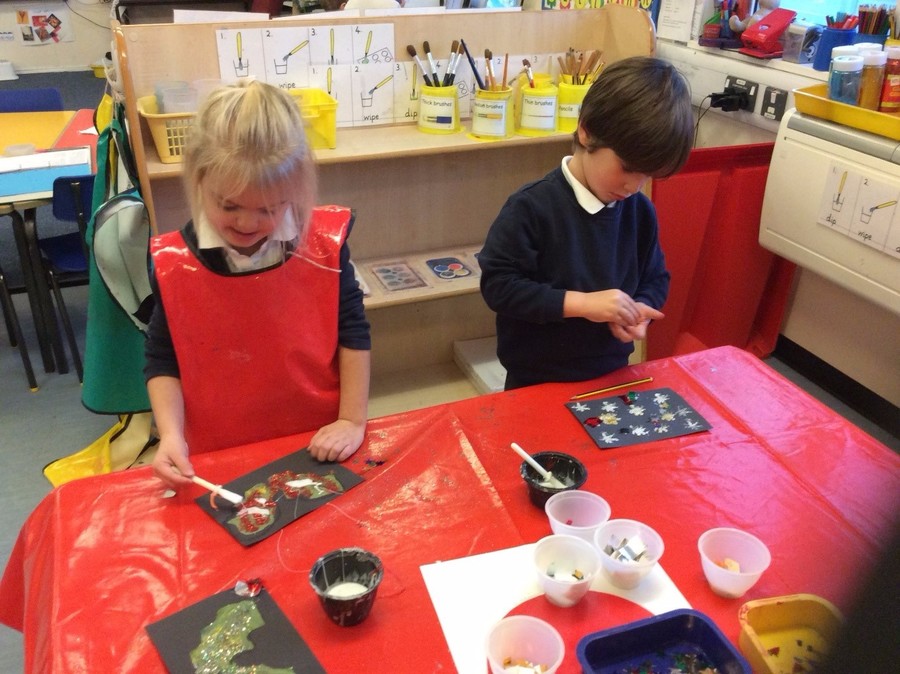 Teacher's Blog: Week 5
We have continued to explore shape this week and the children have been thinking about shapes in their independent play.We have also been learning the months of the year in order, singing them to a simple tune. You could practise this at home and talk about what kinds of things happen in each month.Now it is December, we have started to get ready for Christmas. A present arrived for us on Thursday; it was a lovely new book called 'Jesus' Christmas Party.' We enjoyed listening to the story and learning about what happened on the night when Jesus was born. We are learning songs about Christmas and look forward to sharing these with you in our Christmas assembly!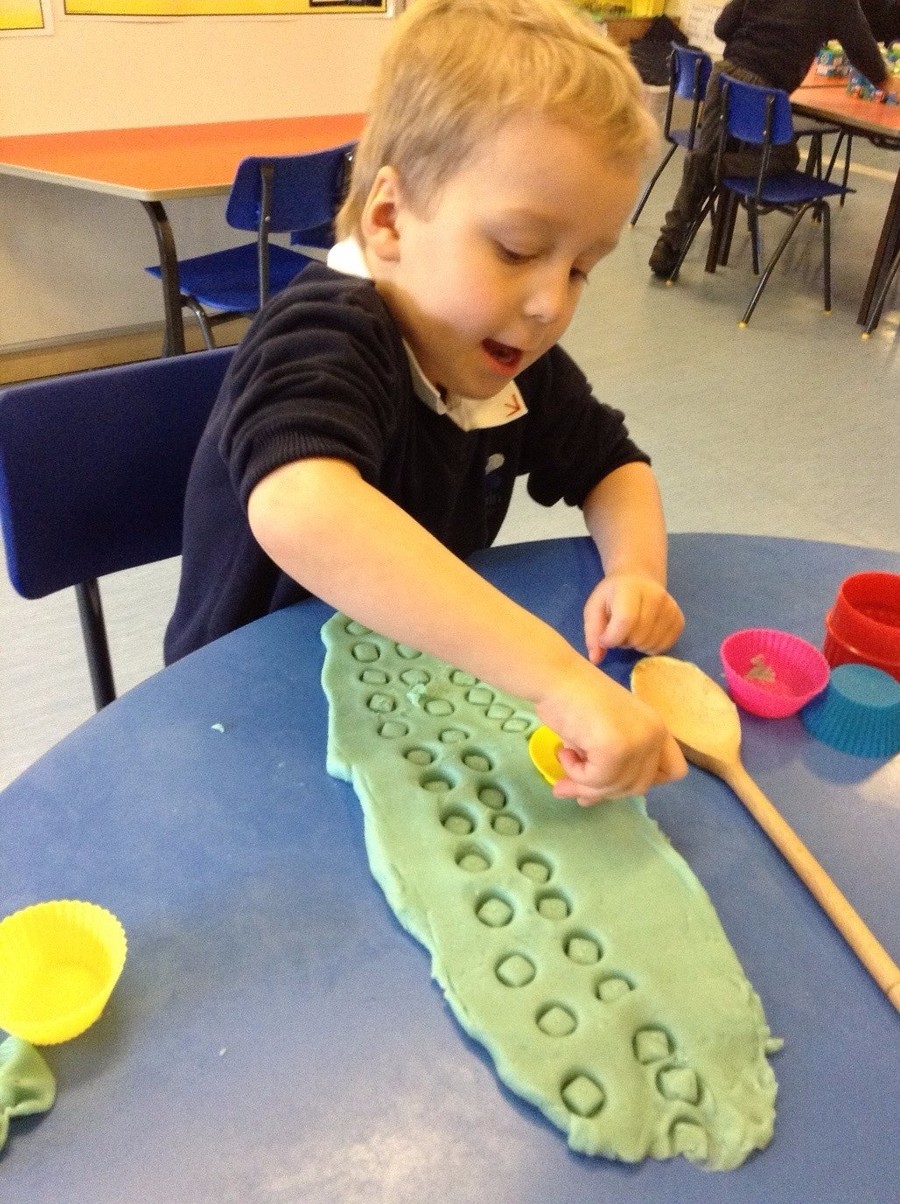 Teacher's Blog: Week 4
This week we have continued to practise writing speech bubbles this time for the characters from The Gingerbread Story. The children continue to progress with their writing skills, being encouraged to say what they want to write and then stretch each of the words to hear lots of sounds as they write them down. The Gingerbread puppets are now in the book area and groups of children are thoroughly enjoying retelling the story.We have introduced some 2D shapes to the children. We concentrate on the circle, square, triangle, rectangle, pentagon (5 sides) and the hexagon (6 sides). The children have become shape explorers both inside and outside the classroom. Why not explore at home too?We have continued to talk about the word 'persevere' as part of our Growth Mindset in our learning and enjoy highlighting children who have shown great perseverance. One of the children managed to put a dress on without any help and another practised tossing pancakes until they managed to catch one!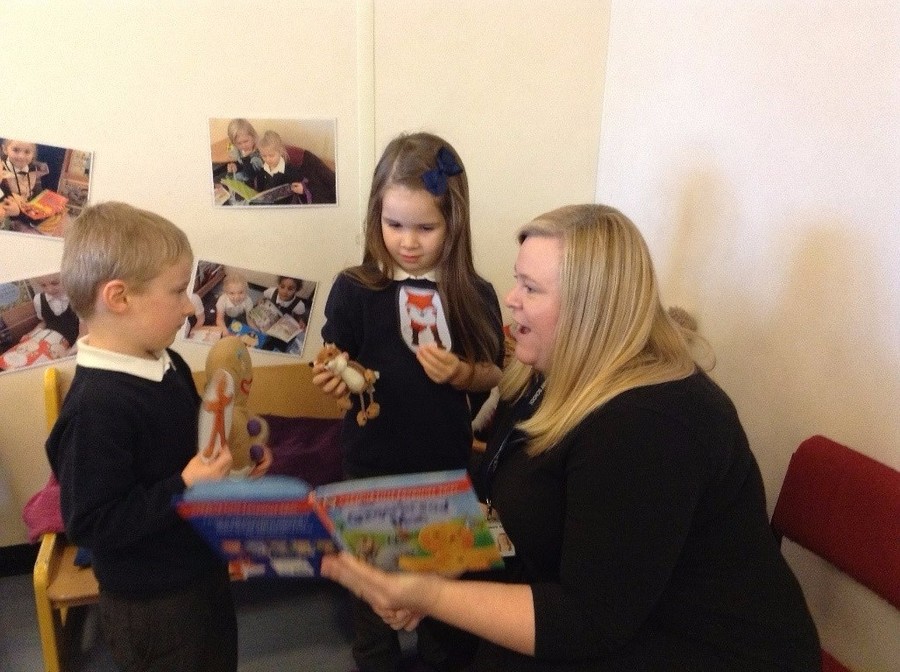 Teacher's Blog: Week 3
Thank you to all those who attended the open morning for phonics. We do hope that you enjoyed the experience and found it useful.
This week we have been learning how to write speech bubbles for characters from The Three Little Pigs. We are delighted that the children's writing skills are beginning to develop. In the Small World area of the classroom the children have loved using the puppets from the Three Billy Goats Gruff story. They have been building bridges out of blocks. In the workshop they have used the resources to design and create bridges and other props.
The children have been learning how to find one more and one less than a number using groups of objects. We continue to practice counting accurately to 20.
As part of our work on Growth Mindset we have been talking together about the word 'persevere' and the importance of this in our learning.
Please continue to read every day at home with your child. Please don't forget to sign the reading record book and make sure the books are in school every day.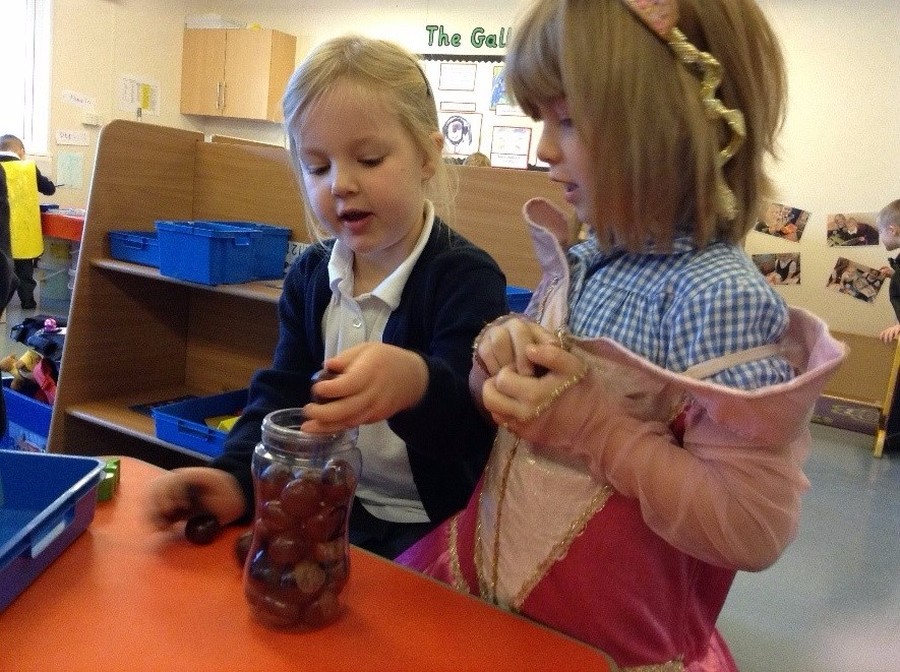 Teacher's Blog: Week 2
This week, we have begun to read and explore Traditional Tales, which the children are thoroughly enjoying. We have continued to develop our writing through making lists of items found in Little Red Riding Hood's basket and in her grandma's cottage. We have been making baskets full of goodies in the dough and have been dressing up and retelling the story. You might like to share some traditional tales at home with your child.
We have also been exploring new art skills and techniques in order to create some fantastic firework pictures. We loved looking at the wonderful work the children have done in their Home Buzz books about Bonfire Night. We also had lots of fun playing in the snow on Wednesday!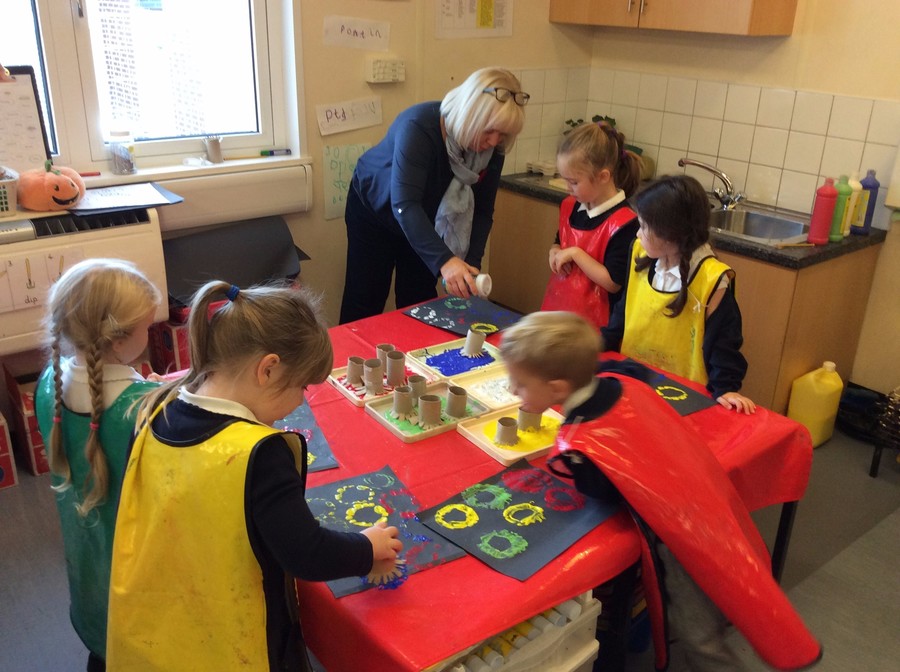 Teacher's Blog: Autumn 2 Week 1
We have begun the new half term by exploring and enjoying the seasonal changes. We have had great fun playing in the Autumn leaves and counting conkers, as well as enjoying Halloween themed activities. We set up a spooky shop, painted pumpkins and made potions!
This half term, we are having weekly singing sessions in the hall with Mr. Wears, who is teaching us some fun new songs. We enjoyed our first session with him on Wednesday.
This week we have also been learning how to write lists and have been practising stretching words so that we can write them. We have now sent home a reading book with each child; please make sure you practise these with your children as often as possible – daily is ideal! Please also keep practising the 'tricky words' at home.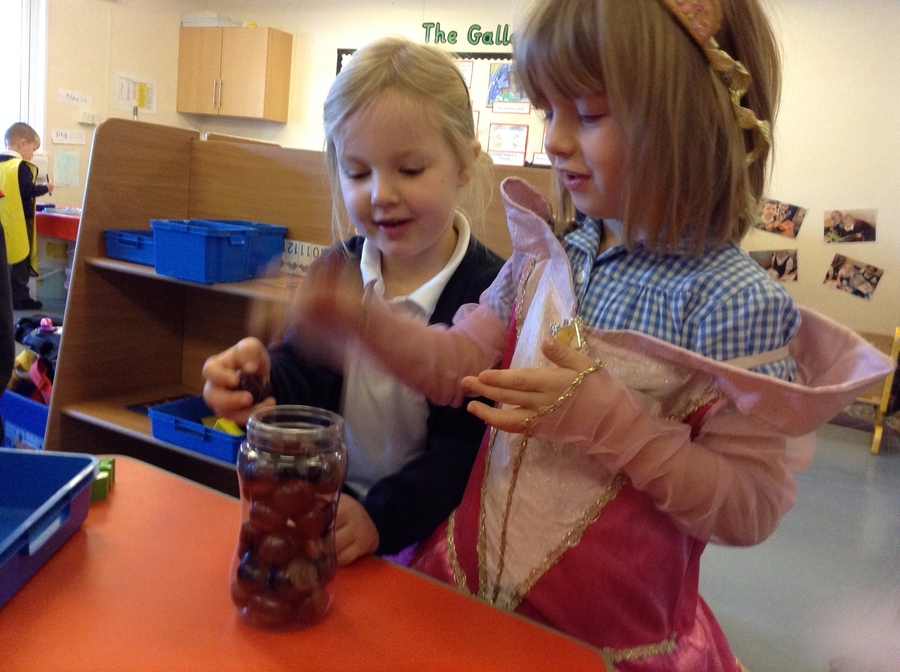 Teacher's Blog: Week 7
We were pleased to welcome our visitor, Reverend Sue, who came to tell us a story about remembering to say, 'thank you'. Some of the children helped to act out the story. We are always pleased when the children show lovely manners and encourage this at all times.
We were delighted to see parents at Stay and Play this week. The children enjoyed showing the visiting adults around and inviting them to join in their play. Children in the Early Years Foundation Stage learn so much through play and this forms the basis of all we do in Reception. As the year goes on, we will be introducing an increasing amount of focused activity, but play will always be crucial to the children's development. The children are very well settled now into Reception routines and are using the areas of provision independently and creatively.
We hope you have a good half term break and look forward to seeing you after the holiday, when we will begin to send home individual reading books.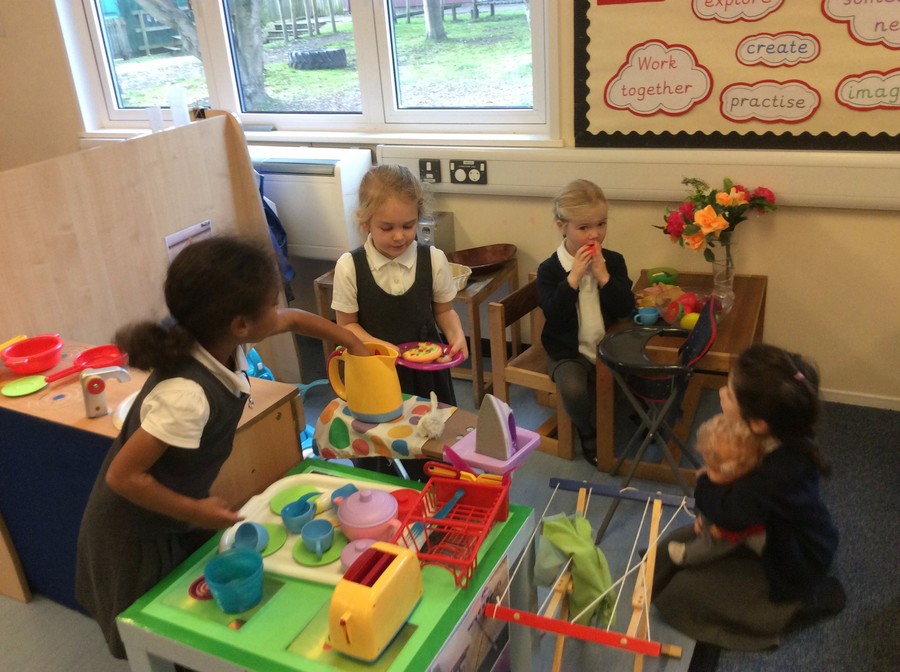 Teacher's Blog: Week 6
We are well on our way with learning the phase 2 graphemes (sounds) in phonics and the children are happily singing the songs and doing the actions. We are sure some parents will have heard these wonderful tunes at home! We have learned some new games to help us segment (spell) and blend (read) small words. The children have enjoyed playing 'Golden River' and 'What is in the Box?' I'm sure if you ask your child they will tell you more. The children are also learning some 'tricky' words (to, the, I, no, go) which we have been using as we continue to write 'get well' cards.
In maths we have been talking about estimating numbers of objects. We continue to practise counting accurately and recognising numbers.
This week, as part of our 'growth mind set' work we have been talking about 'working together.' We have seen some fabulous examples of this, particularly in the outside classroom, building with the construction resources.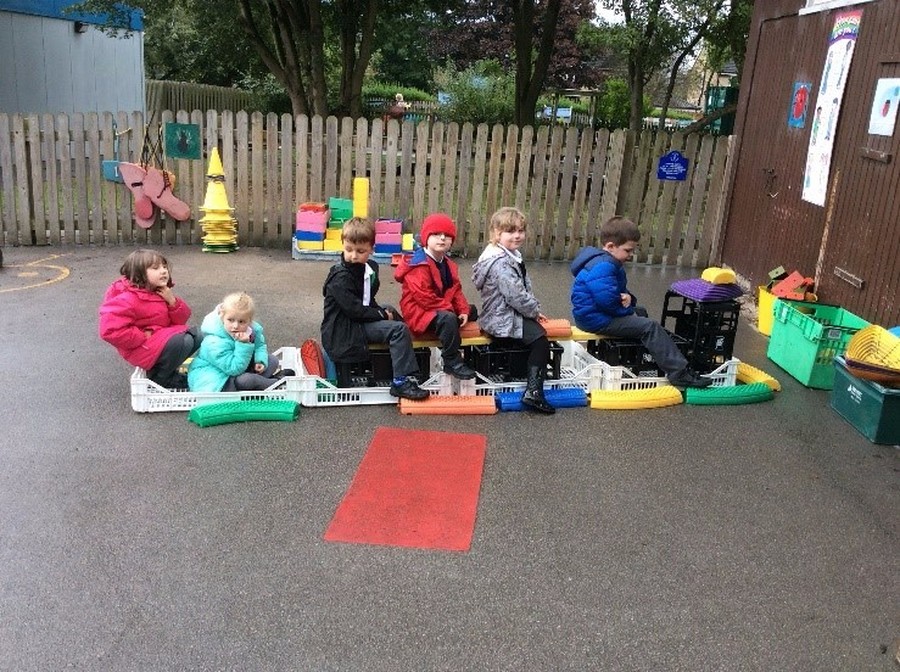 Reception Blog: Week 5
This week, as part of our work on growth mindset, we have been thinking about the word 'create' in our learning and play. We heard that Batman was poorly and so have been creating Get Well cards for him. We practised stretching the words we wanted to write and signing our names. We have also been creating models inside and outside, including a snail hotel! We have been enjoying dressing up as doctors and pretending to help poorly patients.
We have also been practising counting and number recognition and singing number songs and rhymes. We are going to be learning counting games outside, including Hopscotch.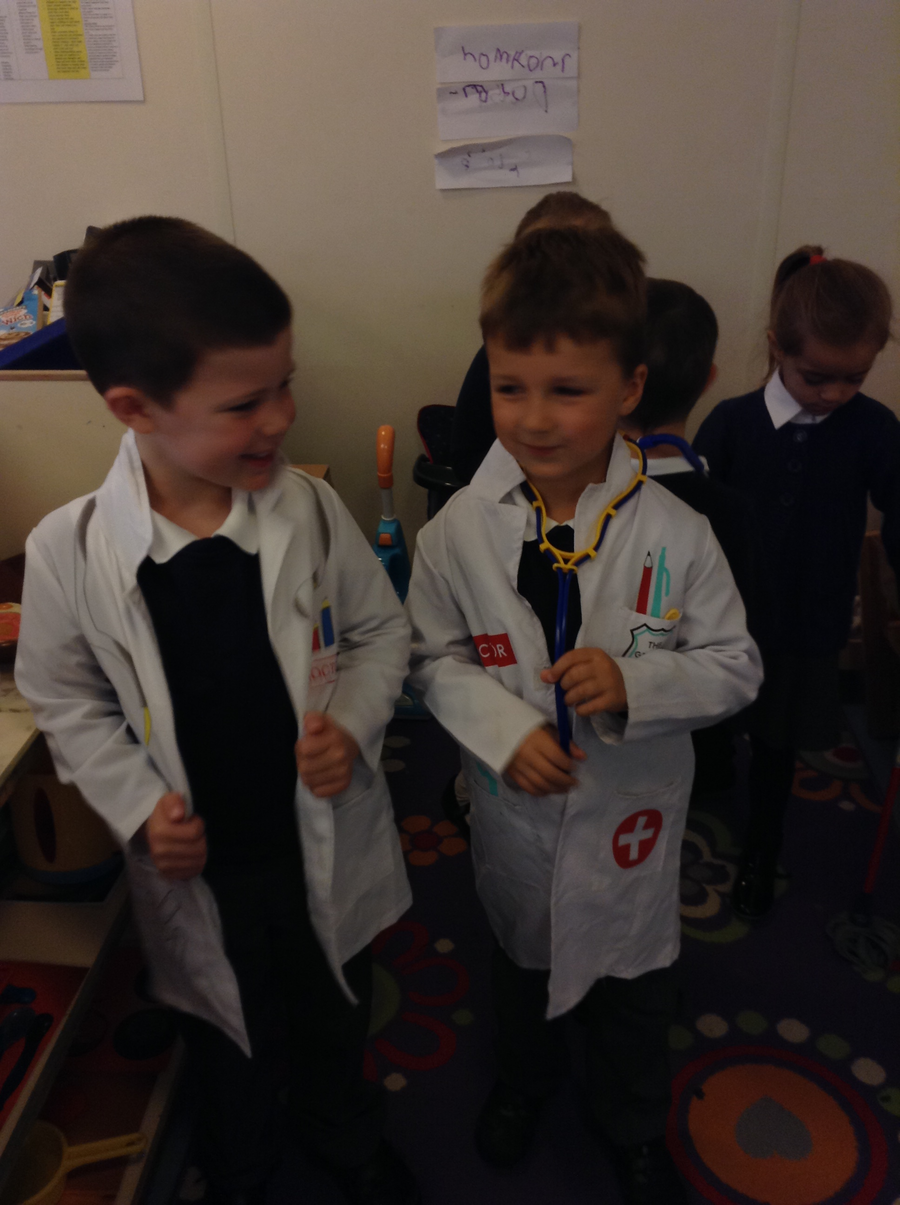 Reception Blog: Week 4
We have had really busy week in Reception. As a whole school we are looking at ways to encourage the children to have a positive growth mind set. In Reception we have therefore started using several key words and phrases with the children. Last week we encouraged the children to 'try something new'. This week we are asking the children to 'practise' an activity or skill such as writing their name or fastening their own coat. The children are very proud of all their achievements so far!
In our phonic sessions we are learning to blend and segment the sounds in words. The children have been listening really carefully to work out what the word will be e.g. c-a-t. The children have also had great fun investigating the science area. They have explored the magnets and magnifying glasses. One of our super heroes has had a birthday this week and the children have been making some beautiful cards to celebrate.
We have been amazed by the lovely work we have seen in the Home Buzz books. We hope you will continue to enjoy sharing these activities together.