Year 1
Frances Coldwell (f.coldwell) on: Year 1
Year 1 Week 3
What a fantastic week we have had! This week we kicked off our new topic with a WOW, all our bears were poorly and we had to be doctors to work out what was wrong with them. We really enjoyed trying to make them feel better.
In science we have been learning all about our body parts. We made up our own versions of head, shoulders, knees and toes using other body parts and this was really fun. We then used post it notes to label each other with as many different body parts we could think of, see if we can remember any?
In English we have been reading 'Terry Perkins and his upside down frown'. We have been thinking about how to describe the character and how his feelings change throughout the book. We were thinking of better words than sad and happy. Ask us to tell you about the story?
We have been comparing objects and numbers in maths, making sure we are using the correct mathematical language. Our homework this week is linked to our maths learning. You need to investigate which numbers do not fit the statement and discuss why. Remember to use words such as more than, greater than, less than, fewer than and equal to.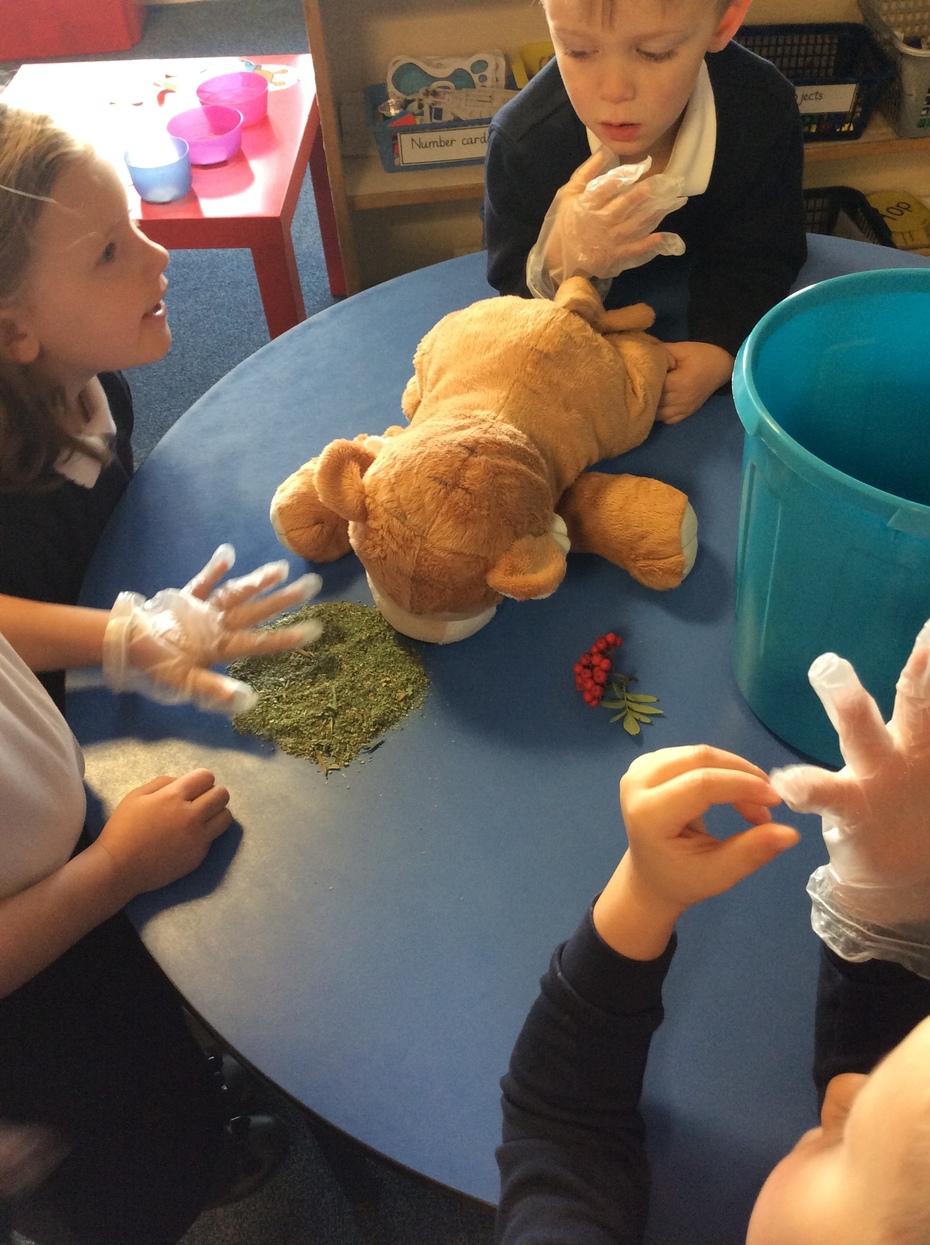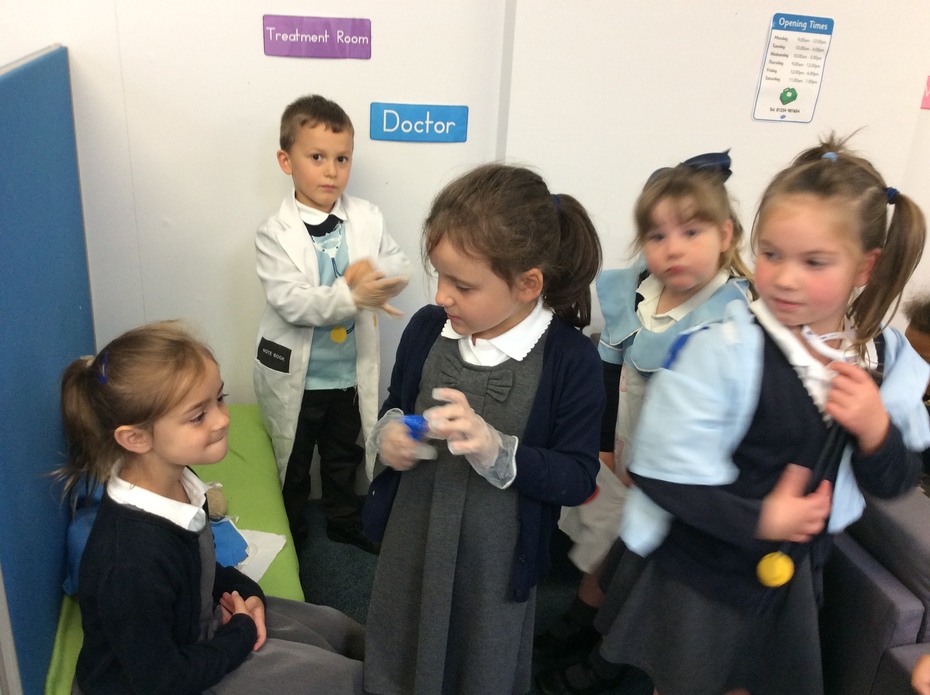 ---
Year 1 Blog Week 3
This week in English we have read Oliver's vegetables, we really enjoyed this story. We have compared Grandad's allotment in the story to ours at school, we have some similar vegetables. We also expanded our vocabulary by thinking of good adjectives we could use to describe food we like and dislike. We examined what happens when food is processed and changed from raw to cooked form. We also recapped spelling and ordering the days of week. Can you help us to practise this at home?
The focus in maths this week has been finding one more and one less than a number. We have also practised our investigation and reasoning by solving some two step number problems, to do this we had to have a good growth mindset and preserved to achieve the desired outcome. We found this really challenging and we are going to continue to practise this to prepare us for Year Two. Can you keep practising counting especially above 30?
This week's homework is a creative task, you need to choose a fruit or vegetable and use it creatively!
Year 1
Teacher's Blog: Week 2
Wow! What an exciting day we had on Thursday celebrating World Book Day. Drop everything and read, whole school story time, reading with the PE coaches and parent stay and read all helped us to really enjoy our day of reading. We were really excited to visit or brand new school library and look at all the wonderful books in there. We are looking forward to taking them home when the new system is up and running. We had a fun and exciting session with the author and illustrator Lynne Chapman – who amazed us with her live drawings and excited us with her funny stories. We particularly enjoyed dancing the can-can in the style of Emus, Kangaroos and Koalas like the characters in one of Lynne's books 'The Kangaroo Can-Can Café'! Following on from Lynne's visit we were inspired to illustrate our own pages which we will turn into a class book. Please see the school website for photos of all the World Book Day events that took place this week at Fountain.
As preparation for our author visit we looked at one of Lynne Chapman's books called 'Big Bad Wolf is Good'. We thought about the Big Bad Wolf from Little Red Riding Hood and came up with some reasons that he might want to change and how he could do that. We did lots of drama – hotseating, conscience alley etc - to explore the Wolf's thoughts and feelings and practised writing our ideas with accurate spelling.
In maths we have continued our work on the 2, 5 and 10 times tables. We have used diagrams and arrays to help us understand multiplication and to show our answers without using numbers. We have been trying to get quicker at counting in 5's and we are focussing on counting backwards as well as forwards. We continue to practise forming our numbers, starting in the right place and moving the right way round with our pencil. Could you help us to practise at home?
Reminder – our class trip is next Friday 10th March! The trip takes place within normal school hours and all children will be provided with a packed lunch. Please ensure you have returned your child's permission slip and sandwich choice to either your child's class teacher or to the main office.
Homework this week:
Doubling Fives
This challenge is about doubling multiples of 5.
Pick a multiple of 5. Double it.
What is your answer? How many 10s is this?
Can you spot any patterns?
Can you explain the patterns?
You may want to write out the numbers or draw arrays to help you spot a pattern.
Year 1
admin on: Year 1
Welcome back after the holidays. We have all come back ready to start our exciting new topic. We started the week launching our new topic 'Once upon a time'. We had to hunt around the school grounds for clues which would help us to guess which traditional fairy tales we will be looking at this term. This was so much fun and we really enjoyed searching for the clues. Once we had found all the clues we looked at them and put them into groups based on what story we thought they were from. We worked out that we would be focusing on Little Red Riding Hood, the Three Little Pigs, Goldilocks and the Three Bears and Jack and the Beanstalk. We listened to all of these stories at different times during the day and discussed that sometimes fairy tales can be slightly different and have different endings. We also designed and made our own masks based on a character of our choice from a fairy tale, we had lots of fun doing this and we practised our cutting skills.
In maths this week we have focused on our times tables. We have been practising our 2, 5 and 10 times tables, which we are getting really good at! Can you help us to keep practising these at home? We looked at a new symbol 'x' and discussed it meant times and also lots of, we answered some questions which had this new symbol in. We also did an investigation to find out if there are any numbers which are in the 2, 5 and 10 times table. We worked well in pairs to find out the answer and discover the pattern.
In English this week we have become story tellers! We have read the story of Little Red Riding Hood, we ordered pictures from the story and added speech bubbles. We then created our own story maps, using pictures to remind us what happened in the story. We then retold the story focusing on talking in full sentences and using expression in our voices. We had lots of fun doing this, ask us if we can tell you the story.
This week we have also started some artwork in the style of Kerry Darlington. We looked at her pictures as she uses fairy tales as inspiration. We were inspired to create our own artwork and have started to create a background for our pictures using either chalk or paint. We had lots of fun using the chalk and have created some brilliant art!
---
Teacher's Blog: Week 4
This week we have been authors in English! We wrote our own versions of the story 'Paddington' and carefully illustrated the pages. Like any good author before we started writing our stories we had to plan, we changed Paddington's looks and characteristics and thought about how they would alter what happened in the story. We then changed some of the places Paddington visited with the Brown family, we had lots of great ideas. We really enjoyed doing this and are very proud of our finished stories!
In Maths this week we have revisited addition and subtraction. We remembered that when we add the answer gets bigger and when we subtract the answer is smaller. We have started adding and subtracting two digit numbers using counting on and counting back. Can you help us to keep practising counting backwards from 30?
This week we have also designed our own toys that children would have played with in the 1950's. We had to think carefully about what materials to make our toys from so they are suitable for playing with. We have made a list of the first steps t making our toys and we can't wait to get started on them next week! See if we can explain what toy we are making and how we are going to do it?
Homework this week – Creative Learning Unit
Can you find out what the word respect means? Present your findings however you would like. You could draw a picture, do a collage, write some sentences.
Teacher's Blog: Week 3
We have had fun exploring a range of materials this week, including plastic, metal, wood, card, rock and fabric. We have been using scientific words to describe their properties such as bendy, stretchy, rough, hard, smooth, waterproof. We thought carefully about why objects might be made from certain materials and what makes them suitable for different purposes. Now that we know a lot about materials we will be designing and making our own toys. Perhaps you could ask us to describe the properties of materials we can find around the house?
In English we have enjoyed reading a children's classic story 'Paddington'. It has been interesting to see what mishaps clumsy Paddington gets caught up in! We thought of questions that we would ask Paddington if we met him and used our imaginations to put him in the hotseat. We have learnt new adjectives and used them to describe characters and we have recorded a simple version of the story as a story map using drawings.
Our maths focus this week has been telling the time. We have used clocks to show o'clock and half past times and have practised drawing those times onto clocks. We also thought about language to do with time such as earlier, later, after that, daytime, night-time etc. Using these words we talked about the times in the day that different activities took place (E.g. eating breakfast after waking up, going home from school before eating our evening meal etc). Can you talk to us about the passing of time at home? Can you challenge us to tell o'clock and half past times?
Homework this week – Maths Investigation.
Can you use the clock provided to answer these questions?
What does the big hand show?
What does the little hand show?
Which way do the hands move round the clock?
Where does the minute hand point for an o'clock time? And for a half past time?
Can you show a time when you would be asleep?
Can you show a time when it would be daytime?
If it was 11 o'clock would it be dark outside? Explain your answer.
Teacher's Blog: Week 1
Happy New Year to all! We have come back to school rested and ready for an exciting new term. We started our new learning unit 'A Toy's Story' by having our own toy day. We really enjoyed introducing our toys to our friends and playing with them in school. We described what our toys look like, feel like and what materials they are made from. We also watched a popular film all about toys that come to life and enjoyed telling each other what our toys get up while they are home alone!
In maths we have revisited our work on place value this week, practising counting to 40 and back. We also partitioned numbers into tens and ones. Perhaps you could practise this with numbers you come across at home or out and about?
In English we started reading a classic story about a lost toy: 'Dogger'. We thought about how Dave felt when he lost his favourite toy and decided he would be 'sad', 'angry' and 'lonely'. We thought about times when we had lost something important to us and described how we felt and what we did about it. We learnt about apostrophes and looked at where and why there are used to shorten words (contractions). Can you spot any apostrophes in your reading books?
Polite Reminder: Children are encouraged not to bring toys or small items into school as they are easily lost or damaged. Any items found during the school day are kept by the teacher until the end of the day.
Homework this week:
Can you complete a reading review for your school reading book or another book from home?
Teacher's Blog: Week 7
This week started with a bang with our Christmas party we really enjoyed the magician who came in! We then ate lots of party food and had a dance, thank you for bringing it in. We have been practising for our class assembly and we had loads of fun and we hope you enjoyed hearing about our learning! We have also been busy making Christmas cards it was tricky to weave the ribbons and pipe cleaners but we enjoyed making them, we hope you like them. We have also practised writing letters for the insides of our cards, we focused on our neat handwriting and careful spelling. We got to watch the rest of the schools Christmas assemblies and really enjoyed finding out about what the other classes had been learning! Have a fantastic Christmas and see you next year on Wednesday 4th January! (Don't forget to bring your toy, for our new topic!)
Teacher's Blog: Week 6
This week we have been really enjoying our Christmas topic. Last Friday the Jolly Postman came to visit us and left us a few presents! One was a book called the Jolly Christmas Postman, we really enjoyed reading it as it contained some of our favourite fairy tale characters.
In maths this week the Jolly Postman set us two tasks! First he delivered lots of boxes and parcels and asked us if we could arrange them based on their size so he knew which van to put them in! We really enjoyed doing this and used lots of mathematical vocabulary to describe the parcels like bigger, smaller, longer and shorter. Some of the parcels were really easy to order but for some it was tricky to decide which ones were bigger so we used different non standard measures to work out where they should go. Once the parcels had been sorted the Jolly Postman asked if we could carefully wrap them! We had to carefully measure our boxes so we could measure the wrapping paper and cut it to exactly the right size. We had lots of fun doing this but sometimes it was tricky to work out which way we had measured the wrapping paper.
In English we have been getting in character and imagining we are the fairy tale characters from the book. We wrote letters to Santa but first we had to think about what each character might want for Christmas! We came up with some really imaginative ideas, ask us if we can remember what character we were and what we might like for Christmas.
We have also been busy making lots of Christmassy things for you and we can't wait to share them with you. We are going to be very busy next week finishing our jobs for the Jolly Postman and practising for our Christmas assembly which is on Thursday at 2.30pm, we hope to see you there!
Don't forget it is the KS1 Christmas party on Monday afternoon, so don't forget to bring your party outfit in a labelled bag and your party food!
To launch our new topic 'A Toy's Story' we will be having a toy day on Wednesday 4th January. Children are invited to bring in one toy to keep with them for the day. We will be describing the toys and looking at what materials they are made out of.
Later in the topic we will be comparing the toys we play with now to toys from the past. If you have any toys from your childhood lying around at home and would like to lend them for a week or two we would be very grateful.
Teacher's Blog: Week 4
We have worked hard in maths to learn our number bonds (numbers which add up to 10 or 20). We practised 'ping pong' and quick fire challenges to build our speed. We have been investigating bonds using bead strings numicon and coins too. Can you help us to practise our bonds to 10 so we become really fast at recalling them?
Following on from our work on the Great Fire of London, we imagined that we were Samuel Pepys and wrote a diary to record what happened during the fire. We thought carefully about how to describe what he would have seen, heard and how he might have felt. We used describing words and made sure to use verbs in the past tense. We have also been learning some fancy names for words this week – see if we can remember what adjectives, nouns and verbs are.
Thanks for helping us with our Tudor house homework; we had a good idea about the shape and style of Tudor houses. We used card and paper to collage a house in art. It was tricky to decide where to put the black beams but we looked carefully at pictures for inspiration. We have also been creative in PE this week – we continued to work on making firework inspired shapes and movements and have worked together to create a class dance. We are learning how to listen to each other and share our ideas in turns.
Reminder – PE is still on Monday and Friday for 1LA and Tuesday and Friday for 1FC. Please make sure we have a warm, outdoor kit on both days.
Homework this week – Maths Investigation
Can you sort the given numbers into the correct hoops? (multiples of 2 and 5)
Teacher's Blog: Week 2
We have continued being Time Detectives this week and have learnt about a disastrous fire that happened a long time ago (in 1666): The Great Fire of London! We heard a story about how the fire started in Thomas Farriner's bakery and how it spread quickly across London, burning the wooden buildings to the ground. We looked at maps of the United Kingdom and tried to guess where London was. We also named the countries and capital cities of the UK. We are excited to learn more about the events of the fire, and how it was finally stopped, next week.
Our new book, Katie in London, has introduced us to lots of the landmarks in London such as St Pauls Cathedral and the London Eye. We practised sequencing the story and used the language of 'beginning, middle and end'. We enjoyed pretending to be Katie and sent a postcard to our class to tell them about all the fun we had whilst visiting places in London!
In maths this week we have been reasoning about numbers and matching written numbers with digits. We have been learning to split numbers into tens and units and show them in different ways using equipment. We have also started to count in multiples of 5 this week, perhaps you could practise with us at home?
Polite Reminder: Even though the weather is turning colder, we are still getting outside for PE to enjoy the fresh air. Can you please make sure we have a warm outdoor PE kit in school that includes trousers and a jumper or hooded sweatshirt?
Homework this week – Maths Investigation
We have been learning about the properties of 2d shapes; triangles, squares, rectangles and circles. Can you go on a shape hunt around your house or local area? What shapes can you see? How many sides and corners do they have? Can you show us what you have learnt with drawings or photos?
Teacher's Blog Autumn 2: Week 1
We have come back this term refreshed and ready to learn! This week we have been writing our own firework poems. We listened carefully and watched different firework displays and thought about how we could describe the sounds and movements of the fireworks. We used these words to create our own firework poems that we are very proud of!
In maths we have been exploring 2D and 3D shapes and looking at their different properties. We used these properties to describe shapes so the rest of our group could guess what shape we had hidden. We also made 3D shapes using 2D shapes and created pictures using shapes. See if we can find any shapes at home.
Our topic this half term is time detectives, so we are looking at events that happened in the past. This week we explored bonfire night. We used different sources to find out who Guy Fawkes is, what the bonfire plot was and where it happened. Ask us if we can remember any of the answers. We then had our own bonfire party to celebrate, we made some bonfire food (it was really tasty), watched firework videos, performed our class firework poems and made firework sounds using musical instruments.
This week's homework is to complete a reading review, think carefully about which bits of the book you liked or didn't enjoy and try to explain why you have that opinion.
Teacher's Blog: Week 7
We cannot believe that we have been in year one for a whole half term already! We are feeling proud of all the great learning we have done and are much more settled into our classes. Our goal for next half term is to become more independent learners. Can you help us by letting us do some things on our own (E.g. getting dressed, packing our school bags, lining up on our own in the mornings)?
On Friday we were lucky to have a visit from a nurse (and Fountain parent!) who gave us lots of information about how to keep healthy and about what she does in her role as a nurse. We had some very considered questions and enjoyed hearing the sometimes surprising answers. We also enjoyed trying low sugar cakes that were packed with vegetables and we designed our own version of a balanced and healthy meal.
In English we have planned and written fact sheets to explain seasonal changes that we see around us in Autumn. We looked carefully at the layout of non-fiction texts and chose titles and drew pictures that were appropriate to the information we were presenting.
We have been problem solvers this week in maths! We used our previous learning to help us solve subtraction problems such as 12 - = 5. Using cubes and counting bears helped us to work out the answers and we have become better at explaining our reasoning to a partner.
We are excited for the Gold Assembly on Friday. We are wondering who is going to receive the first awards and to see which Fountain will be the winners this half term. We have been trying really hard to earn fountain points and we are all feeling like we belong in a special team.
We hope you all enjoy your half term break. We will see you back at Fountain on 31st October.
Homework this Week – Creative Learning Log
Can you create a picture or sculpture to represent Autumn using natural materials?
(Larger sculptures may be brought into school after the holiday).
Teacher's Blog Week 6
Wow! What an exciting week we have had in Year One! It got off to an interesting start when we walked up to Dartmouth Park on Monday. We had so much fun kicking through crunchy autumn leaves and gathering conkers and twigs for our investigation area. We noticed lots of changes happening in the environment around us and we even saw a friendly grey squirrel! We hope you enjoyed our singing in the Harvest Festival as much as we did. It was great to see so many relatives and friends in school and we have learnt about why it is so important to say thank-you for what we have.
We used our experience in the park to write a non-fiction piece in English, using our senses to describe. We are working hard to keep our writing neat by writing our letters on the line and forming them the right way round – please remind us to do this in our homework too! Next week we will be making information texts about the park. Perhaps you could look at some non-fiction texts together at home (leaflets, posters, instruction manuals, recipes etc)?
In maths we have been learning to add numbers together. Firstly, we used counting bears, then pictures and finally we calculated answers by putting the biggest number in our head and counting on from there on our fingers. We are getting better at writing number sentences using + and = too!
Polite Reminder: Now that we are wearing our big winter coats, the cloakroom is feeling quite small! Please only bring one book bag and one PE bag to school as we do not have lots of extra storage space in class.
Homework this week: Maths Review Sheet
How many addition sums can you answer? Think about the methods we used in school to help with your adding.
Teacher's Blog: Week 5
In year 1 this week we have produced some amazing art work! We have been looking at the artist Paul Klee and have used his pictures to inspire our own. We used different materials to create very colourful pictures of our faces and they look great on our classroom wall! We have also been doing lots of singing practice ready for next week's harvest festival, we can't wait!
In maths we have been investigating different ways to make 10. We used lots of different resources to help us find ways to make 10, including numicon, bead strings, bears and also putting spots on to lady birds! We have also learnt a song to help us remember the number facts, ask us if we can remember all the words!
We have been very busy writing in literacy. As we know our 'Terry Perkins' story so well, we decided to change some of the characters. We invented new characters for the story thinking carefully about what they looked like and their personality. Then we rewrote the story using our characters instead, thinking carefully about how the character's personality would change the ending of the book. Can you ask us about our characters we created for the story?
Everybody had lots of fun on Thursday coming to school in our pyjamas and bringing our teddies along too! All our teddies were really well behaved and we enjoyed showing them around our classroom and the different areas we can choose to play in. Take a look at the pictures!
This week's homework is to describe a place using your senses. Think carefully about what you would see, hear, smell, feel and maybe what you would taste. Don't forget to use capital letters and full stops.
On Monday 10th October Year 1 children will be visiting Dartmouth Park to explore the autumnal changes that are happening around us. The short visit will take place during school hours and will not affect the children's lunchtime. Children should be brought to school as normal at 8.50 in the morning.
Please ensure your child wears shoes that are suitable for walking (school shoes, trainers or wellies will be fine) and has a warm, preferably waterproof, coat with them on Monday.
Teacher's Blog: Week 4
This week in year 1 we have been exploring the world through our senses. We have experimented with perfume pots and have thought carefully about how to describe smells. In Science we had fun drawing round our bodies and writing labels for different body parts. We also made up our own versions of the popular song 'head, shoulders, knees and toes'. Our favourite was 'forehead, elbows, ankles and chin!'
In maths we continue to focus on forming our numbers the right way round and we have counted the animals 'two by two' and practised counting in multiples of 2 up to 30. We are beginning to spot number patterns and to use the words 'odd' and 'even' to describe numbers. Can you practise saying your 2's numbers on your way to and from school?
This week in English we have become story tellers! We have sequenced events from our Terry Perkins story and have practised telling the story to a partner, using expressive voices and faces. We wrote down the story in our own words, being careful to remember to use capital letters and full stops. We are learning what we have done well in our work and how we can improve further. Can you ask us about what the green and pink pens in our books mean?
This week's homework – Maths investigation
Can you work out how many animals Noah counted into the ark?