Year 4 Blog
Rachel Wilby (r.wilby) on: Year 4 Blog
We have had another fantastic week here in year 4.
In English, we have been busy demonstrating our amazing writing skills by producing an alternative ending to the book 'The Watertower'. We wrote a draft copy, then we edited it and finally we wrote it up in neat. This was a great chance to show case our lovely handwriting.
In maths, we have been learning about rounding numbers to help us estimate calculations quickly and practising those all important Times Tables. Next week, we will look at the 6 Times Tables.
On Thursday, we had the weekly visit from our gardeners. We love Thursday afternoons because we get to go out into our school allotment and dig up all the lovely vegetables that are ripe and ready to eat. Some of the vegetables picked are used in our very own school dinners but mostly they are taken home by our lovely year 4's who have them for their tea. Here's what we picked this week!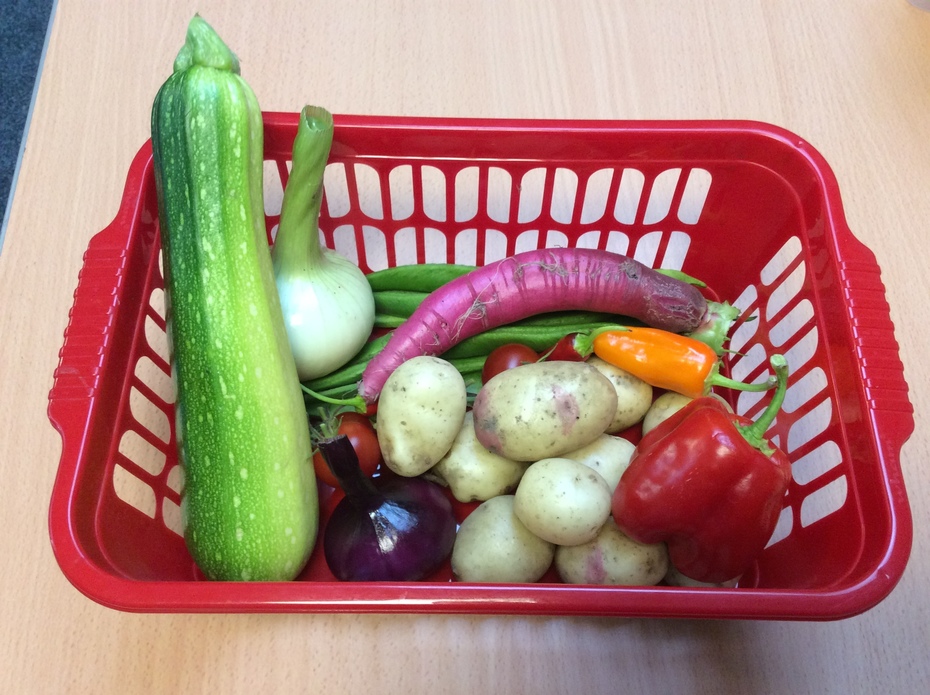 ---
Year 4 Blog
Rachel Wilby (r.wilby) on: Year 4 Blog
What a week! As always are wonderful year 4 classes have been working hard and we are very proud of them.
On Tuesday, we had our WOW day to launch our brand new topic... World War II. We learnt about the legend of the lost war treasure located somewhere right here in Morley. The pupils were all very excited and used their map skills and resilience to find the codes and decipher the key coordinate. We couldn't believe we found the box and we can't wait to get started learning about all the treasures inside. We will let you know what we learn right here on our blog.In the meantime enjoy our pictures from the day.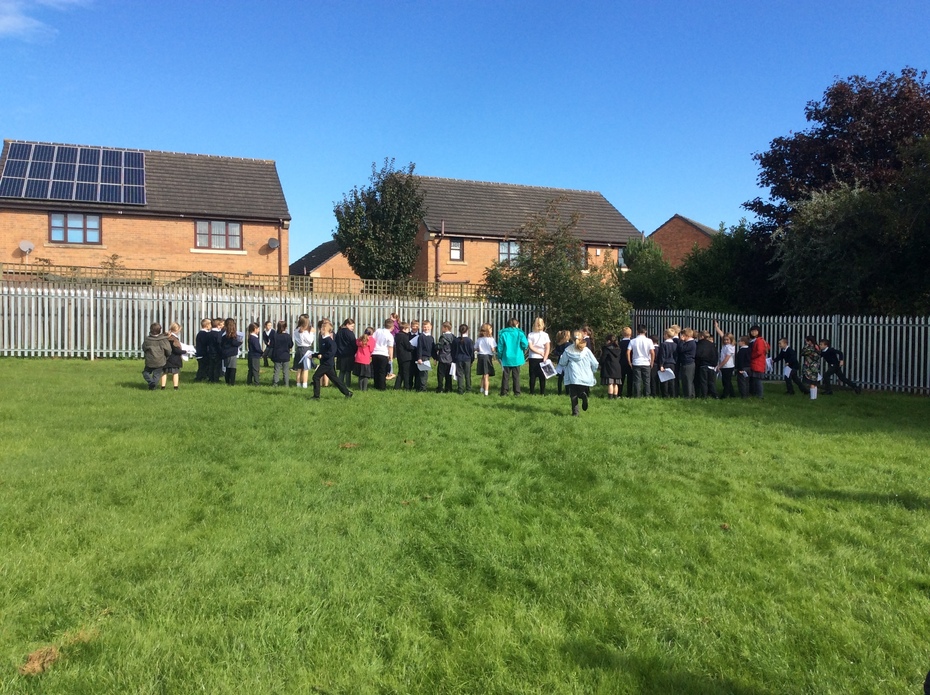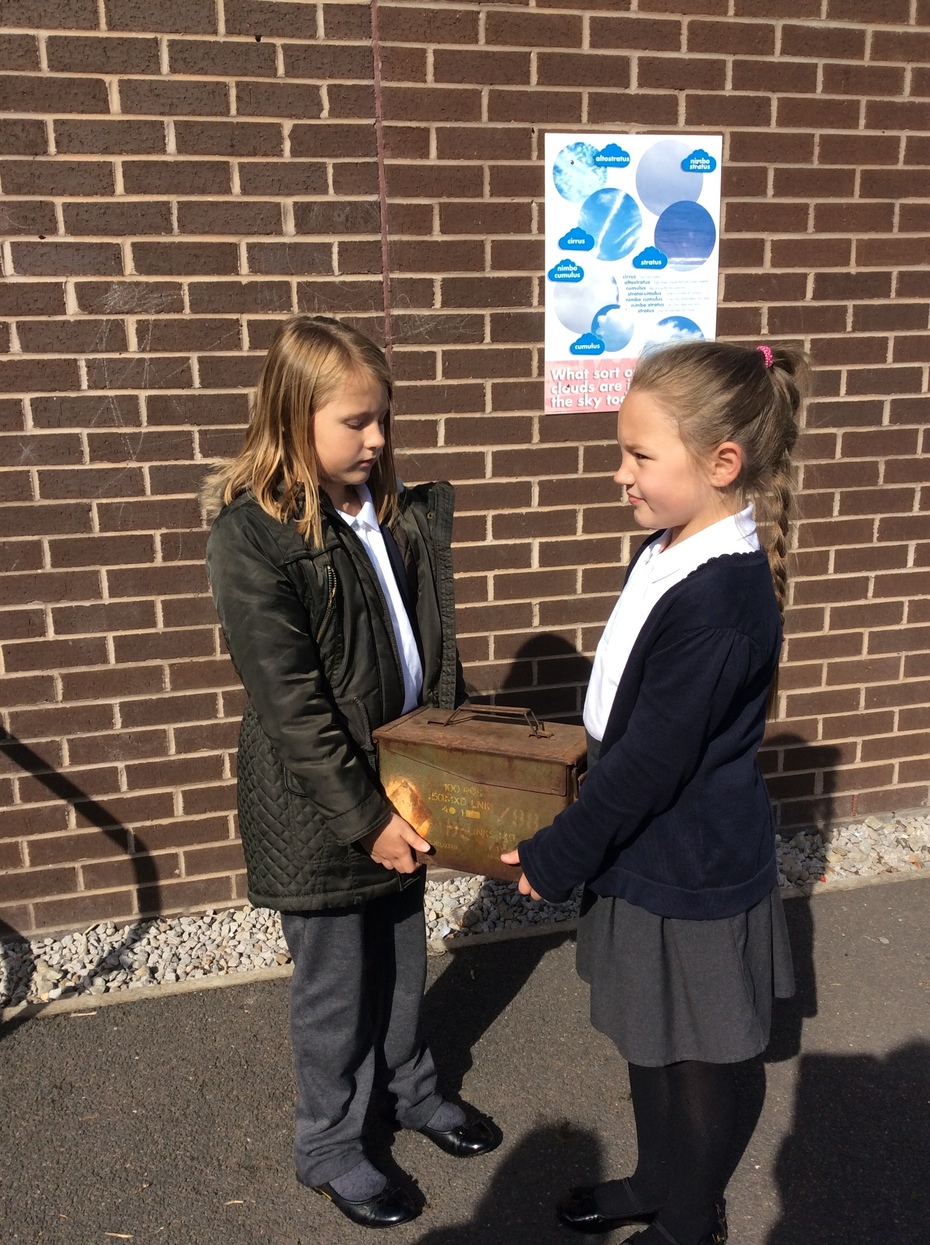 ---
Year 4
Sean Clarke (s.clarke) on: Year 4
What a welcome to year 4 we've had! Mr Clarke and Miss Wilby have been really impressed with the attitudes and work ethic of all children who have really shown themselves to be Year 4 ready!
In English and PSHE we have started a mini topic based around a book called 'The Watertower'. The story is set in a small town in rural Australia, which has a mysterious water tower which casts a shadow over the town of Preston. We have been looking at, discussing and creating our own local myths and legends. We have also made predictions based on the books front cover and blurb, as well as drama activities.
In maths we have got straight into Roman numerals, we now know Roman numerals to a 1000!
It has been an absolutely brilliant week back and we are all looking forward to keeping the high standards that we have set! we cant wait to see what the rest of the year has to offer!
---
Addison's Blog: Week 2
This week in English we have been reading 'The Wind in the Willows.' We had to pretend that we were Mole then we wrote a letter to mother Mole to tell her about our adventures. Later on this week it was World Book Day, all of the school dressed up.
In Maths we have been doing fractions and decimals. In Science we have been learning about solids, liquids and gases.
In topic we are beginning to design a bridge that will be able to hold a car.
By Addison Johnson-Green 4SW
Teacher's Blog: Week 3
This week in Year 4 we have been doing more about rivers. We went into the ICT suite to find out more about where our rivers are, with each table researching a different one.
In Maths we have been learning about coordinates. We had to draw the quadrants in our books then draw the shape where it was shown on the sheet. We also had a sheet where is had a quadrant with coloured dots, underneath it had a picture of dots. We had to fill in the gap where the missing coordinates were.
In English we are doing persuasive texts. We had a debate on Wednesday on whether we thought zoos should be banned and if girls should be allowed to play in mixed football teams, it was very noisy as we tried to persuade each other that our opinion was correct. We also learnt about subordinate clauses and had some activities to complete.
Teacher's Blog: Week 7
We have had a fun week this week. We practised our assembly and the parents came to watch us on Tuesday. On Wednesday in Maths we answered a questionnaire and drew the results on a bar chart. In the afternoon, we watched a pantomime. Yesterday we had our Christmas party. We played games and had a dancing competition!
We hope you have a Merry Christmas!!
Shefali's Blog: Week 6
This week has started to feel a lot like Christmas! In English we have been retelling 'The Christmas miracle of Jonathon Toomey'. Along with 4SW, 3GG and 3CW; we have been acting out the story, ready to show all our parents next week! It will be amazing and so Christmassy! In Maths we have been measuring the perimeter of shapes, you have to be very precise and your addition has to be perfect, it is very tricky.Mr Clarke hasn't been well so we've had some supply teachers but we're glad to have him back!We are so excited to perform 'The Christmas miracle of Jonathon Toomey' next week!
By Shefali Jha. 4SC
Teacher's Blog: Week 5
This week in Maths we have been learning about measuring. We have been measuring things in the classroom and converting them from cm to m. We also been solving problems and writing the reason why certain questions have not been right.In English we planned and wrote our own story based on The Lion, The Witch and The Wardrobe. We tried to include figurative language.We started our Christmas topic this week. Thursday afternoon years 3 and 4 went into Mr Clarke's classroom where there were lots of cushions for us to sit on. There was a fire on the interactive whiteboard and the teachers read us The Christmas Miracle of Jonathan Toomey. Afterwards we had hot chocolate and biscuits. Yum!
Sadie's Blog: Week 4
This week in English we have been reading and studying 'The Lion the Witch and the Wardrobe'. We have been working on our figurative language, improving our descriptive writing with similes, metaphors and personification. On Wednesday we played adverb charades, it was so much fun! In computing we have continued our programs on Scratch, we created our mazes where we have to get a character into the safety of an air-raid shelter. It has taken a lot of resilience, we have followed instructions and they are coming along amazingly well.In maths this week we have been learning about time. We started looking at an analogue clock, then moving to converting hours to minutes and by the end of the week have added and subtracted time. It has been really difficult but we have all put in 100% and that hard work has paid off!
By Sadie Jackson, 4SC
Charlie's Blog: Week 3
In English we are looking at stories set in imaginary worlds and how the authors use description to create imagery. We read the first chapter of The Lion, The Witch and The Wardrobe and pretended to be Lucy walking through the wardrobe into Narnia.In Maths we have been simplifying fractions as well as adding and subtracting them. It has been hard but with practice we are finding it easier.On Tuesday 4SW did an assembly about World War 2. We showed out Blitz pictures and gas masks. We sang 'Run Rabbit Run' and 'Siegfried Line.' We really enjoyed ourselves.
Charlie Hughes 4SW
Teacher's Blog: Week 2
In our maths lessons this week we have faced some difficult challenges with our fractions. We have worked very hard and have been resilient and we didn't give up. This has resulted in some fantastic results! Thumbs up!
In English and Topic this week it has been very exciting for year 4 as we continued our World War 2 discovery. On Tuesday we had a World War themed day, we dressed up as evacuees and we all looked amazing! It was a memorable day doing lots of fun activities and everyone participated. We made war time medals out of clay which was a very skilled task. We baked an eggless fruitcake, you wouldn't believe how scrumptious it tasted, there was not a crumb left in class! When the air-raid siren went off we made a quick dash under our tables pretending the German planes were above us. What an unforgettable day!
We are all now ready for our next challenge in Learning!
Bring it on Mr Clarke and Mrs Wainman!
By Lyle W 4SC
Teacher's Blog Autumn 2: Week 1
This week in English we have been looking at the Diary of Anne Frank. We created a timeline of key events in her life and watched video clips to help us visualise and understand what her life was like in hiding. We read extracts from the diary and even went into hiding behind our own bookcases in class. We listened to the footsteps of intruders and discussed how it made us feel before we wrote our own fabulous diary entries! In Maths we have been working extremely hard on the bus stop method of division and used our times tables knowledge to help solve the calculations. As part of our World War 2 topic we have looked at key events and put them in chronological order. We made suitcases, thought very hard about what we would pack in the case of an air raid and chosen six items, giving reasons for the choices.
Teacher's Blog: Week 6
It's been another action packed week in Year 4! On Tuesday we went to Eden Camp as part of our learning unit. It was great to see the children dressed up as evacuees as we all trooped around the former prisoner of war camp. Not even the miserable weather could dampen our spirits! Most memorable huts included the Blitz and the U-Boat as some of us screamed their way through!
On Wednesday morning 4SW came into class to find that there had been a break in overnight and the TSC sports trophy had been stolen! We looked at the crime scene and used our detective skills to come up with a list of potential culprits, Mr Clarke being the main suspect! We will continue to see if we can solve the crime over the next week …
4SC have used the excitement of Eden Camp to act out our most memorable parts of the trip in order to inspire some really creative recounts.
In Maths we are doing short multiplication. It's been a bit tricky to begin with, but as we continue to practice, we are becoming more confident!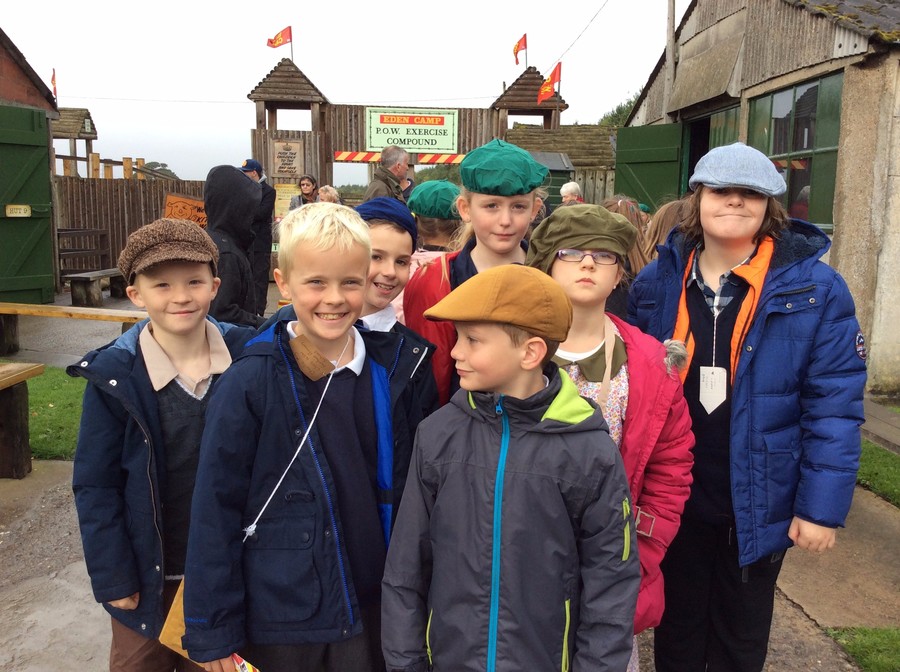 Brooke's Blog; Week 5
In year 4 this week we've been doing multi-step word problems in Maths. We have all found it really challenging but we all preserved through it and tried our best and we have eventually got there. We love a challenge in year 4!
This week in English we have been writing our own stories set during World War two. We have worked super hard and really tried concentrating and as a result our opening sentences were especially amazing!
For our World War 2 topic we have been creating pictures of the Blitz, for the background we smudged red, yellow, orange and purple pastels to create a fiery sky. Then we created searchlights with plain white paper. Finally, using black paper we cut out the silhouette of a city, and made aeroplanes and stuck them in the foreground of our picture. They look fantastic! You can come and see them on our classroom displays.
Finally, in PE with Mr Clarke we have been doing hockey, practicing our passing and shooting accuracy by aiming into tiny goals and scoring points for our Fountain team. With Mr H we have been practicing team sports and working together by playing netball, basketball, football and handball. Last Friday 4SC won PE class of the week and Ronnie won PE Hero of the week. This week Andrew won PE Hero of the week and 4SW won class of the week! Total year 4 domination! Well done from all of year 4!
This week has been great, I hope to have another like it. Thank you Mr Clarke and Mrs Wainman.
By Brooke Fisher, 4SC.
Teacher's Blog: Week 4
What a beginning to the week Year 4 had! On Monday, Andy Ako, a Paralympian, came into school and talked to us about the importance of having a positive growth mind set. Next, the two classes had a lesson each on how to use a wheelchair before we played basketball, we had lots of fun and worked together as a team.
In English we have been continuing looking at the book 'Goodnight Mr Tom,' looking at the characters of Willie and Mr Tom, and using drama to empathise with the characters.
In Maths we have been working on 4 digit column addition and estimating the answer by rounding to the nearest 1000. It has been quite challenging but we are persevering! We continue to work on our times tables recall and are getting faster!
Finally, as part of our World War 2 topic we have been using our map skills to locate the allied countries and the axis as well as discussing the causes of the war.