Year 5
Gemma Bray (g.bray) on: Year 5
We have enjoyed another busy week in Year 5!
In English, we have continued using 'There's a boy in the girls' bathroom' to discuss how different character's may feel and the reasons why this might change. After sharing ideas as class, we wrote our own diary entries from the point of view of a character from the story, focusing on using interesting adjectives to describe how they were feeling. We then edited our work to make sure we had included all the key features and to make it even more interesting to read - a very important skill! Towards the end of the week we looked at some Haiku poems. Can you remember the pattern to follow when writing your own Haiku? We kept our focus on 'feelings' and used similes and metaphors to help us write Haikus which would evoke strong emotion in our audience.
In maths, following on from our investigation last week, we have been exploring the difference between area and perimeter. We were challenged to find the largest area and perimeter we could using either sand or pasta. We found it useful to discuss our strategies with other teams afterwards as we discovered alternative ways of approaching the task. Can you explain the difference between area and perimeter? We also started to recap the importance of having fantastic place value knowledge! We were surprised with how much easier it was to add decimal numbers using a place value grid!
A particular highlight of our week has been the 'Resilience' workshop with Tim Hall on Thursday. To begin the day, Tim showed us all a really interesting pencil trick. However, he couldn't teach us how to do it - we had to listen, look and put in lots of effort in order to learn how to do it ourselves! By the end of the day, we were all getting a bit closer to doing it correctly. We also learnt to juggle by listening to instructions and following a process.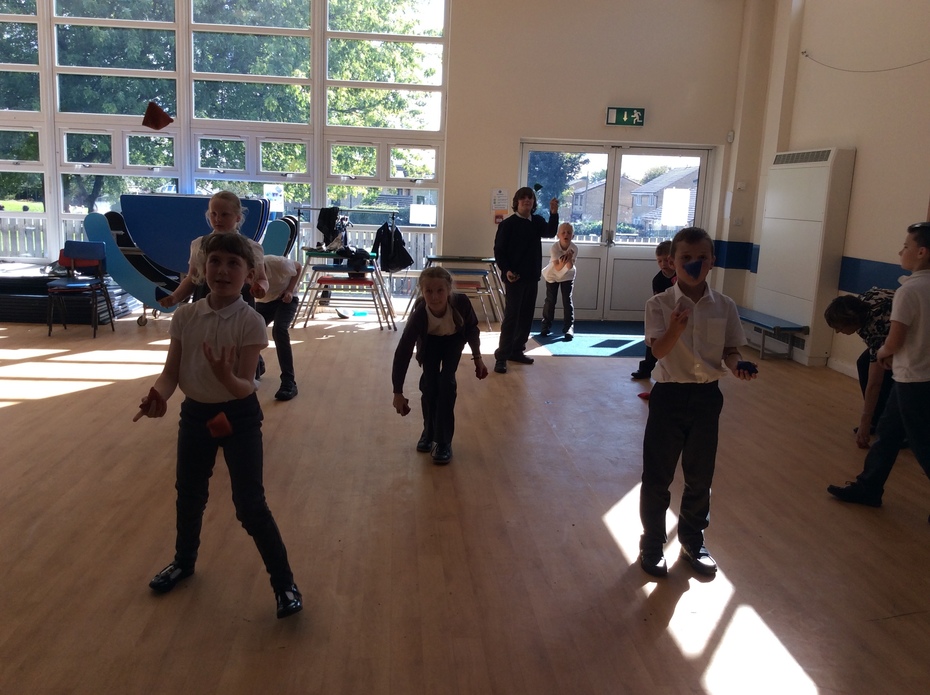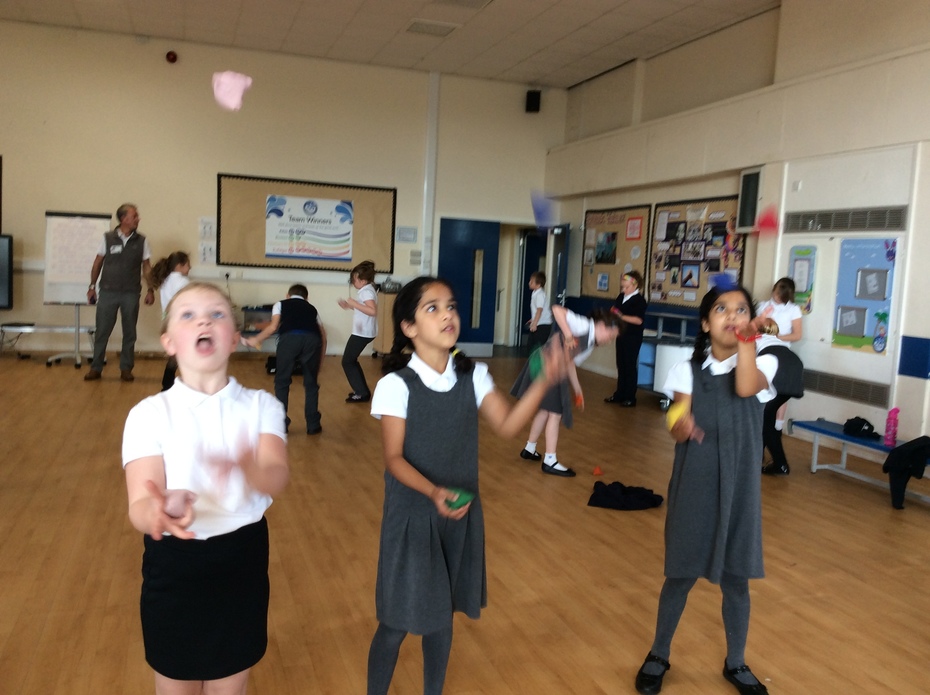 In the afternoon, we worked in teams to build a tepee which was big enough for our entire team to sit inside. We definitely had to have a growth mindset for this challenge, as many of the tepee's collapsed after our first attempts. A huge focus of the day was discussing what 'success' means to us and how we can achieve our own goals.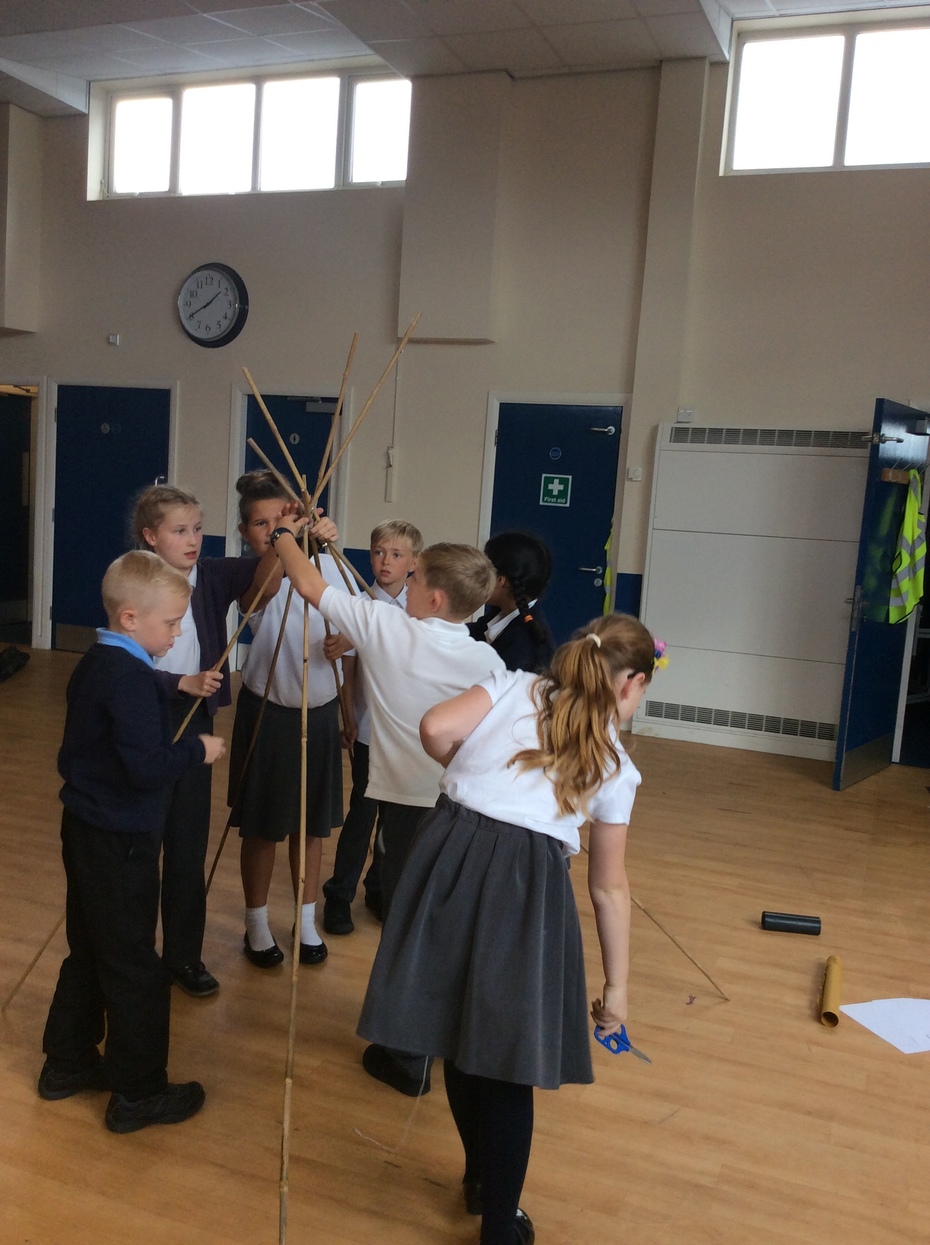 To end the week, we were excited (and a little bit nervous!) to sing our growth mindset song to the whole school in assembly! The message from this song has linked in really well with our growth mindset work and encourages us to keep trying in all our lessons.
Well done for another fantastic week! We're looking forward to finding out what our new topic is next week...
---
Gemma Bray (g.bray) on: Year 5
A huge welcome to Year 5!
We've had a really positive start to the new school year and are looking forward to all the new learning experiences still to come throughout the rest of the year.
Please check this blog regularly to keep up-to-date with what we've been learning about and to hear all about our fantastic achievements. It will also provide you with lots of important information and key dates, such as our exciting trip to Robinwood in January! The children are also very excited about their new planners. These should be used as a reading record and to record any homework, but may also be a useful form of communication if you wish to leave any messages. We're determined to become super organised!
To start the year, we have discussed the importance of having a growth mindset to ensure we all reach our potential in all of our lessons. To begin with, our resilience was tested in maths as we investigated how many people we could squeeze into our classroom. Through working in effective teams and sharing all of our ideas, we eventually agreed on the best strategy to help us solve the problem as accurately as possible. Can you remember how many people we could fit into the classroom? Later in the week, we had to show our determination when attempting new activities in PE.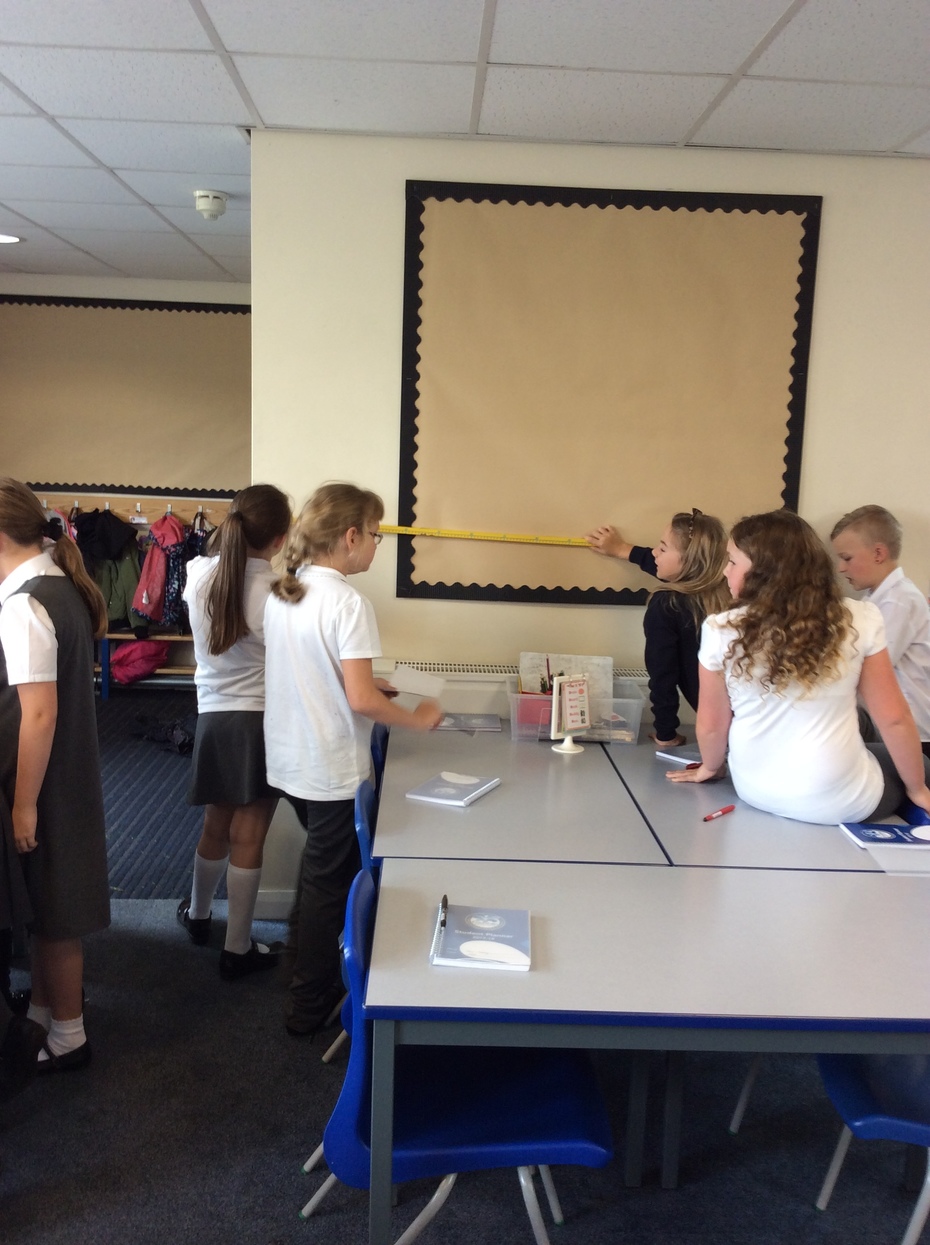 You have also probably heard us practising our growth mindset song… we have really enjoyed coming together as a year group to rehearse and can't wait to share it with you!
In English, we have been thinking about how our actions can affect other people and everyone participated in role play to help us put ourselves in someone else's shoes. It was great to see so much confidence and enthusiasm from everyone.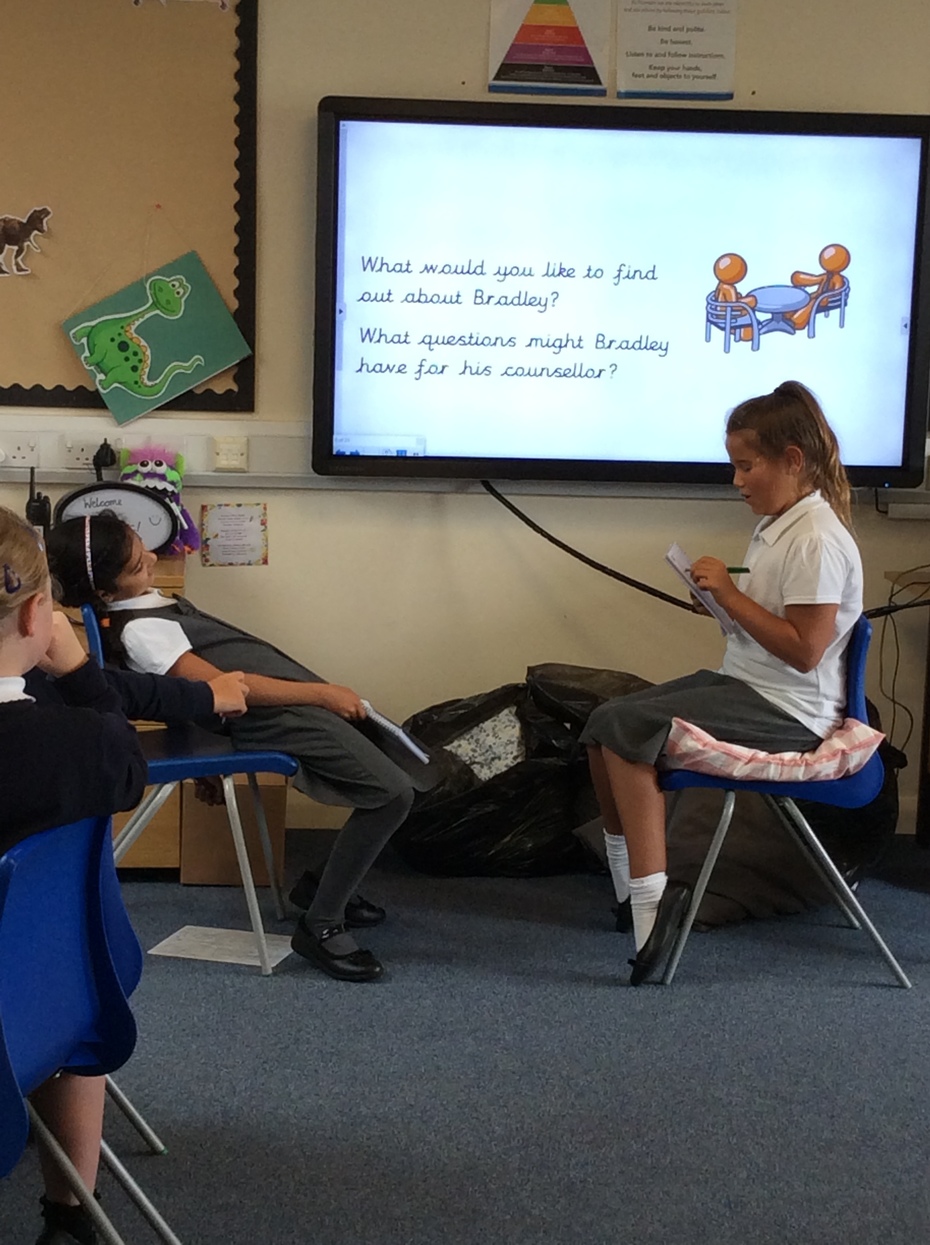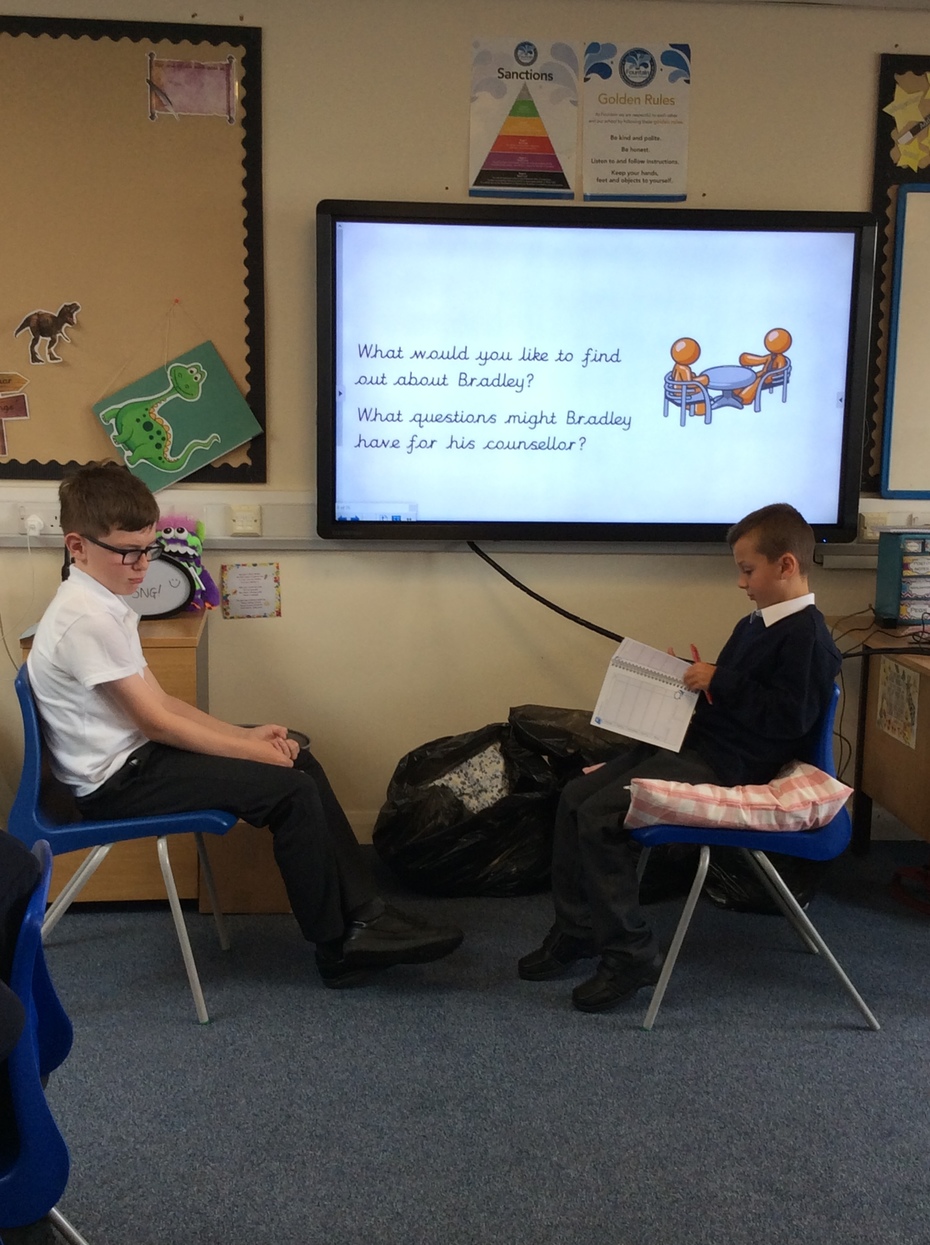 Don't forget that we now have a longer PE lesson on Friday afternoons. Homework will also go out on Friday and should be completed by the following Wednesday. Our spellings will be introduced each Tuesday and tested the following week.
What have you learnt from our growth mindset song? What is your mindset moment from this week? How will you achieve the targets you set yourself this week? What are you most looking forward to this year?
Thank you for a fantastic start the new term! We are looking forward to another exciting week, including our Resilience Day next Thursday.
Miss Gaspar and Miss Bray
---
Year 5
Year 4 Blog
Rachel Wilby (r.wilby) on: Year 4 Blog
As always we have been working hard in Year 5 and this week has been no exception. In between, being Time-warping TV producers in our maths lessons and up and coming journalists in our English lessons we have found time to get up to a whole host of things this week. Where do we find the time!
You might have spotted some familiar faces on Calendar News Wednesday evening, when ten of our Year 5 pupils visited Morley Town Hall to work in collaboration with other local schools for a very special event. Four hundred children performed at Morley Town Hall at a special event inspired by the tragic death of MP Jo Cox. They came together as part of "The Great Get Together", a movement which has sprung from Jo's maiden speech in Parliament in which she said we have more in common than that which divides us. In true Fountain spirit, our pupils showcased their wonderful talents and we are so proud of the pupils that took part. Check out the report on the ITV website: http://www.itv.com/news/calendar/2017-06-21/hundreds-of-children-at-jo-cox-get-together-event/.
Year 5 School Council representatives, Scarlet and Eve joined other Aspire schools at Morley Victoria on Thursday to share ideas on ways to enhance environments in school. We look forward to hearing their feedback. 
Our school Librarians had a very important mission this week. Bright and early Thursday morning they set off for Headingley to visit Leeds Library service. Their mission, to choose nearly 400 books for our beautiful school Library. Armed with hundreds of requests from pupils they set about choosing a a wide selection of books. It sounds like they had lots of fun and we can't wait for the books to be delivered!
Finally, we want to say a huge WELL DONE to all our Year 5's who took part in the Sports Day at Bruntcliffe Academy. You were fantastic and showed fantastic resilience on one of the warmest days of the year. 
Another awesome week Year 5! Well done! 
---
Teachers Blog: Week 2
This week has been a busy one in Year 5! It started off with our Heritage Day on Monday, where we were lucky enough to have the help of some Leeds Trinity students. It was a jam-packed day, full of activities looking at the history of Morley from a geographical and historical perspective. We started by creating map markers to explore how the landscape of Morley has changed from today back through to 1854. Then we were History Detectives, using investigative skills (in addition to original trade lists and the 1891 census) to uncover more information about the people who lived on our very own Fountain Street, before creating a story about them. On Tuesday Mr Dalton invited Year 5 to attend a workshop about John Bunyan's famous work, 'Pilgrim's Progress'. The children were really engaged throughout.
Thursday was another busy day, as it was World Book Day. Well done to everyone for making such a fantastic effort with your costumes, it was lovely to see so many different book characters brought to life! We had a fun literary themed day, creating our own book related menus and our own potions, inspired by the brilliant Harry Potter books. At the end of the day, we had a special whole school assembly, where the real Burglar Bill was revealed and it turned out to be Miss Bray!
Well done to the Year 5 boys who played in the football tournament this week, they were fantastic!
We hope you have a relaxing weekend, after what has been a busy week.
Miss Bray and Miss Wilby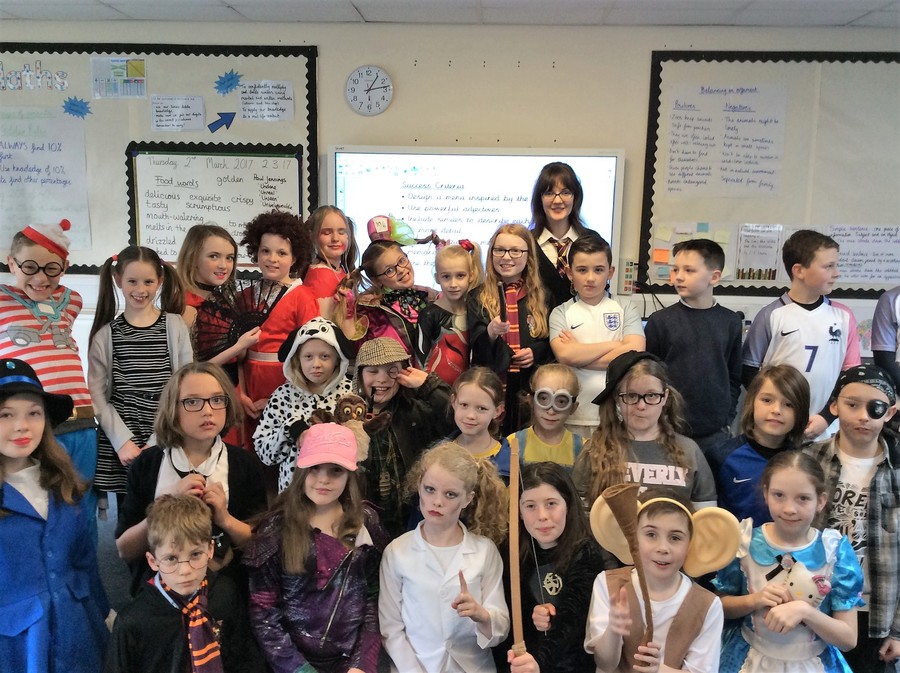 Year 5 Blog
admin on: Year 5 Blog
What a 6 weeks we've had! It has been an amazing half term and we have worked our socks off. It is safe to say we are ready for a week of rest and relaxation. As always this week, we have been learning lots of new and exciting things.
In Maths, we have been converting percentages into decimals and fractions and have been tackling some very tricky reasoning problems.
In Literacy, we've been reading and performing our instructional text maps. The text maps help us learn how to improve our writing and they're also really fun! Our instructions about how to get up in the morning were so detailed, even an alien could follow them!
In Science, we have been writing songs about space and we have been imagining what it was like to be British astronaut Tim Peak. We wrote a diary using our writing skills to write about a day in the life of this amazing man.
Finally, Year 5 would like to say an enormous THANK YOU to Miss Gaspar who has been working with us since September. She leaves us this week to help Churwell. We know she will do fantastic things like she did for us!
---
Teacher's Blog: Week 4
What a crazy couple of weeks we've had! Last Wednesday, Year 5 finally set off on their adventure to Robinwood!
The long, yet picturesque, ride on the coach gave us lots of time to think about the amazing activities that were awaiting us. We were excited for the action packed days to come but nervous about being away from home!
Right from the start, we got stuck into so many activities. Some of our favourites were Zip-wire, Giant Swing (Chop Chop Banana!) Trapeze and Caving. We showed great growth mindset and resilience and tried our best to have a go on all the activities.
The food at Robinwood was delicious! We had an English breakfast every morning with healthy pasta and wraps for lunch and dinner. Although we were very jealous that the teachers had a mouth-watering cheese cake to eat!
We made sure we always followed the Golden Rules even though we weren't in school. We were a great year group and represented Fountain Primary once again with our outstanding manners and achievements. We all loved each and every activity and made the staff of our school very proud.
Back in school this week we have been using our experiences at Robinwood to produce some amazing work. In English we have been writing a diary, documenting what we got up to during our residential. We have also been creating some sketches of the amazing
Teacher's Blog: Week 2
Year 5 have been working really hard this week. We would like to share what we have been doing.
Maths
This week in maths we have been learning about decimal place values and converting two decimal place numbers into fractions. We have also been doing decimal addition pyramids. They were quite a challenge!
English
In English we've been learning about paragraphs with indents, non- chronological reports and dashes. We've been collecting information for a plan which will create a non-chronological report about Morley.
Topic
This week in topic we've been learning about maps and have been finding the fastest route to Robinwood but we had a limited amount of map so we couldn't just go on the M62. We have been writing down the route just like a Sat-Nav!
It has been a good week as it's our residential trip to Robinwood soon. Everyone's very giddy. And don't forget; JUNK FOOD PROJECT EVERY WEDNESDAY!!!
Teacher's Blog: Week 1
Welcome back and Happy New Year! We hope you have all had a lovely Christmas and are looking forward to an exciting half term. This week in English we have been looking at instructions and the importance of using imperative verbs and time connectives to make sure the instructions are clear and precise. 5GB wrote some fantastic instructions telling an alien how to make a perfect sandwich. They realised that it was trickier than expected to break down a seemingly simple task into clear, easy to follow steps. 5RW have been practising their editing skills to enhance their instructions. In maths, the children have all been enjoying using with Roman numerals and have done some brilliant work to crack codes and sort numerals into the appropriate place on a Venn diagram. We began our topic with a Q&A session on Robinwood, where the children could ask any questions or discuss any worries they might have. The children said they felt more confident and excited about our upcoming trip after this session.
Our new science topic this term is Earth and Space. The children have come up with some interesting questions that they want to explore about space. We are really looking forward to looking into this subject more in the coming weeks.
Well done to all of Year 5 for settling back in to the new term really well.
Teacher's Blog: Week 7
Well, we have reached the end of our first term in Year 5. We would like to take this opportunity to say thank you to all the pupils and the parents, for making us feel so welcome. It has been a fantastic, enjoyable and memorable first term at Fountain Primary School. Time seems to have flown by and the children have produced some brilliant pieces of work in all subjects this term. Our Victorian topic has now come to an end, but we hope the children have enjoyed learning about this important period in British history. In English and maths, the children have been incredibly resilient and developed their growth mindset, by not giving up when something proves difficult. This week, we have been doing lots of reasoning and problem solving Christmas challenges to revise everything we have learnt so far. As part of our Christmas topic, which centres around the wonderful book, A Christmas Carol, by Charles Dickens, the children have created Christmas haikus, about the characters and the storyline in the book. Our Christmas assembly on Monday, was a great success and we thank you for your support. The children worked incredibly hard to put together a show in just one week and we were very proud of them and all their hard work – it definitely paid off, the performance was fantastic. Well done Year 5 and 6!Once again we would like to thank Year 5 for a brilliant start to the school year, it is a joy working with you all.
We hope you have a lovely Christmas and see you in 2017!
Teacher's Blog: Week 6
We've had a busy week as we started our Christmas topic with a two-day WOW last week. As part of our Christmas topic, we have been reading Charles Dickens' A Christmas Carol. It links really well to our Victorian topic and the children have been picking up on lots of links.
There's been lots more work on fractions this week, and the children have been incredibly resilient as we have introduced new concepts, such as multiplying by whole numbers.
In English we have been creating some fantastic character and setting descriptions based on the text, we all agree that Scrooge undergoes a miraculous transformation over the course of the story.
Preparations for our Christmas performance are well underway, and we are all very proud of how hard the children have worked to put this performance together in such a short space of time. It is very impressive! We hope to see you there to celebrate Christmas and the children's hard work next Monday.
Teacher's Blog: Week 4
We were very impressed with the fantastic crime narratives that the children produced last week – we definitely have some future authors in Year 5. This week we have started a new text type, looking at newspaper reports, before the children write their own based on the crime they created in their stories.
In maths, we have been exploring fractions and the children have tried really hard to develop their understanding of equivalent fractions and noticing links between fractions and the work we have been doing in the rest of the half term. These connections are a key part of mathematical learning, so it is great that the children are starting to independently make these links.
As part of our science topic, on the properties of materials and changing state, we have been carrying out a few experiments. I think a firm favourite was our investigation into how we could keep Olaf at a constant temperature, using our very own mini Olafs (ice cubes in a cup!). The scientific language and shared knowledge which these investigations generated were very impressive and the children enjoyed learning about how different materials act as thermal conductors or insulators.
It has been another fantastic week. Well done Year 5!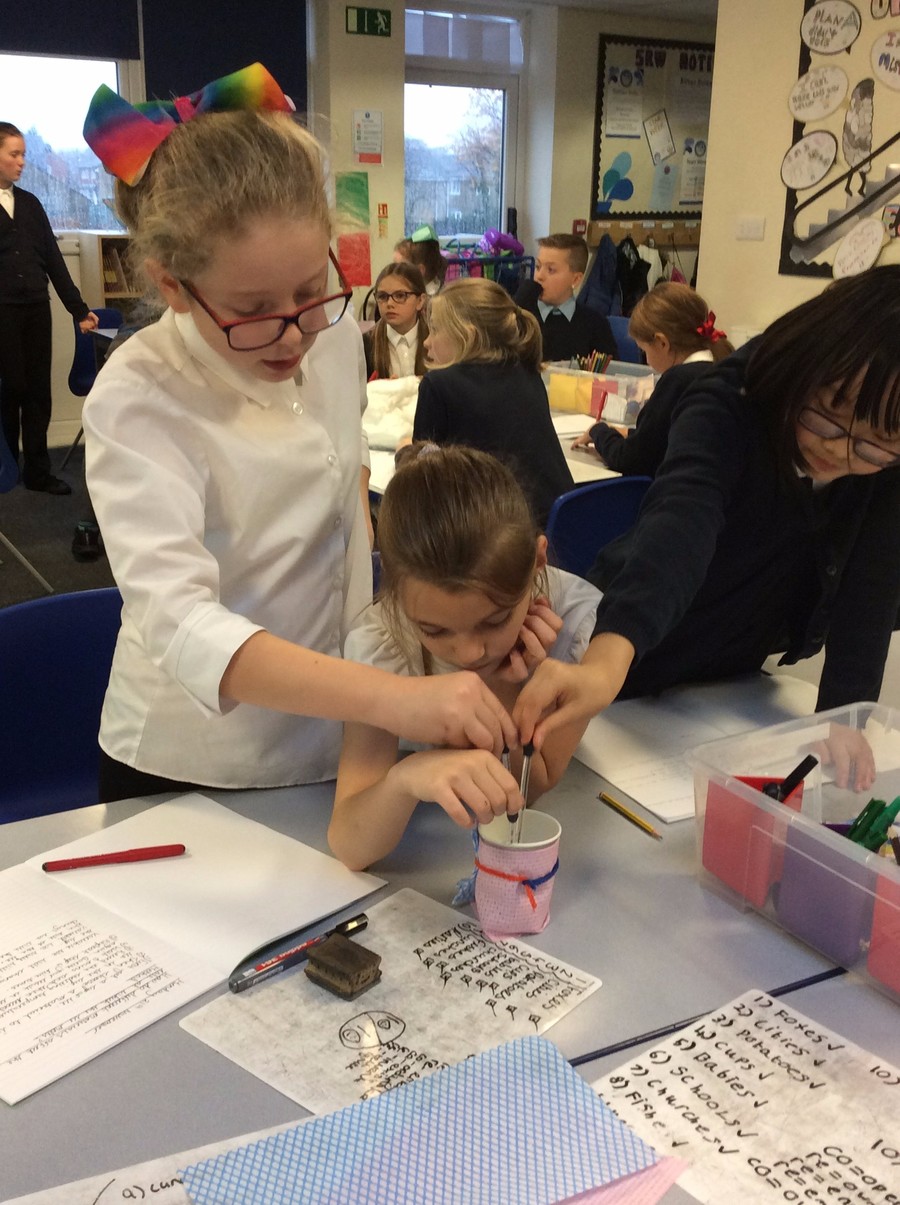 Teacher's Blog: Week 3
Thank you to all the parents who attended our reading morning, the children really appreciated having an adult to read to. It was lovely to see so many children enjoying a good book.
Friday saw lots of lovely buns and cakes being brought into school, which the children enjoyed tucking into at break time, so again thank you for your support. The classrooms were a riot of spots and Pudsey Bear ears!
This week, both Year 5 classes have really impressed us with the fantastic crime stories they have produced. The quality of the children's writing is outstanding and they have clearly enjoyed this genre.
As part of our topic we have been looking at the British Empire during Queen Victoria's reign and exploring how it highlights the importance of our British Values.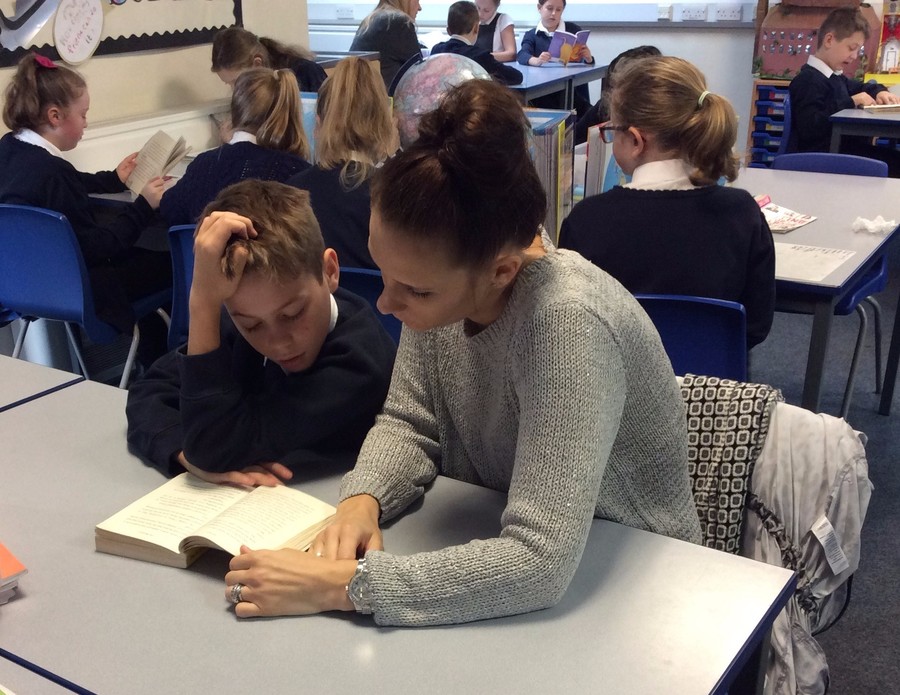 Teacher's Blog: Week 2
In English this week, the children have been creating the setting and character descriptions for their crime/mystery stories. They have been coming up with some fantastic examples of using figurative language to add extra detail. We are looking forward to reading the stories next week!
Building on our work on factors and multiples, we have been looking at multiplication and how we can apply this knowledge to real life in maths.
As part of our topic on the Victorians, we have explored different jobs often done by children in the Victorian period. The children then created an advert to attract people to apply for the position of either a chimney sweep or a mine worker. There were some fantastic slogans, such as 'Every Sweep Helps!'. We will be looking at the British Empire and the lasting impact it has had.
Teacher's Blog Autumn 2: Week 1
We hope you have all had a lovely, relaxing half term. On Monday, both classes were very excited about trick or treating and came into class on Tuesday full of stories about the number of sweets they had collected! In maths this week, we have been recapping our work on factors, multiples, prime and square numbers, as well as looking at divisibility rules to help us with our mental arithmetic. This week in English, we have started a new text map as the end goal is to write our own crime/mystery story, which is very exciting. We have been continuing with our Victorian topic, which all the children seemed to be enjoying, by looking at the different jobs held by people in Victorian times. We were all very relieved that the job of 'crossing boys and girls' were no longer needed!
On Wednesday, both classes were lucky enough to have a visit from a theatre group, who delivered a performance and workshop. They did some fantastic work discussing the different aspects of the characters' personalities. We were very proud of the way the children conducted themselves throughout the session and the fantastic ideas they came up with.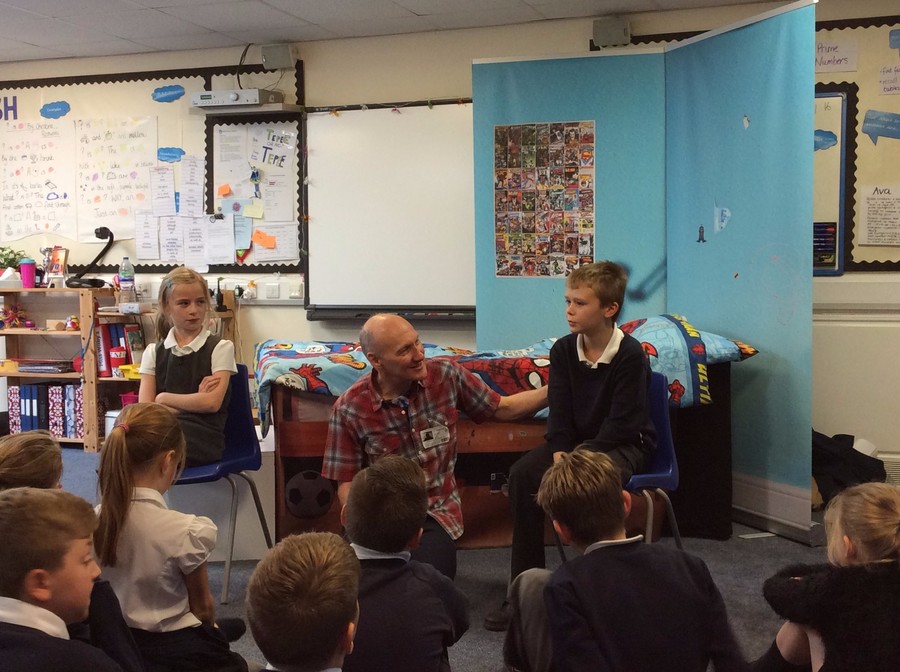 Teacher's Blog: Week 7
Well done Year 5 for a brilliant half term, we are incredibly proud of how well you have settled in and of all the fantastic work you have been doing. This week in particular you have created some amazing poems in the style of the Victorian poet, Christina Rossetti. There have been some super sentences using similes, metaphors and personification flying around the Year 5 classrooms – we definitely have some future writers in the making here!
We had our homework project afternoons this week, where we were astounded by the effort and hard work that went into these projects. From scrumptious cakes and biscuits made using original Victorian recipes, to some fantastic models and posters, we have really enjoyed looking at your homework projects. Take a look at the pictures to see for yourself all the hard work the children have put in over the last few weeks.
Next half term we will be continuing with our Victorian topic learning about the different jobs, inventions and exciting changes that occurred during this fascinating period.
We hope you have a lovely half term holiday and come back well rested and ready to work.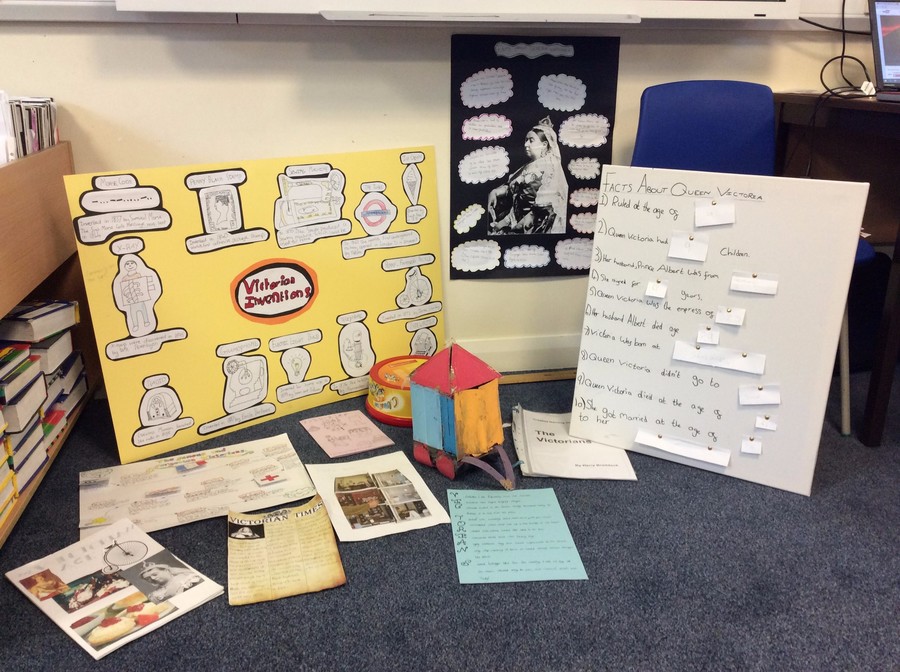 Teacher's Blog: Week 5
We have had a slightly calmer, but just as exciting, week in Year 5. In maths we have been working hard using our knowledge of column addition and subtraction to solve calculations, including those with decimal numbers – very tricky stuff! The children have all been working on improving their concentration, our focus from Monday's assembly and it has been lovely to see the amazing quality of their work. As part of our topic on the Victorians, we have begun designing a bookmark in the style of William Morris and in the coming weeks we will be transforming these designs into hand-sewn bookmarks.
In our English lessons this week, we have been trying something new – learning a text type through the use of a text map. The children have worked hard to retell the example non-chronological report about 'Famous Victorians', and the results are very impressive (we will hopefully be uploading a video link so you can see them in action!). The children have enjoyed using the text map to learn about how to structure a non-chronological report and next week they will be using everything they have learnt this week, when they start to write their own. We are looking forward to reading them!
Teacher's Blog: Week 4
Year 5 have had a very exciting week. On Tuesday, both classes went on a school trip to Armley Mills – it was our Victorian day! The children were fantastic and many members of the public commented on how well behaved the children were. We were very proud of the way they immersed themselves into the workshops. Everyone enjoyed the experience and we all learnt so much – we've got plenty of mini-experts on life for Victorian children now! It was fascinating to find out what schools were like in Victorian times – the children are very glad that school teachers no longer use the cane!
In maths this week we have been doing lots of work on rounding numbers. It was tricky to start with, but we have been very resilient and we have kept trying, so now we can confidently round numbers to the nearest thousand.
We have been finishing our work on diary entries in English and the children have been using all the facts and information they gained from their trip to Armley Mills, to enhance their work.
Well done to everyone in Year 5 for a brilliant week and for being fantastic representatives of Fountain Primary School. We are very proud!