Year 6
Louise Ball (l.ball) on: Year 6
This week in English we have been thinking about a resilient moment that we have had and forming a poem surrounding it. We used the ideas from the book Truckers by Terry Pratchett to think about their resilience – as they are only 4 inches tall and need to survive – before moving on to our own. This has given us the chance to be creative whilst also thinking about our resilience and growth mindset, something that is a major focus for our P.S.H.E weeks.
In maths we have looked at our understanding of partitioning numbers as well as starting to round them. It has been great to show what we already know about numbers and we have been creatively exploring these aspects through dice and number cards. Alongside showing our general number knowledge, we have been reasoning our understanding to show how this knowledge could be explored in a variety of ways.
To further our resilience, this week Tim Hall came in for the day to explore different resiliency tasks. We pretended we were deserted on a desert island, we threw balls into buckets from a variety of distances, we even got tied up in knots before the final task of trying to sell either a beach holiday, a healthy milkshake or an exercise class. The day was mainly about leadership and Tim spoke about the importance of this as well as the fact that, as Year 6, we are looked up to by the younger years as leaders.
Overall, this week was full of resilience and creativity and so this should come across in the home learning. This week is all about showing 'growth mindset' in a creative manner, any way you can. We look forward to seeing all that you create.
---
Year 6
Teachers Blog: Week 2
This week in English we have been finishing and publishing our 'Lost Thing' stories. We were able to use our time on World Book Day to both write and illustrate our books and, once completed, they will be placed in the lovely newly finished Library for other children to read.
In Maths we have continued with the work on converting from imperial to metric measurements, we were even able to convert a recipe that was written in pounds to grams. We had a lot of fun doing this – especially as it was so challenging!
On World Book Day, alongside publishing our books, we enjoyed the mix of reading and P.E. We found a variety of ways to read whilst exercising, showing that you can do both at the same time. We also enjoyed finding out who the real Burglar Bill was – especially considering all the things they stole throughout the day!
We had a visit from author and illustrator Chris Moulds this week, showing us just how he creates such brilliant work. Some of us even had a chance to draw alongside him! He opened our new Library as our new pupil librarians waited anxiously to see the big reveal. Once opened – all of key stage two were able to see how different the new Library is. The excitement we felt while opening it and discovering the new books was indescribable. We can't wait to take the books home to explore lots of new stories!
Teacher's Blog: Week 4
This week in English we have carried on with the non-fictional writing, now starting to look at balanced arguments. We have been discussing out-of-town shopping complexes, thinking about what they are as well as whether they should be built. We used our 'Picture News' as a starting point for this, as it linked to whether we should be able to build anywhere. Thinking about whether we should build on countryside (Green Belt land) leads us nicely into next week which is respect week at Fountain. Next week, year six will be thinking about respect in relation to our planet and those on it.
In Maths we have been working on multiplying decimals. As we were able to multiply them easily, we could then move onto reasoning and problem solving. In today's lesson we moved onto a maths investigation, using what we had learned to explore possible answers.
In Science this week we have started thinking about what our lamp will look like and even started getting materials together to build them. We are all thoroughly excited about producing our very own designs.
Teacher's Blog: Week 3
This week we have really got stuck into our topic of 'Building a Village'.
On Tuesday, we received a letter from Mr Brick who stated plans for a building development on our school field! In response to this letter, we wrote persuasive letters back to Leeds City Council to put a stop to the building plans. We are happy that our letters have been successful and luckily, due to our writing been very persuasive, the plans have been stopped!
On the theme of new things being built, we are looking forward to your ideas for your creative home learning this week! Remember, if you need more time to create your village, just let your teacher know.
In maths we continued our work with percentages and moved on to learning about decimals later in the week.
In Science we researched what our design could look like for our decorative lamp. We thought about the circuit we would need to create and what would go in our circuit. For example, how many bulbs would we need?
Teacher's Blog: Week 2
This week we have been looking at a new book relating to our new topic of 'Building a Village'. Our new book that we have started looking at is 'Window' by Jeannie Baker. On the first page of this book it shows a woman looking out of her window with her baby son, she can see her garden. Using this image, we mind-mapped descriptions of what we could see around it. We then compared this to what we can see out of our windows and did a descriptive piece of writing using this. We were able to use metaphors, similes, expanded noun phrases and precise adjectives to improve our descriptions. In Maths we looked at fractions questions, thinking about our reasoning. We used green pens to write our reasoning as to how we worked it out. We then moved onto working out percentages of amounts, working out 10% initially by dividing by 10 and then using this knowledge to find 5%, 1%, 3% etc. We have also been doing practice SATs papers this week, the aim of this was to see how much we could do in the time given and see the areas that we could work on to improve. In Science we have started looking at electricity. We looked at the importance of safety around electrical devices before creating our own circuits and testing the batteries and bulbs.
In P.E we were able to get the gymnastics equipment out, as you can see in the photos it was great fun! We explored balancing in different ways and jumping with the correct landing position.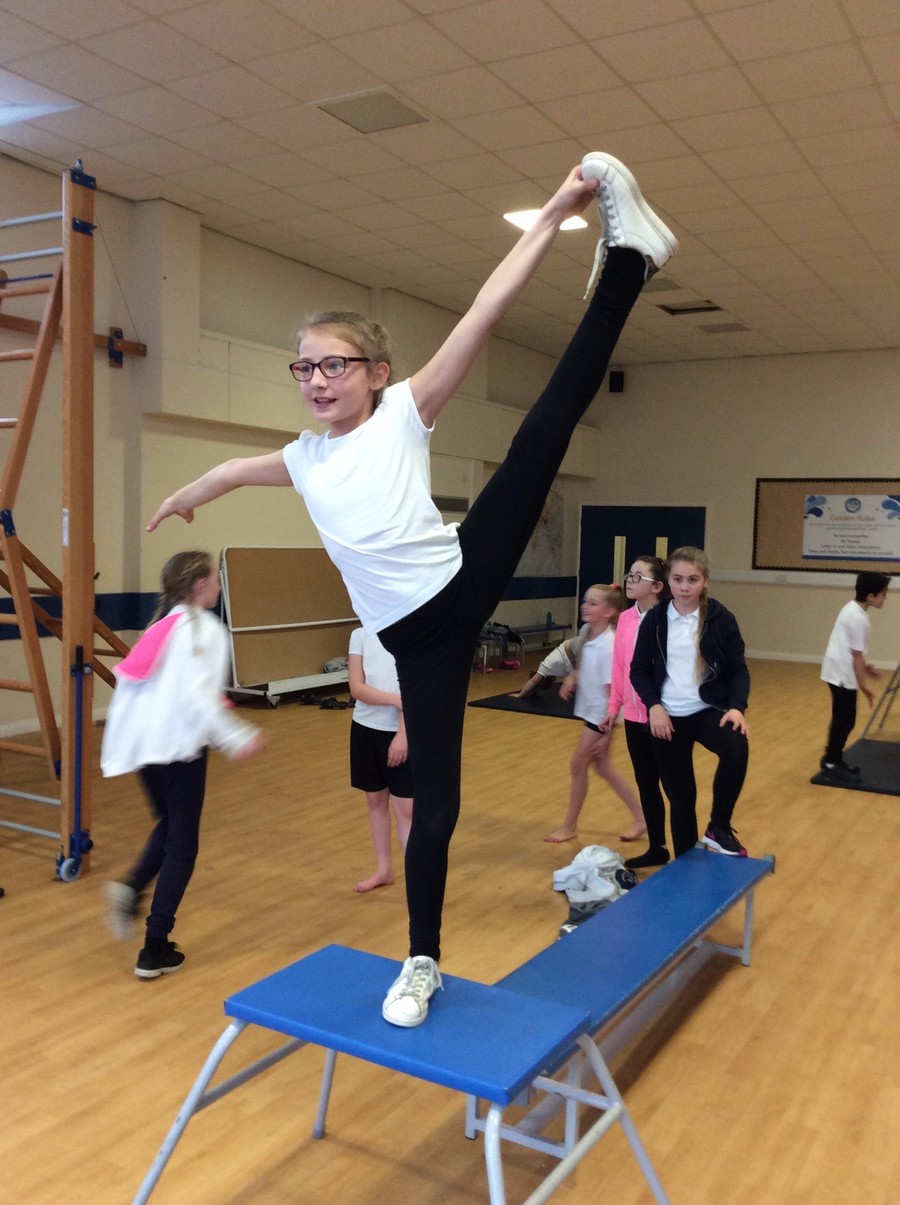 Teacher's Blog: Week 1
This week in English we have been writing up our narrative from A Christmas Carol using the feedback received. We have self-assessed our work as well as peer-assessed it against a criteria and thought about how to improve it.In Maths we have been looking at dividing fractions by both other fractions as well as whole numbers. At first it seemed really tricky but as soon as we went through an example, it suddenly became clear it wasn't as difficult as we thought! We have shown that we are all capable of dividing fractions!
In P.E we started preparing for the dodgeball tournament that is coming up. For this we covered the rules again and implemented them in small games.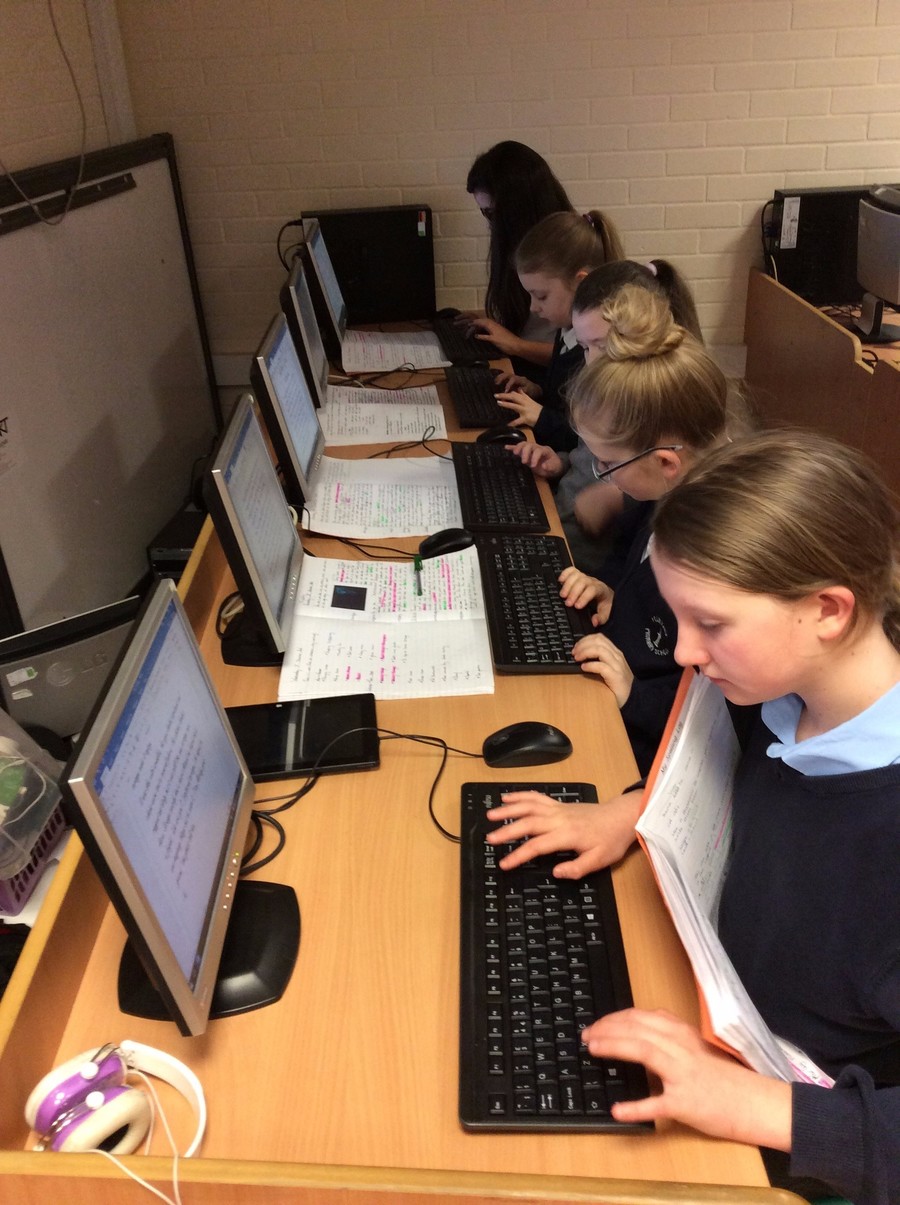 Teacher's Blog: Week 7
This week we have been writing a narrative, using the book 'A Christmas Carol'. We have re-written the part of the story when Marley visits Scrooge to tell him of the three spirits that will visit him. In writing this, the children were able to show off all the skills they have been learning this term. They have created amazing pieces of work that they should be extremely proud of. We also had a pantomime of Beauty and the Beast this week, which was thoroughly enjoyable for our final week of this term.
Thank you to those that made it to the production of A Christmas Carol, the children worked really hard on this and their hard work paid off. I'm sure you would agree. For those of you that were not able to come and see it, please take a look at the photos attached.
Teacher's Blog: Week 6
This week in Maths we have been looking at multiplying fractions by other fractions as well as whole numbers. We then used our knowledge to work out the area of different parts in a garden. In English we have been looking at A Christmas Carol. We thought about how Charles Dickens created tension and suspense in the start of the book compared with the Disney movie version. We have then started re-writing part of the story where Marley visits Scrooge to tell him that three spirits will be visiting him. We have started writing this, thinking about all of the things we have learned about so far in Year 6. We have been working really hard on our Christmas production of A Christmas Carol. For this we have worked in our Fountains and created a production without much input from teachers. We look forward to you coming to see it on Monday 12th December 2016 at 2:30pm!
Teacher's Blog: Week 5
This week in maths we have been looking at investigations using our knowledge of fractions so far. We worked in small groups to decipher how many counters we would need to fill a box that also had an instruction manual. Some of us even managed to create our own investigations. In English we looked at how paragraphs are formed. We cut up pieces of chapter 11 and moved them into time, place, topic and person to show why the author had started a new paragraph. Once this was completed, we then used our knowledge of how to start a new paragraph in our final piece of work on Wolf Brother. Our final piece was completing the story of what we think would happen next, would Torak leave wolf behind? We started our new Christmas topic this week, introducing the classic tale of 'A Christmas Carol'. To introduce this topic, we had two boxes and an envelope to show Christmas past, present and future. The children were then able to work out what the new story would be from the clues. We watched the film of this story prior to working in Fountains to re-create each part of the story for the performance.
Remember to get your costumes and any props that you may need!
Teacher's Blog: Week 4
This week in Year 6 we have been continuing to learn about fractions, thinking about how we can convert improper fractions to mixed number and what this means. We have also looked at adding these as well as comparing them and ordering them. We have shown a really good understanding of what fractions are and are able to show visually what a fraction may look like. We will be continuing to learn more about fractions next week and we look forward to improving our fraction knowledge and attempting some really tricky questions!
In English we have been adding flashbacks into our monologues from last week, thinking about the past perfect tense in doing so. We added sentences such as 'I had been hunting with Fa', using the Wolf Brother book and our knowledge of it to add depth to the main character. We were able to add details that we believe could have happened before the start of the book, such as what had happened to Torak's mother as we didn't know.
We had our first transition visit to The Morley Academy this week for Art and Dance and thoroughly enjoyed it. We got the chance to create abstract art by listening to music and interpreting it with shapes and colours. In the dance session we were taught some moves and then had the opportunity to put those moves to different pieces of music. This was to see how the music changes the feeling and therefore how the moves will change. We thought about adding in arm movements and the speed of the dancing for different music.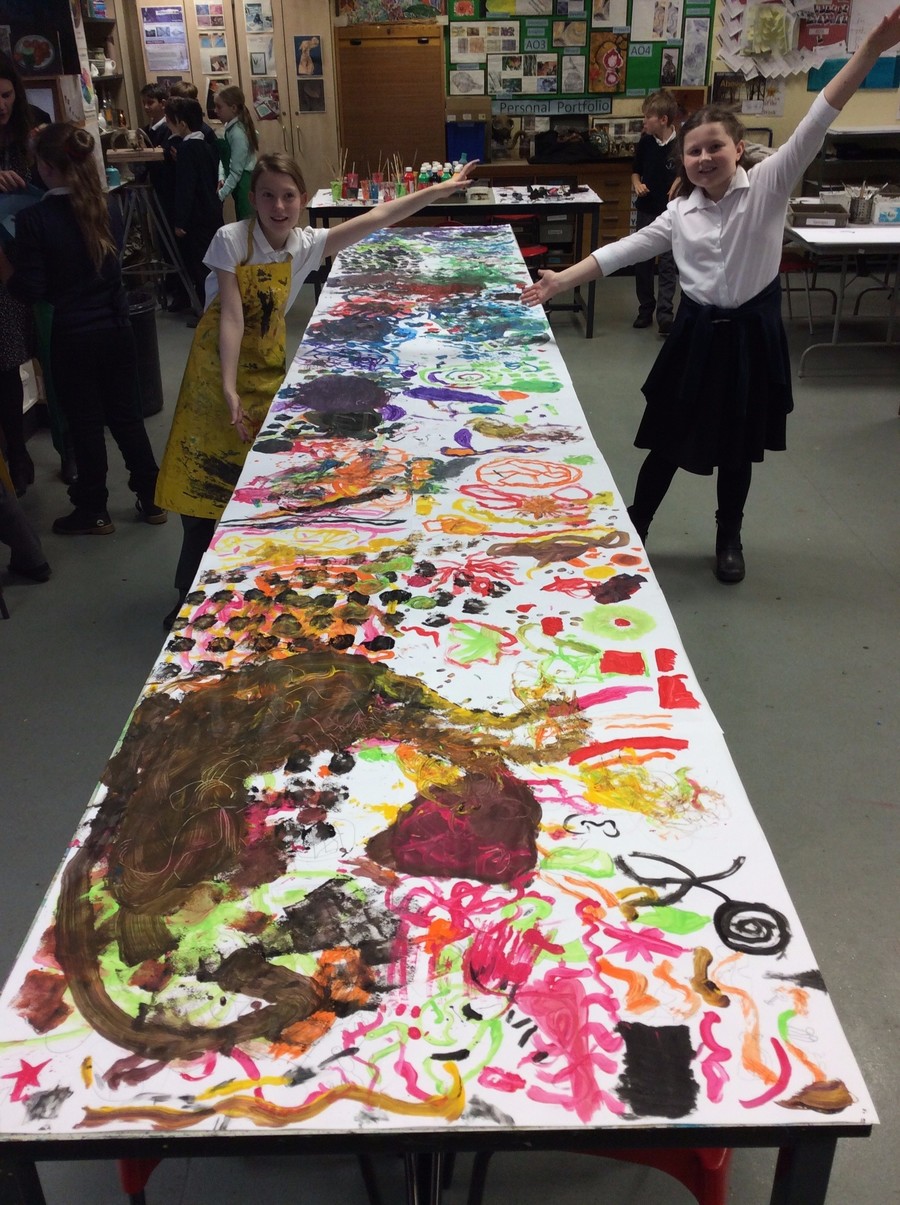 Teacher's Blog: Week 3
This week in Year 6 we have been looking at writing monologues in English. We started by creating mind maps of what Torak, the main character in our book, would have been thinking when he was all on his own with the prospect of being killed. We then made these ideas into questions and sentences that he might have said through drama, which was shared between the two classes. We were then able to turn these into written work, thinking about how to self-improve throughout. Whilst writing, we were able to get lots of really good detail as well as similes, metaphors, extended metaphors, alliteration and much, much more. In maths we have been focusing on fractions. This week we looked at simplifying fractions, adding fractions as well as subtracting them. We found that we could simplify fractions by using our prior knowledge of common factors and multiples of the denominators. As well as this, we were able to use our improving knowledge of times tables to work out the simplified fraction easily. In topic this week we were learning about Maiden Castle, an Iron Age hillfort that was founded in Dorset. We then created our very own Iron Age newspaper article, writing as if we were there when it first opened. It was interesting to think about what we would see and hear if we were in the Iron Age, using new and prior knowledge.
We also had a visit from the Police to discuss the importance of safety as the children get older and spend more time out without supervision. They discussed their jobs and what it takes to be in the Police. The children had lots of questions for them and Miss Atkins even got handcuffed to show what it would be like!
Teacher's Blog: Week 2
This week in Year 6 we have been learning about prime numbers in maths. We played a maths game to help us to recognise what the prime numbers are before 100. Can you remember how many there are? What is the only even prime? Why is one not a prime number? Later in the week, we moved on to learning about fractions. We have been finding fractions of amounts and diagrams. We have also been learning about equivalence and began adding fractions. Next week we are moving on to subtracting, multiplying and dividing them. This weekend, have a think about where you might see fractions in real life.
In English this week we have been learning how to include direct speech in our narratives using accurate punctuation. We also learnt how to write effective reported clauses to help explain who said something and how the character said it. To help us to prepare for our writing, we devised role plays within groups. Have a look at some of our photos to see Year 6 acting!
Keep your amazing creative home learning coming into school! .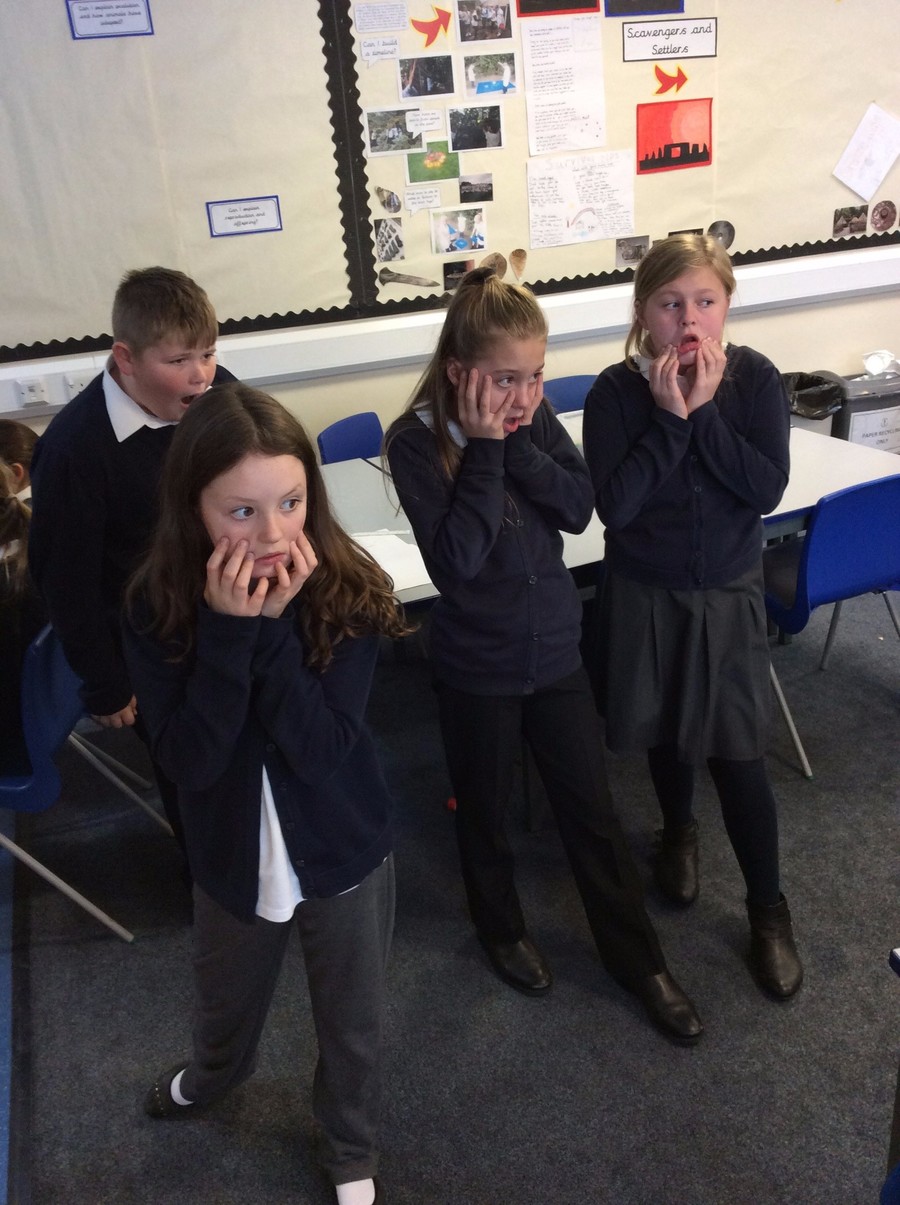 Teacher's Blog Autumn 2: Week 1
We have reached a very exciting point in our story of 'Wolf Brother'- the main character has come face to face with some hunters! We have begun writing the next part of the story, describing what happens to Torak next. This week we have been improving our knowledge of different sentence types. Our challenge was to ensure we included a variety of sentences in our writing.
In maths, we have been learning how to calculate mentally and how to be a good estimator. We then moved on to learning about factors, multiples and prime numbers. Our 'maths investigation' home learning for this week is based upon applying our knowledge of factors.
Speaking of home learning, our creative projects that have been brought into school so far have been amazing! Have a look at some of the photos!
In topic this week, we have been researching the invention of the wheel and how it evolved over the Stone, Bronze and Iron Age. We used our computing skills to make sure our searches were refined and gave us the specific information we needed.
Next week, we are looking forward to learning about fractions in maths and perfecting how dialogue and action are interwoven within narrative.
Teacher's Blog: Week 7
This week in English we have been looking at changing word order and how that affects the precise meaning of the sentence. We have also looked at improving our adjectives by using a thesaurus to find synonyms. As well as this we have written the next chapter for our book 'Wolf Brother', we are using our imagination as well as the skills we have learnt so far in Year 6 to create an exciting and tense piece of writing.
In Maths this week we have been looking at division, we have worked through questions that don't have remainders as well as those that don't. Once we understood these we were able to show our understanding through problem solving using these skills. We have also now shown an overall understanding of solving problems using the four operations.
In our topic lesson we created PowerPoint presentations in pairs on an area, either Stone Age, Bronze Age or Iron Age. We then presented these to the rest of the class, showing how much our confidence is growing!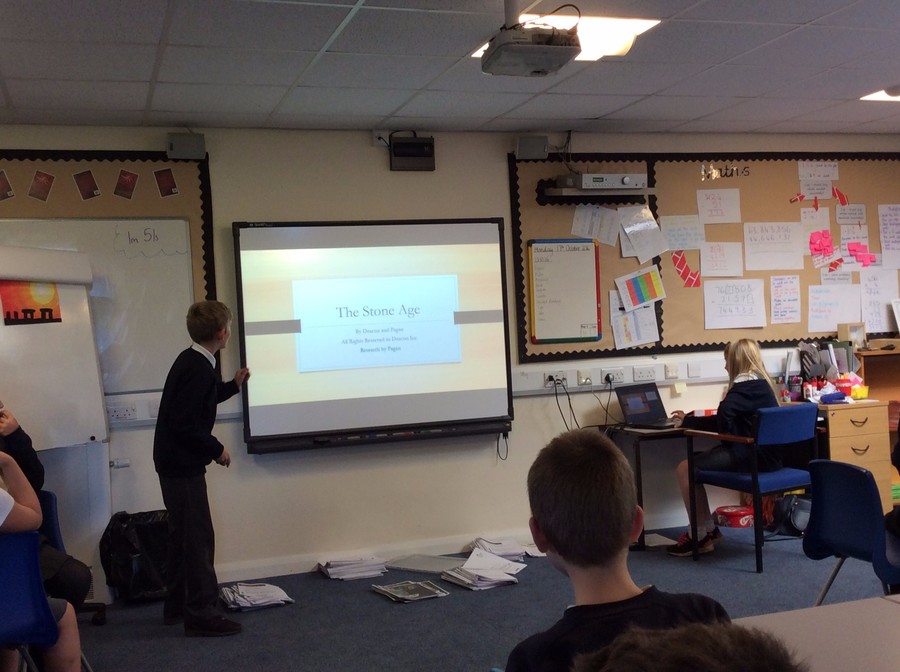 Teacher's Blog: Week 6
This week we have been learning about multiplication in our maths lessons. We have been perfecting our use of written multiplication and putting it into practice by solving real life multiplication problems. Some of us even wrote problems for others to solve! We really focussed upon how we found the most important information in a real life problem. To do this, the questions were placed up on the walls around Year 6 and with a whiteboard we had to gather the information we needed and then take that back with us to our tables in order to answer the problem accurately.
In English we have been learning about how to start our sentences in different ways to make our writing more interesting and ultimately engage the reader. We wrote a journal in the mind of Torak, the main character in the story of 'Wolf Bother'. In order for us to get into the mind of the character well we wrote questions that we would like to ask Torak. We then interviewed each other, one of us in the role of the character.
We have also carried out some assessments this week to find out where we are in our learning at the moment in order to help us set our next steps.
Next week, we are looking forward to being creative in our topic lesson and to tackling tricky, written division in maths!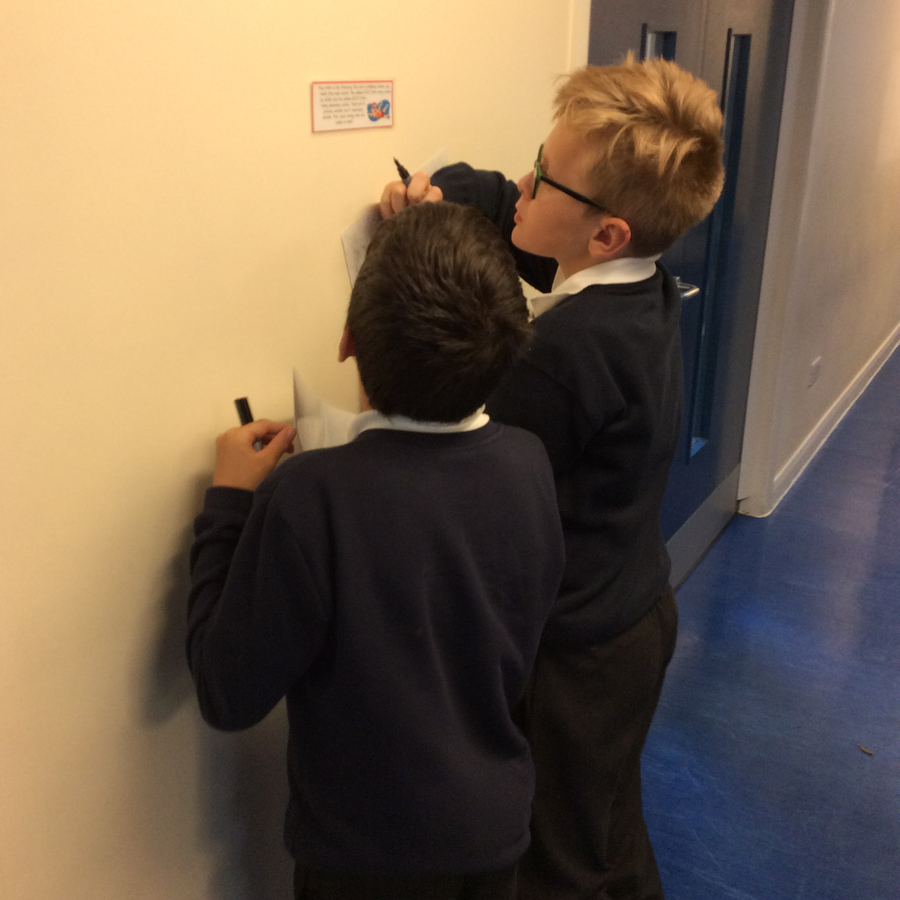 Teacher's Blog: Week 5
This week in Year 6 we have learning about column addition and subtraction in maths. We have been refining our skills of how to use these written methods accurately using large numbers. On Friday, we put our skills into practice in an investigation involving the populations of different countries. We had to be very resilient, use trial and improvement and be excellent communicators. We found it tricky but we made sure that we persevered and didn't give up! Our task was made even trickier by the weather!
In art lessons, we have used our painting skills to create silhouettes of Stonehenge to tie in with our Scavengers and Settlers topic. Our artwork can be seen up on display in our classrooms and around school.
In English, we have thought about how to develop empathy and get into the mind of a particular character. We spent time sharing our ideas and learning from each other. This resulted in us writing excellent, first person narratives from the point of view of the character of the wolf cub in the story of Wolf Brother.
In Science, we learnt about how fossils can tell us a lot about the past. We made some careful pencil drawings of different fossils and wrote about how they were formed.
In PE, we have been learning about the skill of accuracy. We took part in activities involving throwing basketballs and rugby balls, passing a football and passing to each other using hockey sticks a ball. We had to be very careful with the speed of how fast we passed to each other and made sure we communicated well to the person we were passing to.
Next week, we are looking forward to learning about multiplication and division!
Mrs Ball and Miss Atkins