Year 2
admin on: Year 2
This week we introduced our new topic 'From A to B'. In this topic we will be learning about transport and how it has changed over time. We will think about how people travel from A to B on a short journey to and from work or on a longer journey on holiday. We will also compare where we live to a non-European country. The country we are comparing ourselves to is India. We started our topic with a taster of traditional Indian music, clothes and food.
What methods of transport have you traveled on?
How do you think people traveled before cars and planes?
What do you think it would be like to live in India?
what similarities and difference can you think of for where you live and a town in India?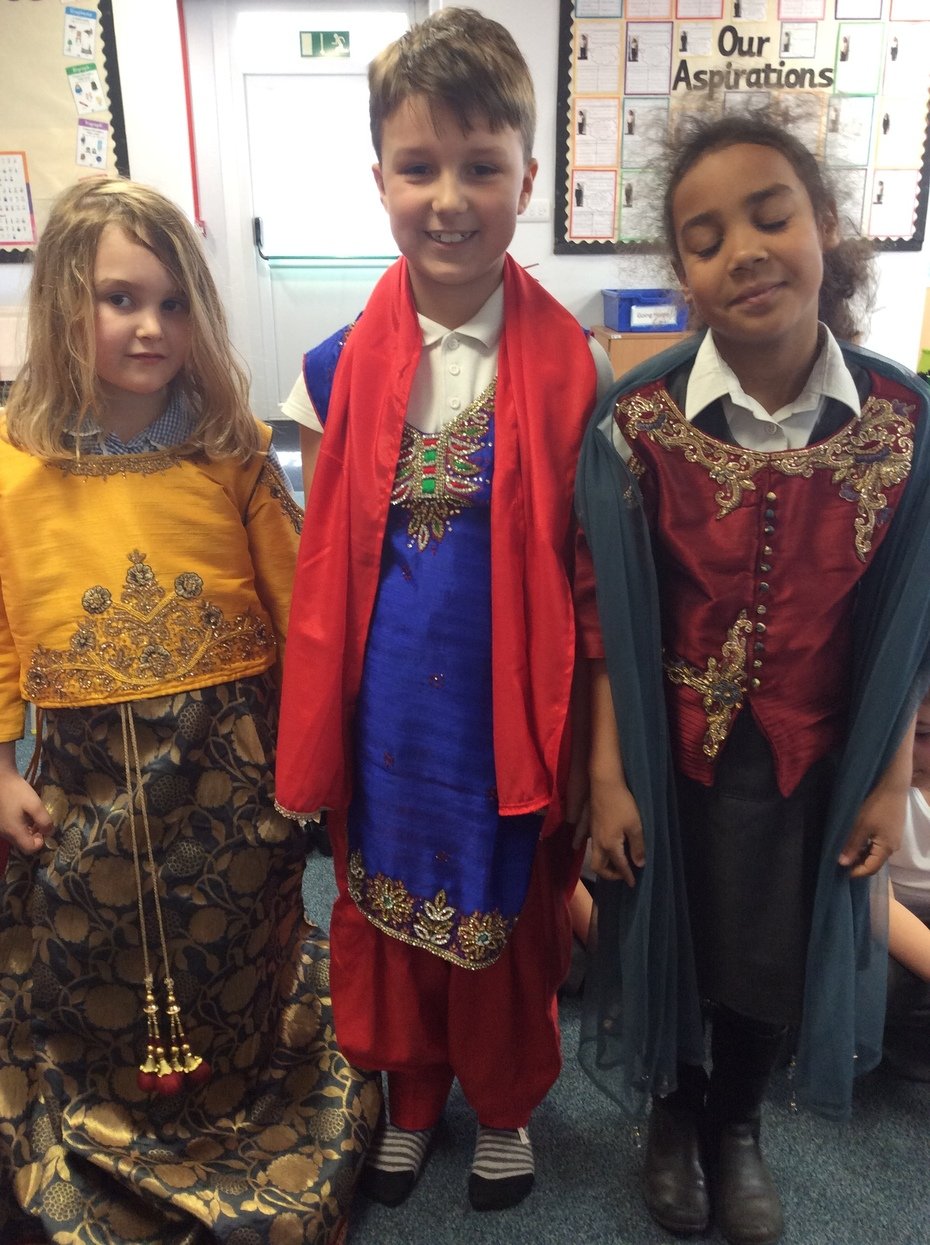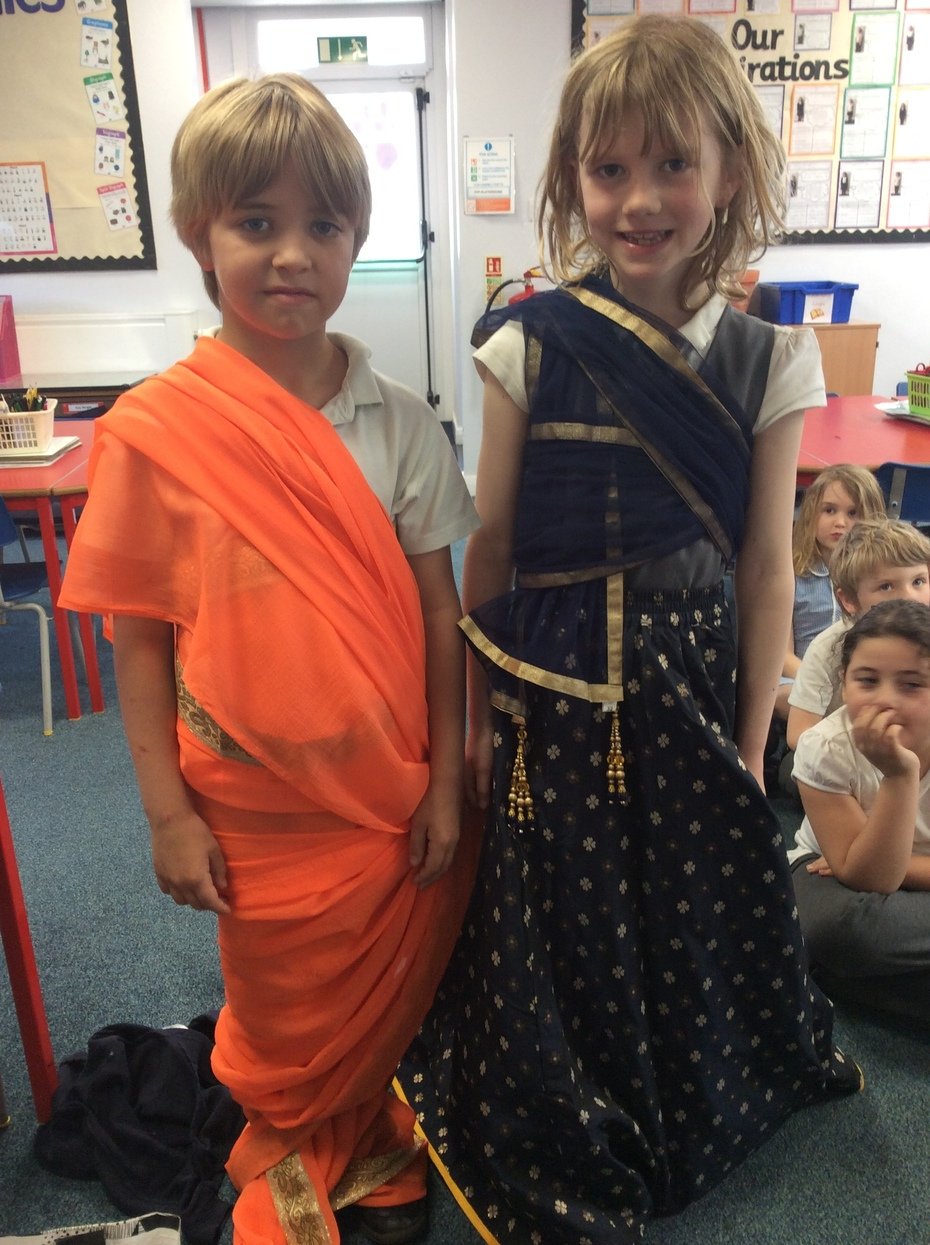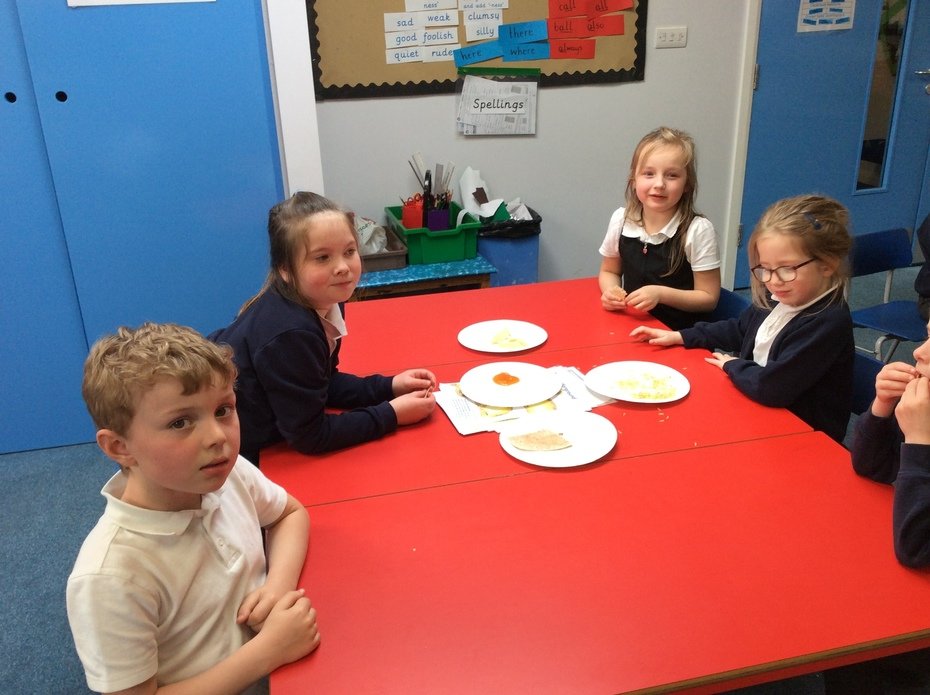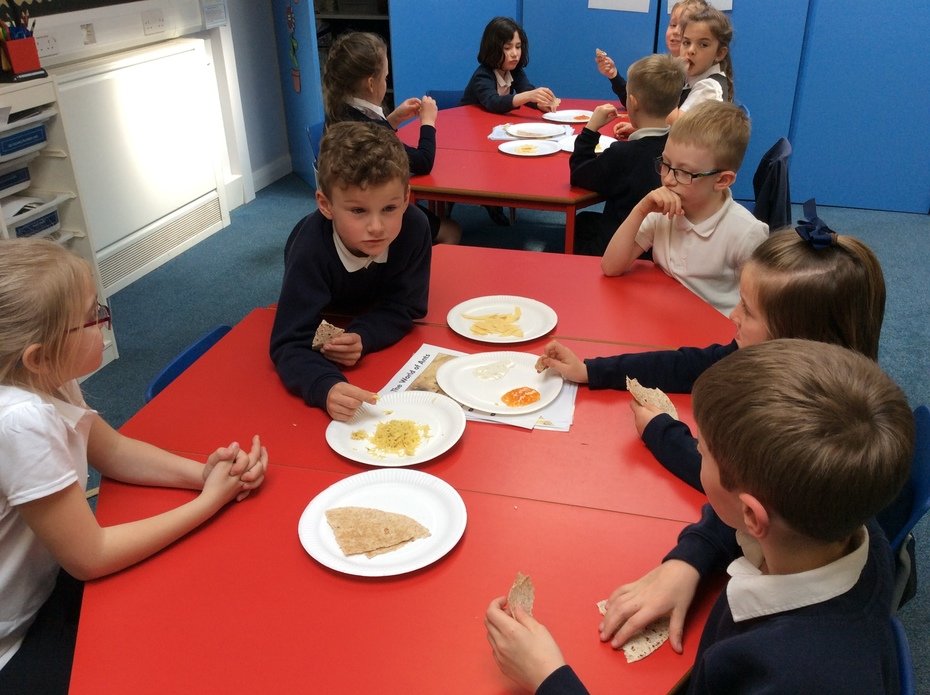 ---
Year 2!
Amy STEPHENSON (a.stephenson) on: Year 2!
During our topic this half term we have explored how we can help to make our world a better place through what we do with our waste. We discussed recycling, reducing and reusing waste and how we could sort our rubbish into these categories. We created our own landfill and predicted what would happen to the items we put in there. We have observed what happens to rubbish when we throw it away and how recycling can stop some of these materials ending up in our landfills.
What materials can you recycle?
Why should we recycle?
What ways can you get better at recycling?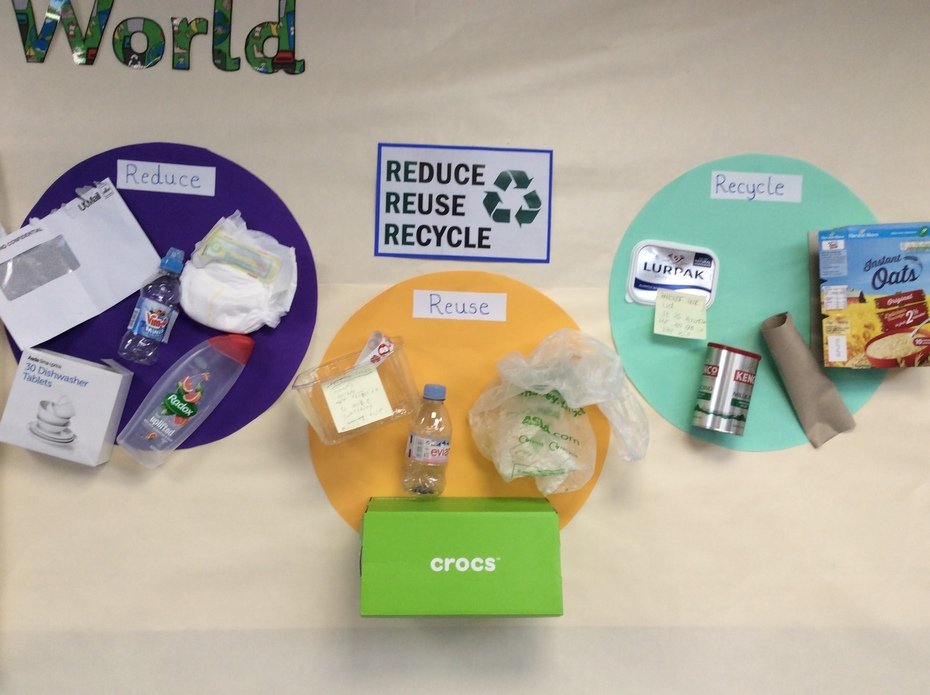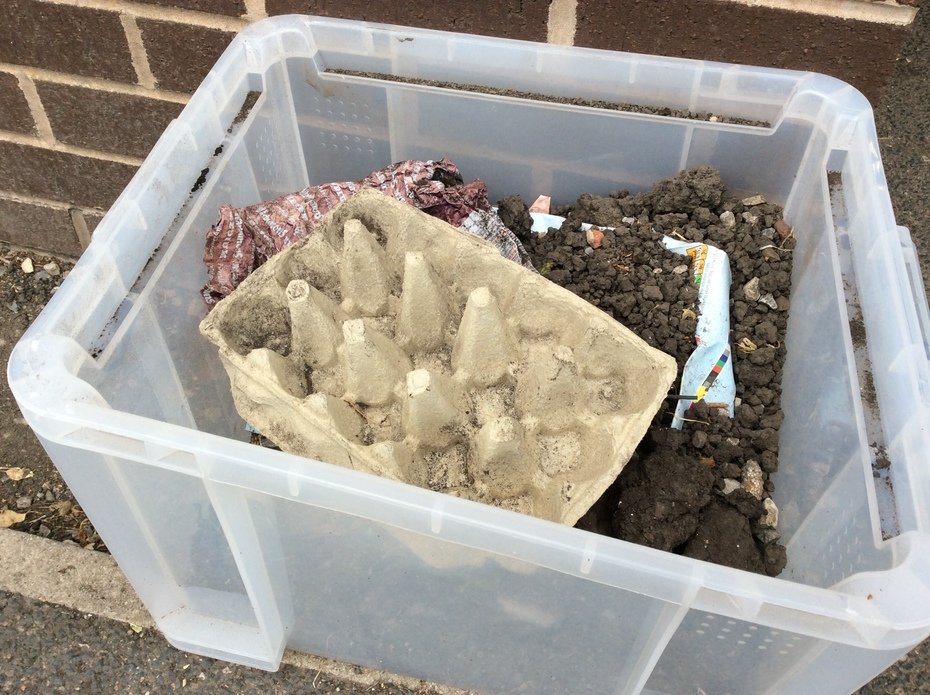 ---
Amy STEPHENSON (a.stephenson) on: Year 2!
Our Science topic this half term is 'Plants'. On our visit to Skelton Grange we planted pea seeds and brought them back to school to look after them and watch them grown. We have been checking each week to see how much they have grown and have some very responsible children who water them each day. So far in Science we have learnt about the different parts of the plant, what plants need to grow and the life-cycle of a flowering plant.
What parts of a plant can you name?
What things does a plant need to grow?
What plants do we use for food?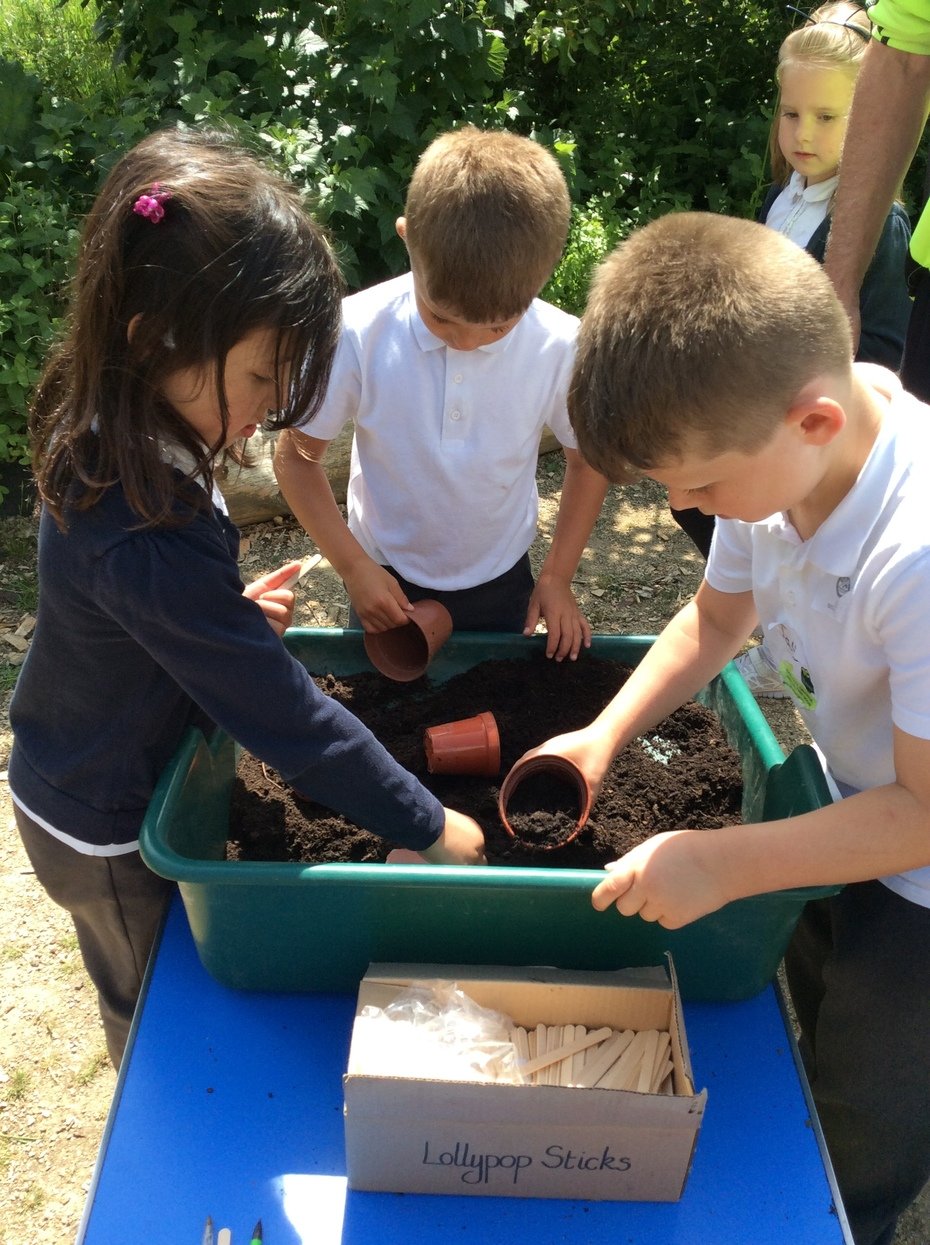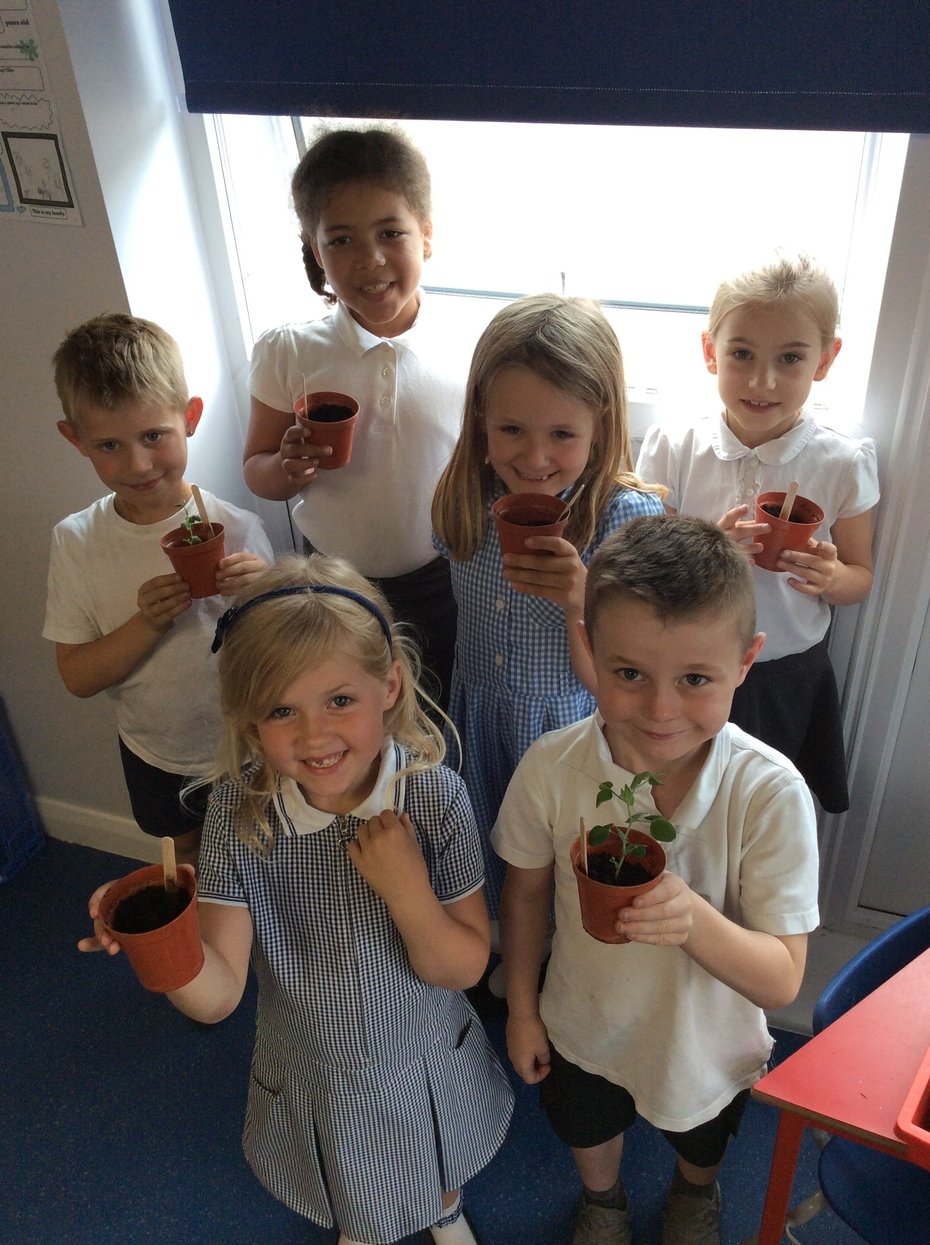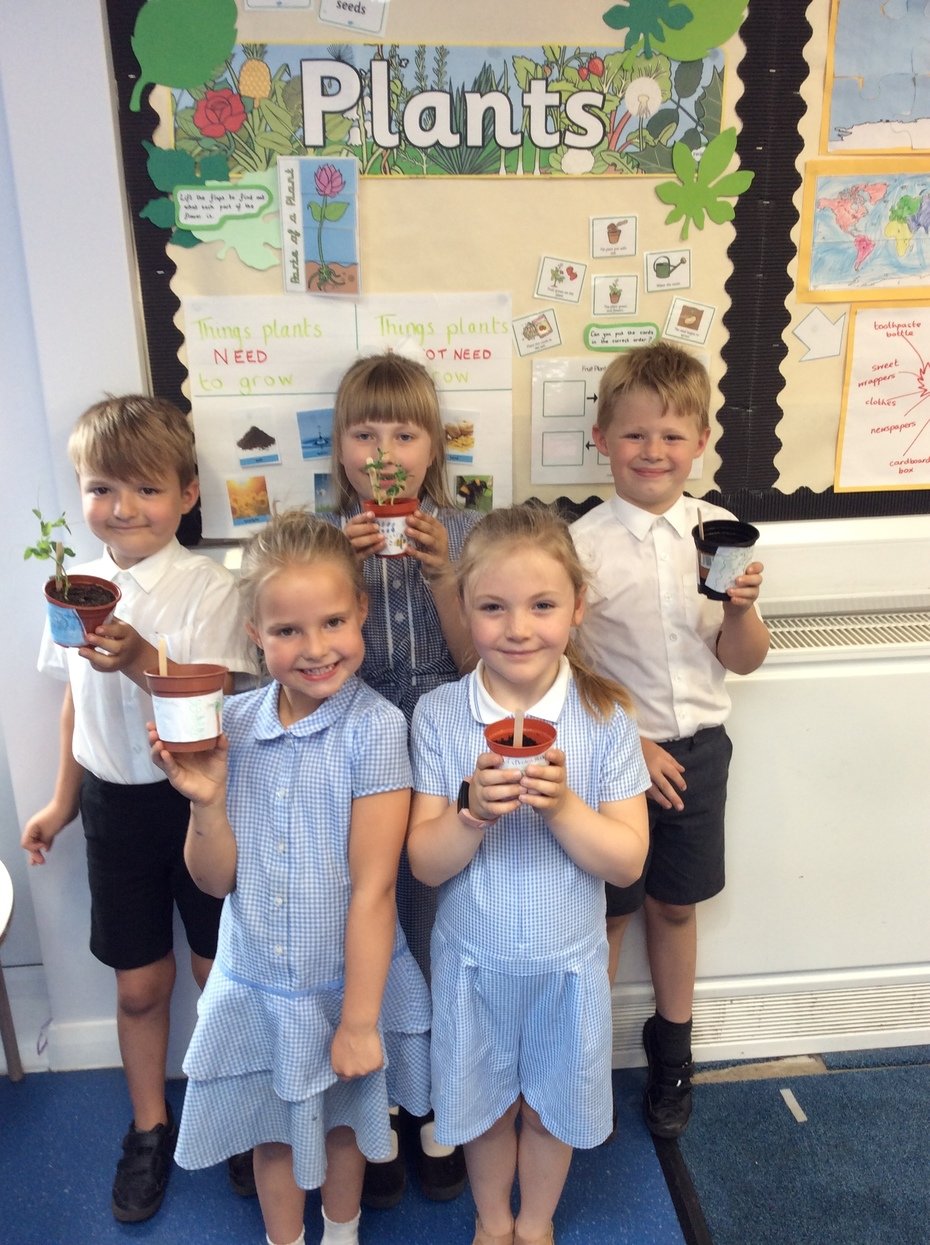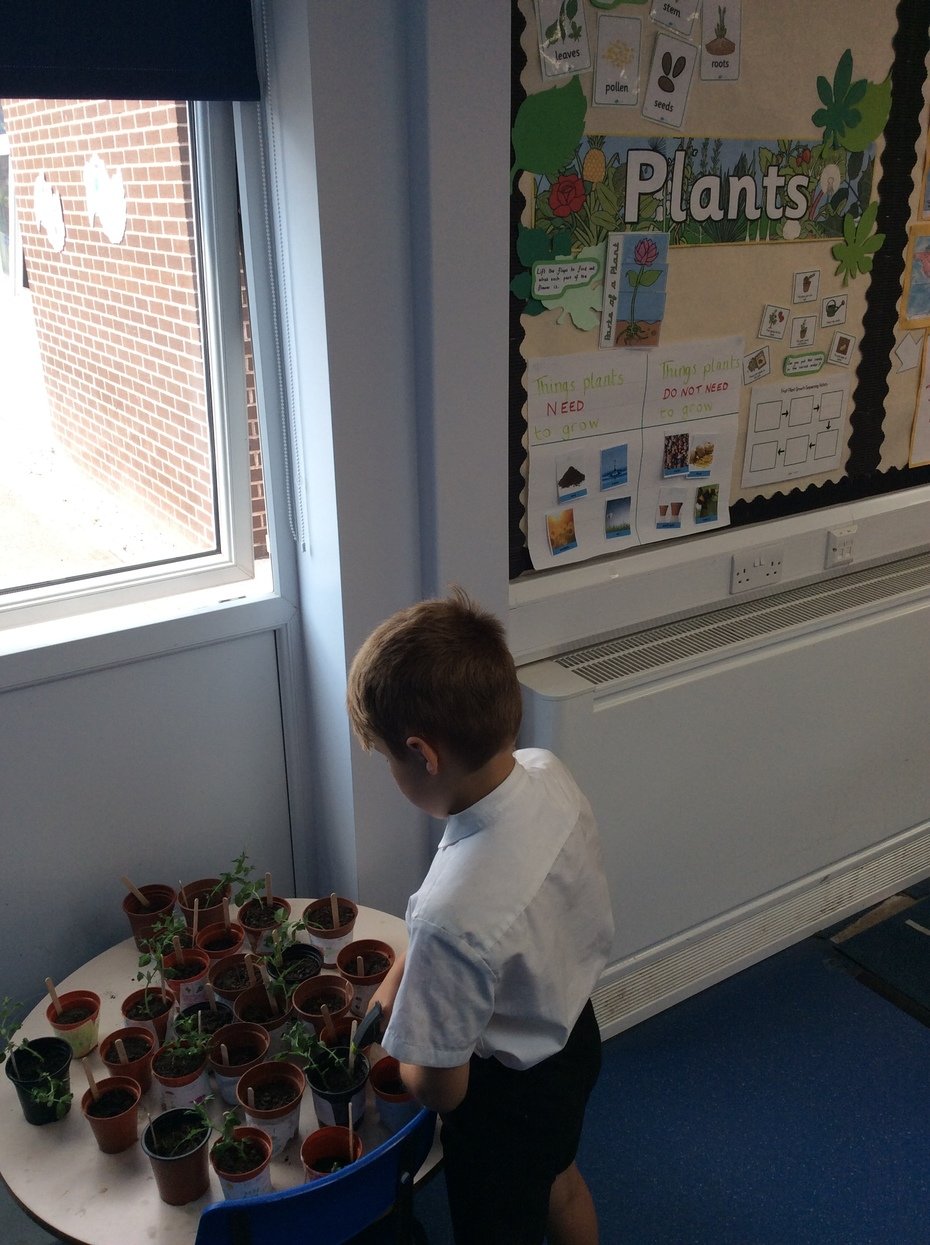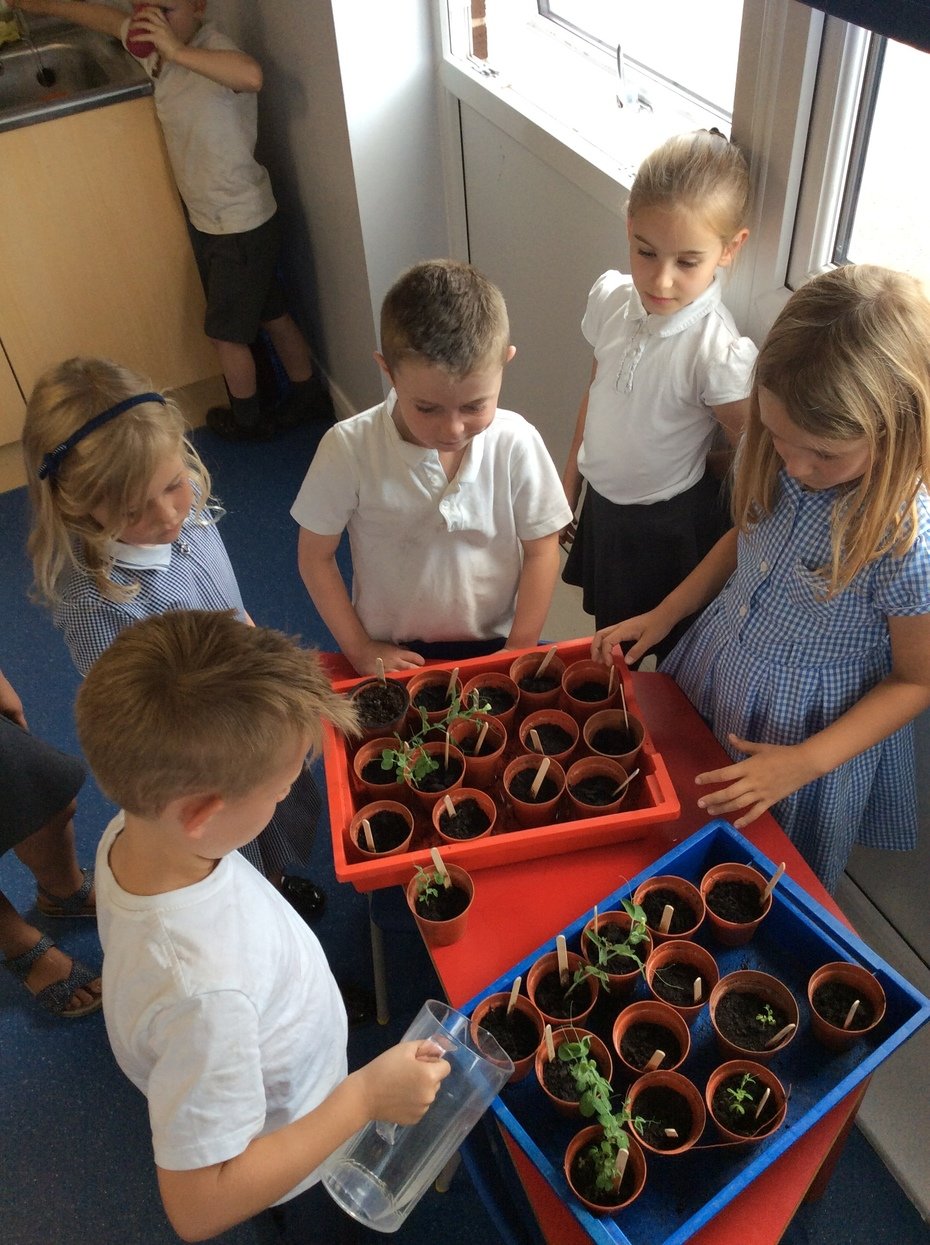 ---
Amy STEPHENSON (a.stephenson) on: Year 2!
This week in maths year two have been learning about measure. We started the week focusing on mass and how heavy something is. We used balancing scales to weigh objects and then learnt how to read scales with different intervals. Next we looked at length and how to measure accurately to the nearest centimetre. Why is being able to weigh or measure important? What units of measure can we use for mass? Why is it important to be accurate when measuring?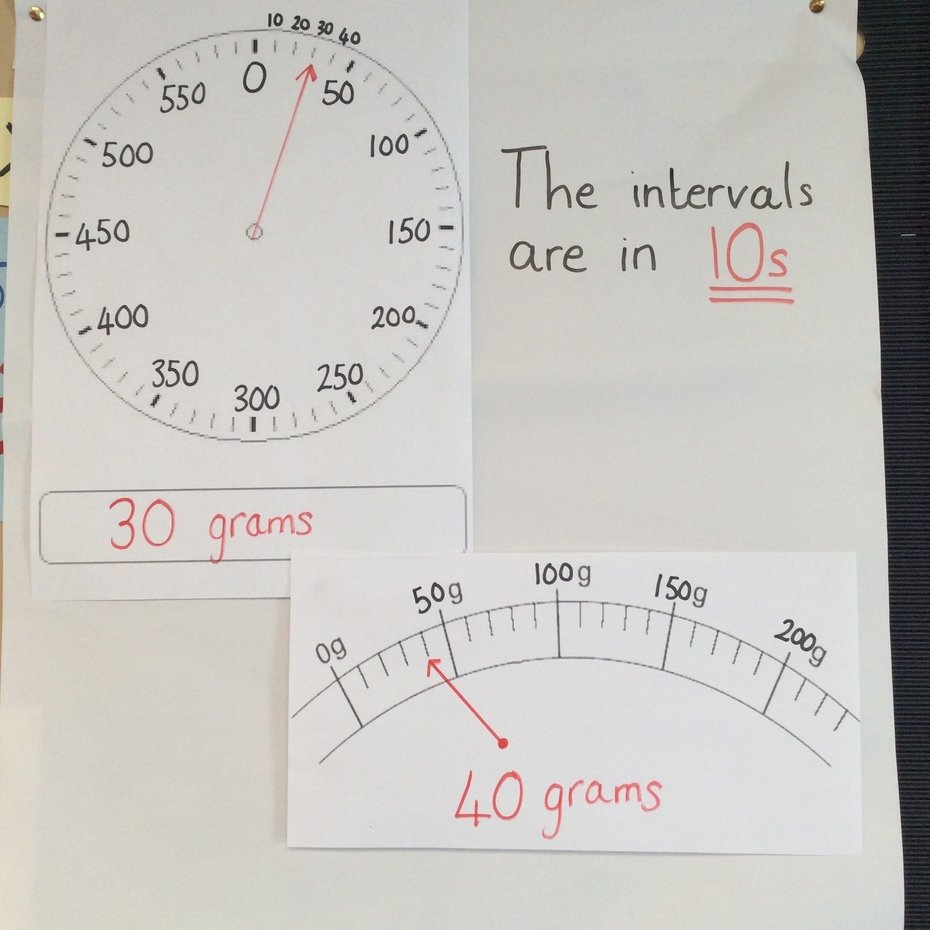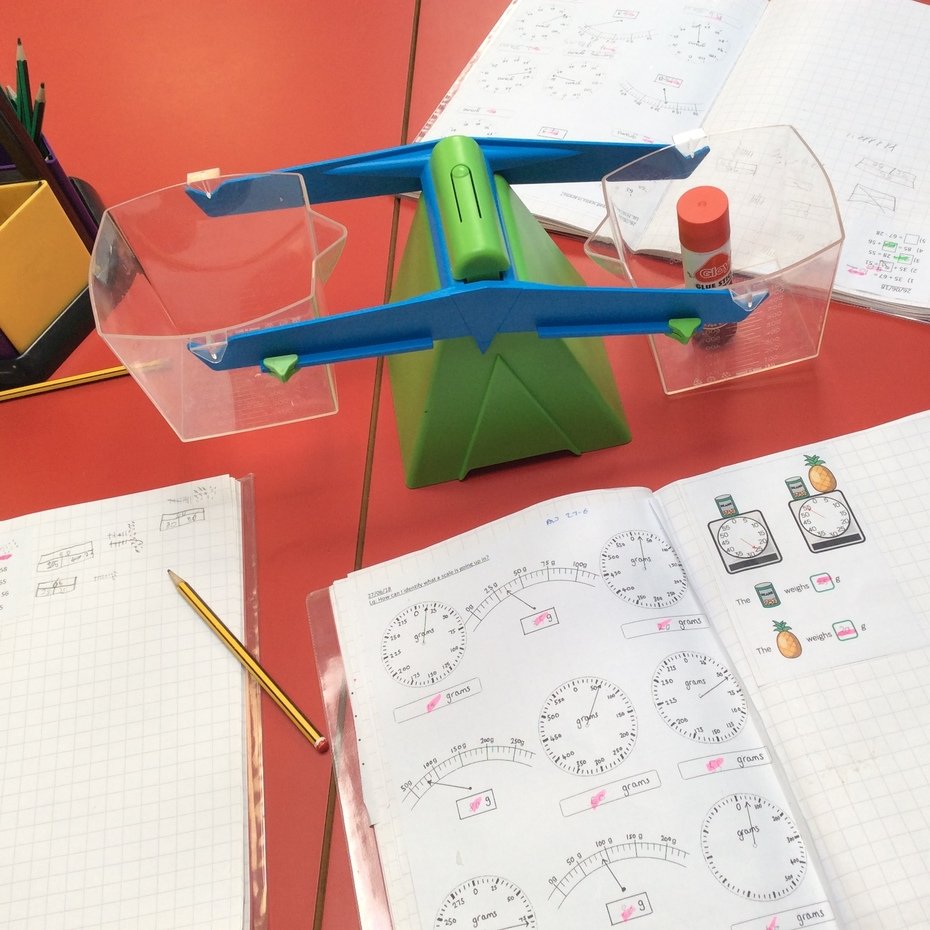 ---
Amy STEPHENSON (a.stephenson) on: Year 2!
This week in writing year two have read a short story called 'The Caravan!' by Pie Corbett. We have started to write in role as the characters in the story. We begun by thining about questions we would like to ask Mitch, Connor and Mitch's mum and then answered them pretending to be that character. We wrote in first person and thought about the feelings of each character in the story. Do you think Mitch and Connor were right to go to the caravan alone? How do you think mum would feel if she found out the boys lied to her? If you had to write the next part of the story, what would happen?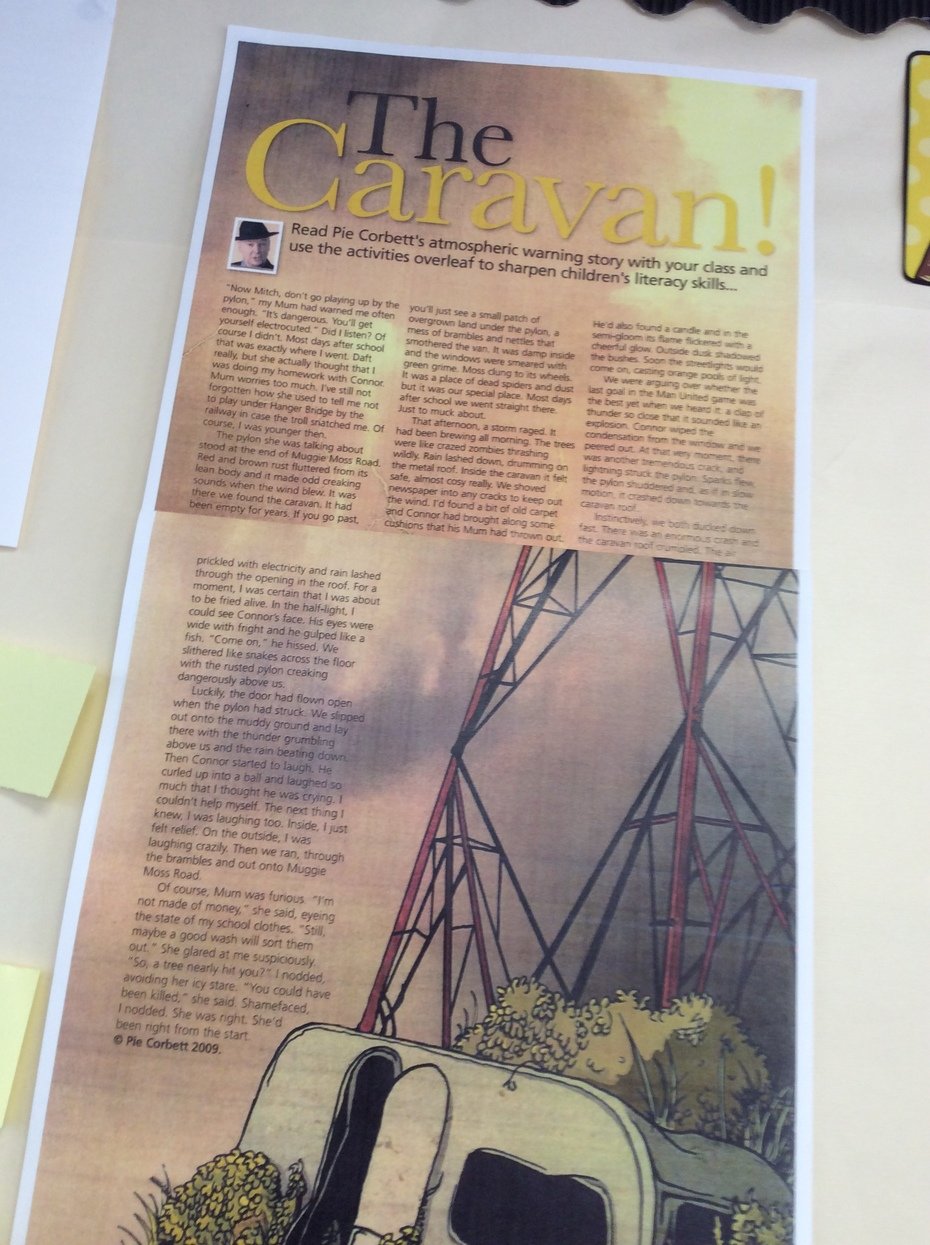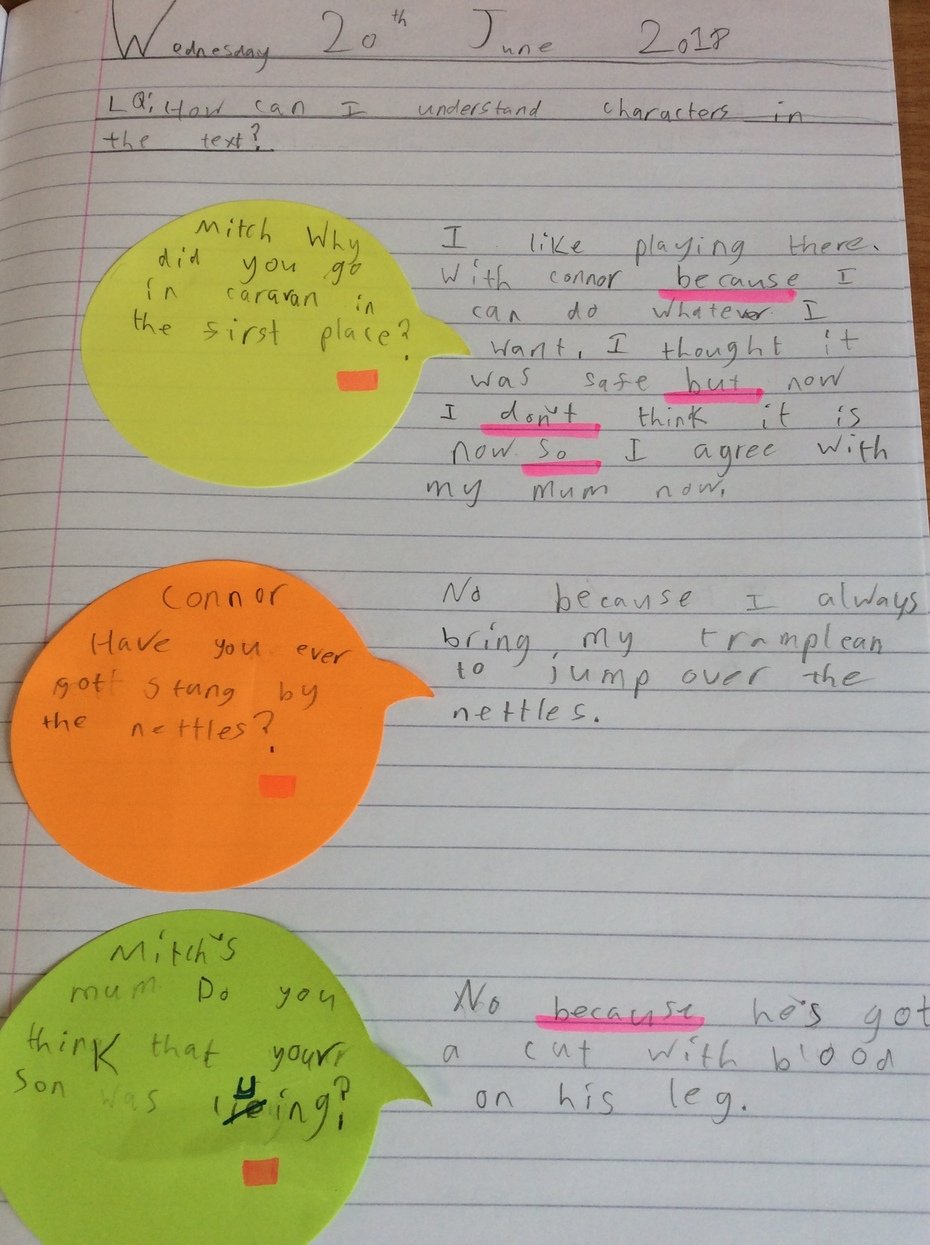 ---
Amy STEPHENSON (a.stephenson) on: Year 2!
Last week we went on our trip to Skelton Grange. The children got to plant pea seeds, collected flowers and leaves, crushed herbs to make a potion and enjoyed a picnic in the grounds. This trip was to introduce out new topic 'Our World' that we have started learning about this week. Over the week we have been writing recounts of our day at Skelton Grange and all the activities we did there. What does a plant need to grow? Has your seed started to grow yet? What is a recount? What does an exclamation sentence need to have?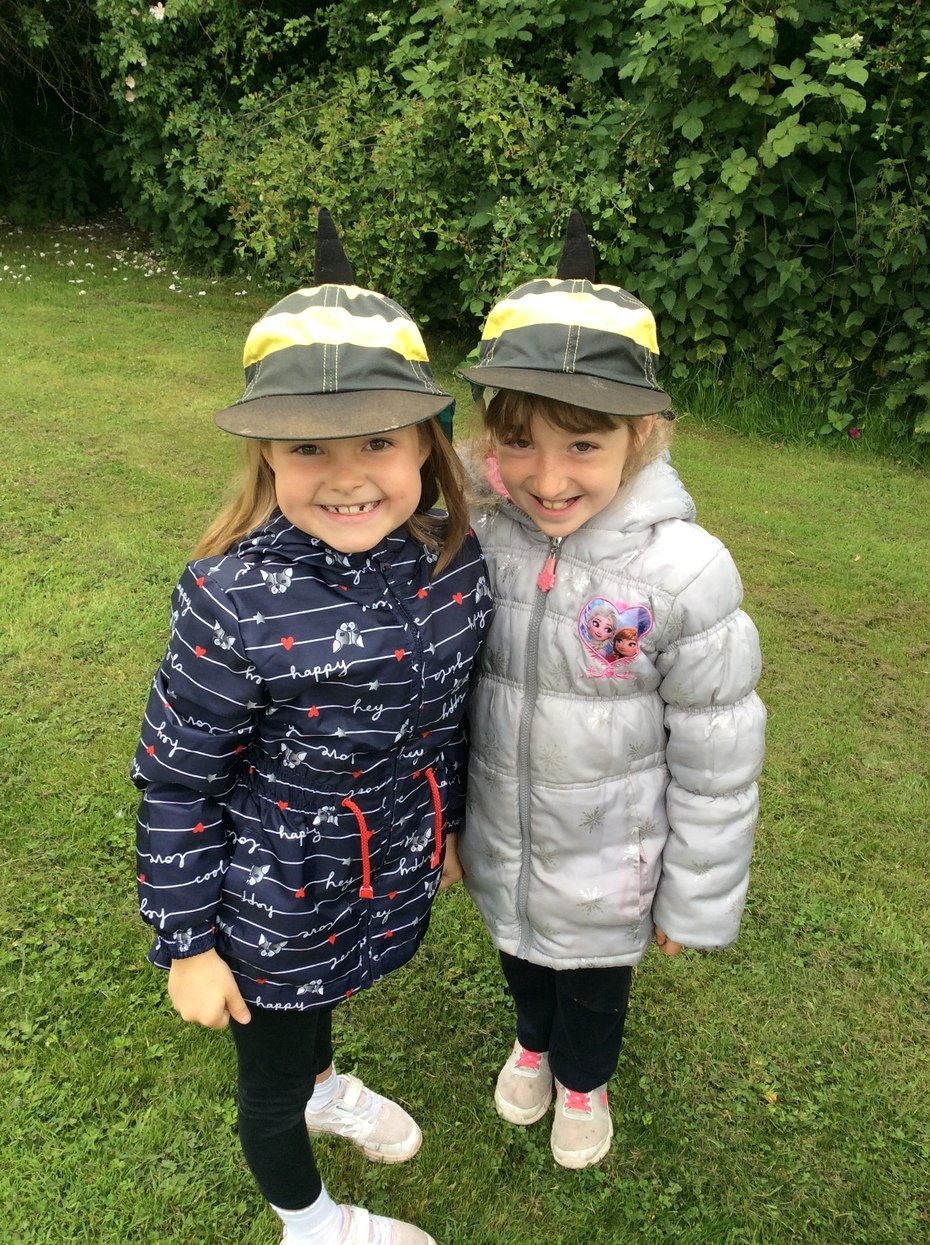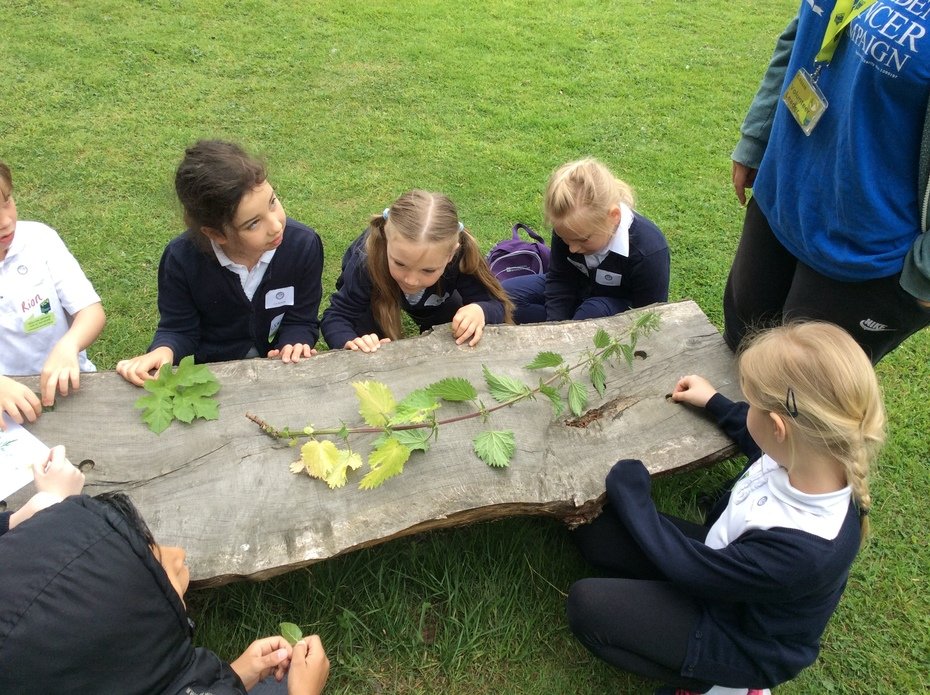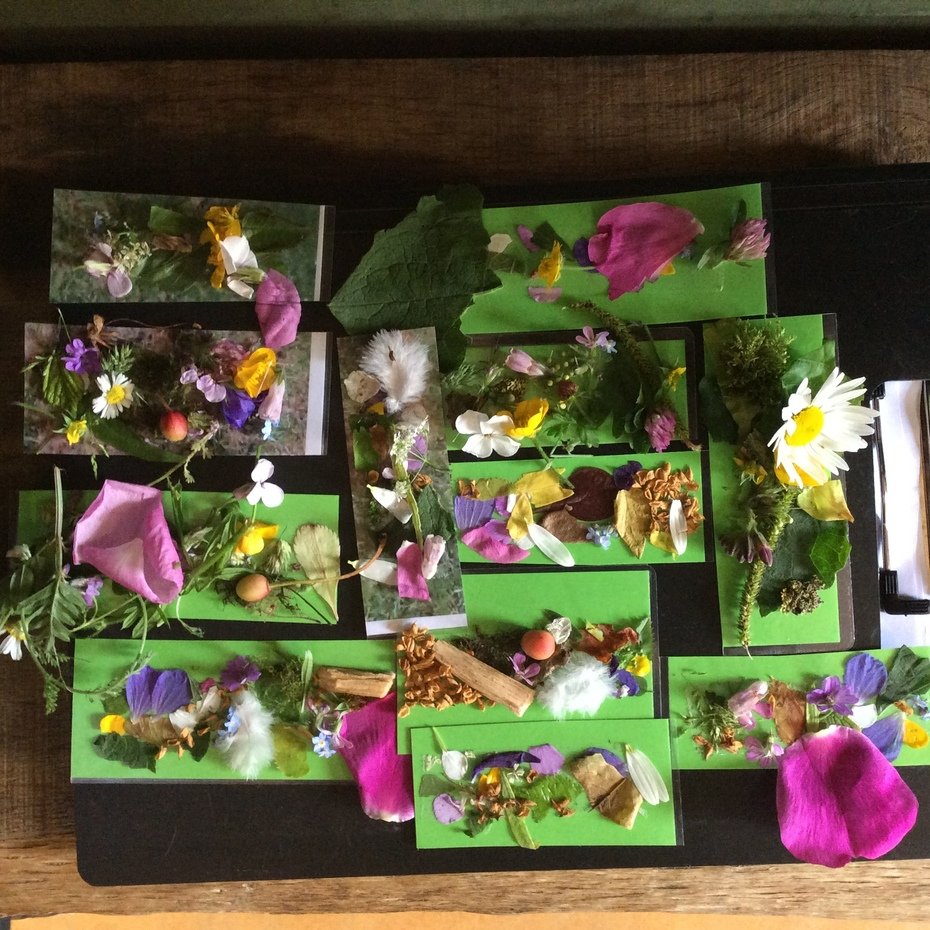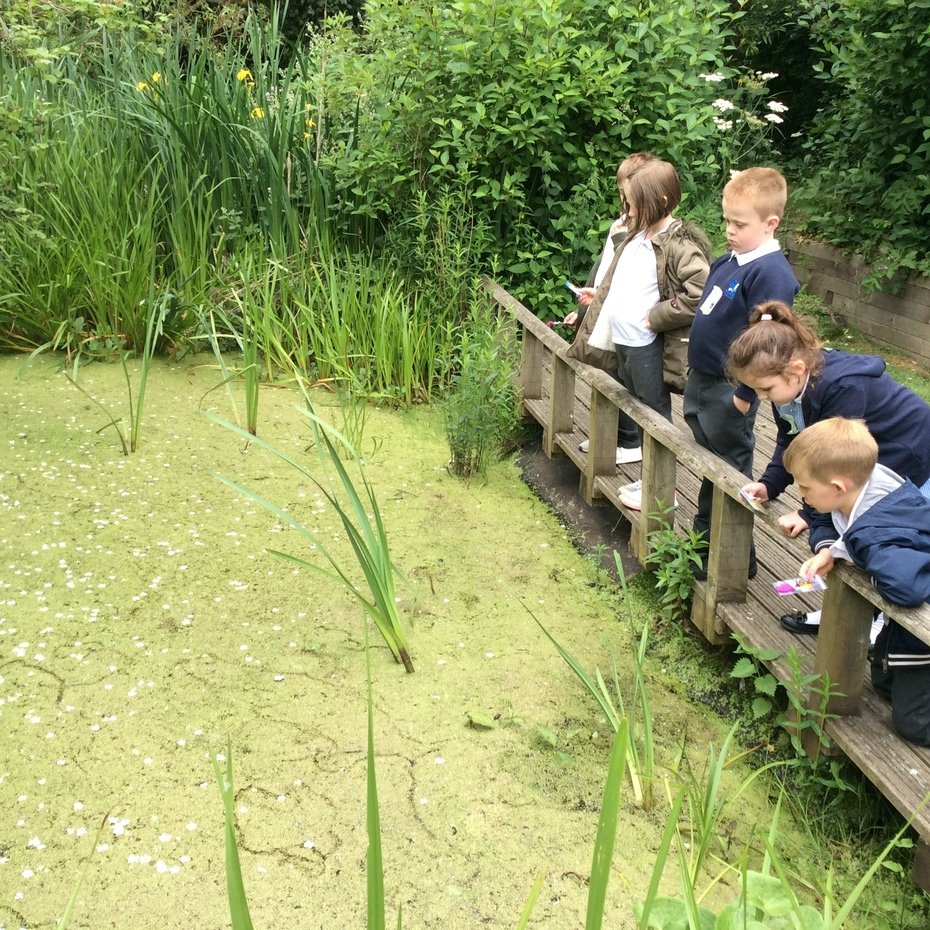 ---
Year 2 Blog
Rachel Smith (r.smith) on: Year 2 Blog
What a crazy energetic week! The children have loved sports week and really have shown so much effort, determination and developed key sporting skills. Year 2 children started the week with a treasure hunt which they found clues about a sporty member of staff. They then hot-seated Miss Coldwell and found out about her running achievements! On Tuesday KS1 children took part in a carousel of sport activities, including; badminton, hockey, dodgeball, netball and yoga/dance. This was great fun and the rain did not stop us!
To end the week, the children all took part in 'Race for Life'. They did a fantastic job! It was hard work but the children were frilled to take part and win a medal. Well done for all the creative tops made, great effort!
Lia from 2RS "My favourite sport this week was Zumba because we got to learn different dances and it was great fun!"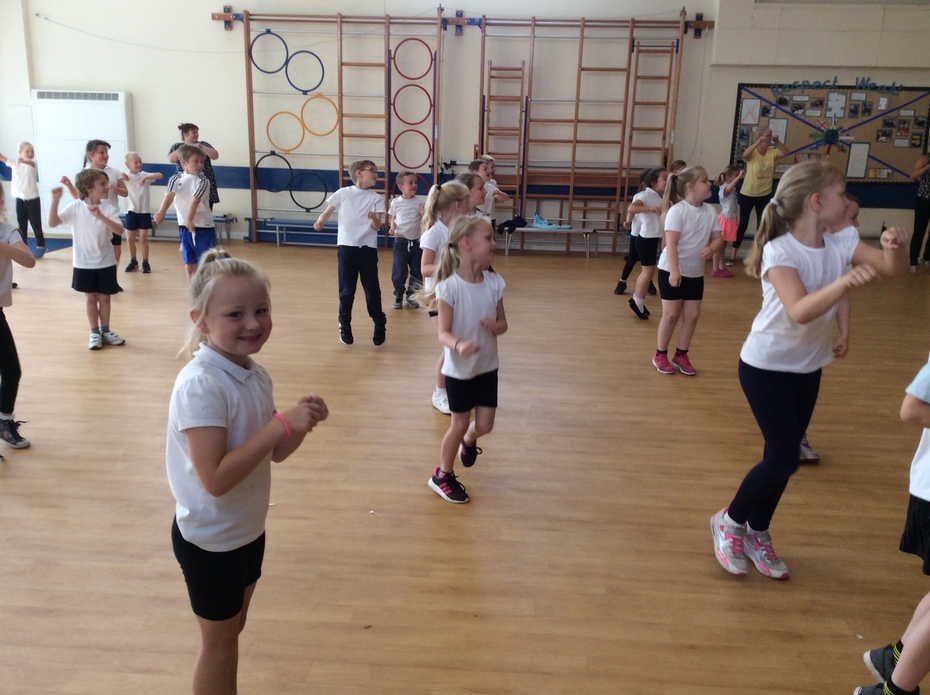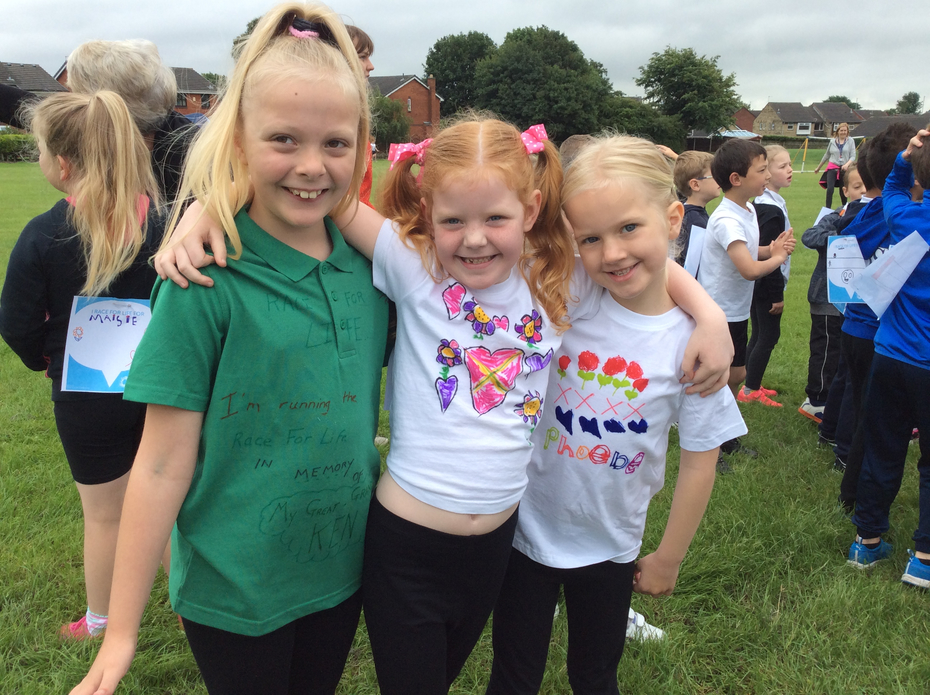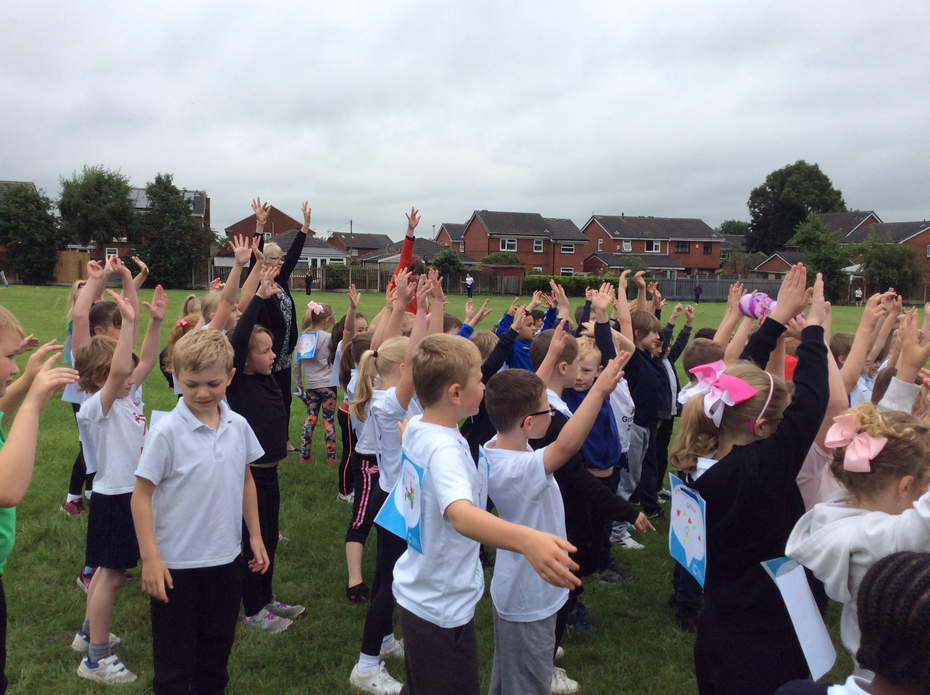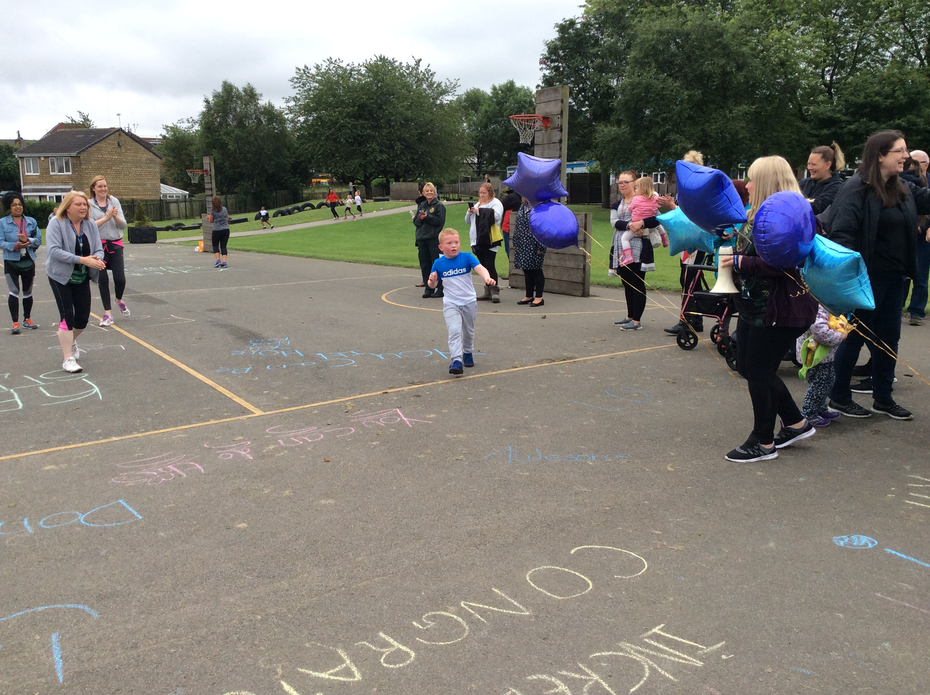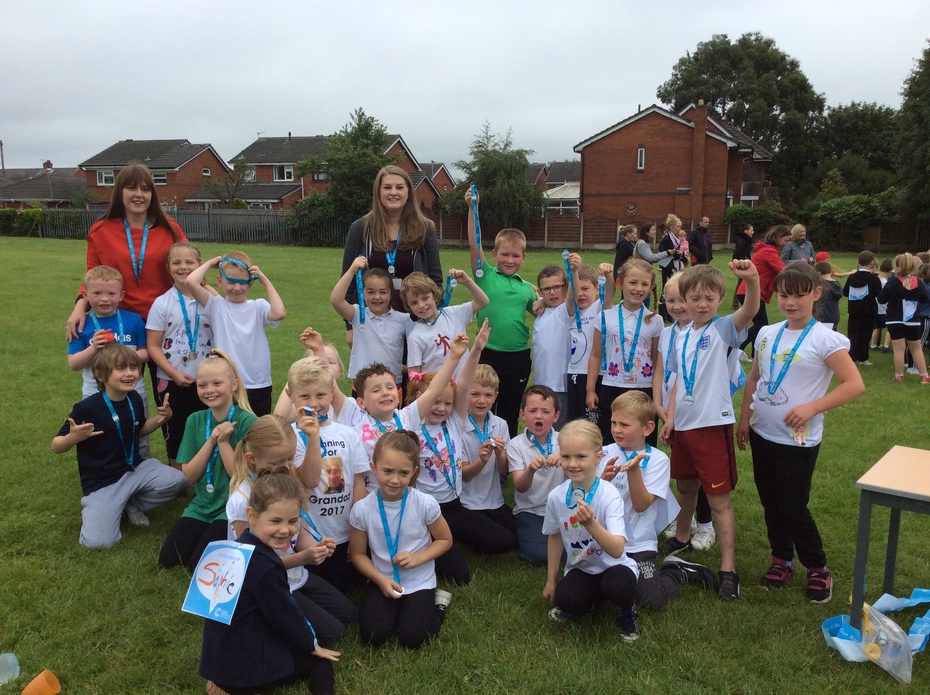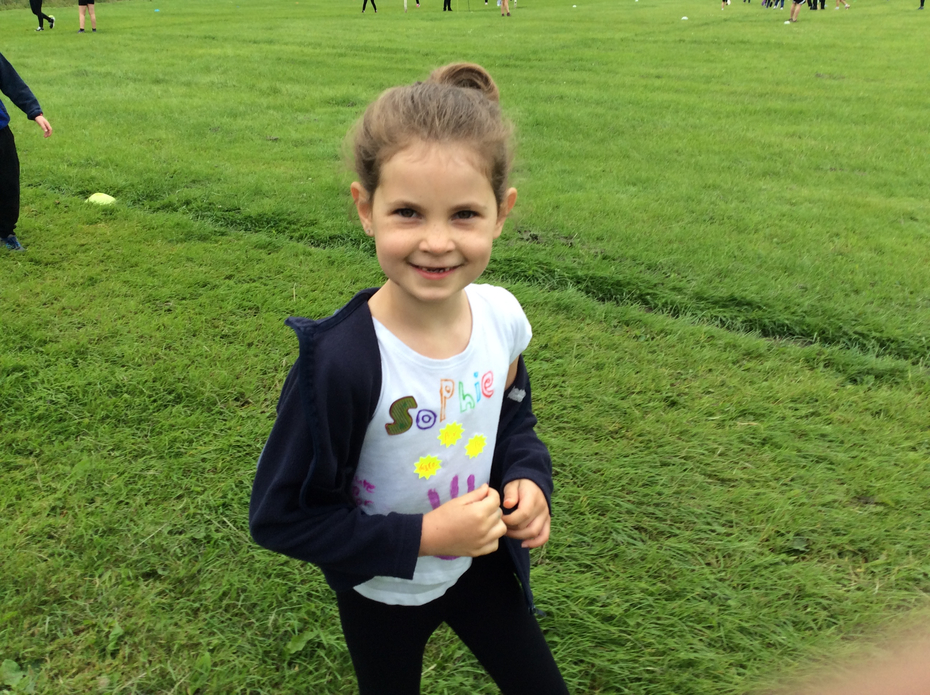 ---
Year 2
Year 2 Blog
Emma Ropson (e.ropson) on: Year 2 Blog
Welcome back to our Year 2 blog! We are so excited that we are up and running again, make sure you look here every week to see what we have been up to in all of our lessons. We are well and truly engaged in our current topic that is all about 'our world'! The children in Year 2 have been tidying up our school grounds and recycling different materials we have come across. In science, we are investigating plants and the children have thoroughly enjoyed planting their very own tomato seeds at the start of this half term. It is up to them to remember to water their plant and ensure it has everything it needs to grow healthily.
In Year 2 we are also very excited for 'health and sports week', where we will be in our P.E kits everyday taking part in a variety of different activities. Just a reminder to ensure your child brings a water bottle, hat and sunscreen with them as I am sure we will need them this week!
---
Teachers Blog: Week 2
This week in Year 2 we have all been extremely busy! All week in English we have become authors and illustrators. The children have had the freedom to decide what story or book they would like to write. On Thursday the children met a real illustrator (Lynne Chapman) and we were all inspired to illustrate our own books ready for publishing in our book corners.
On World Book Day, we also were able to visit the new library in school, all the children were amazed and excited about the brand new books and reading space we now have in school, we can't wait to visit the school library again! Finally in the afternoon the children had to make their book character using just a potato and character description, well done Year 2 on yet another fantastic week!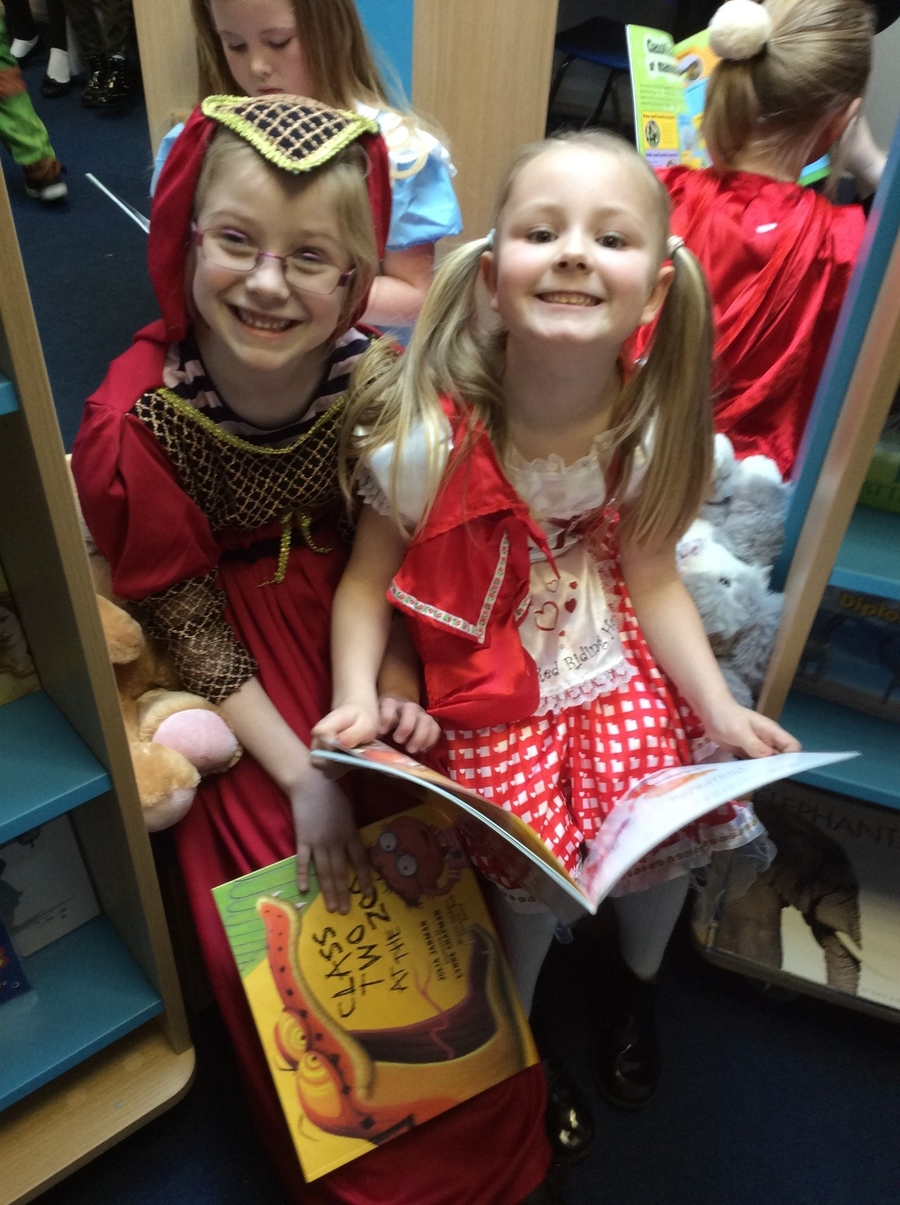 Teacher's Blog: Week 4
Another week is over! In Year 2 we have had so much fun designing, building and evaluating our very own spacecraft. The models are amazing and the children really thought about different rocket parts and labelled the materials used. Thank you for everyone who brought junk model materials in, Year 2 had their very own 'Junk Model shop' on Wednesday, where they were able to buy their chosen materials.
2RS also had a very special treat on Thursday. The class took part in the Dental Workshop and found out so many new things about teeth and how to look after them. 2ER will be taking part in the workshop next Thursday.
Next week is 'Respect week' across school and we will be learning about the importance of respecting others. Please don't forget to pop into our open session in class next Friday afternoon (3rd February).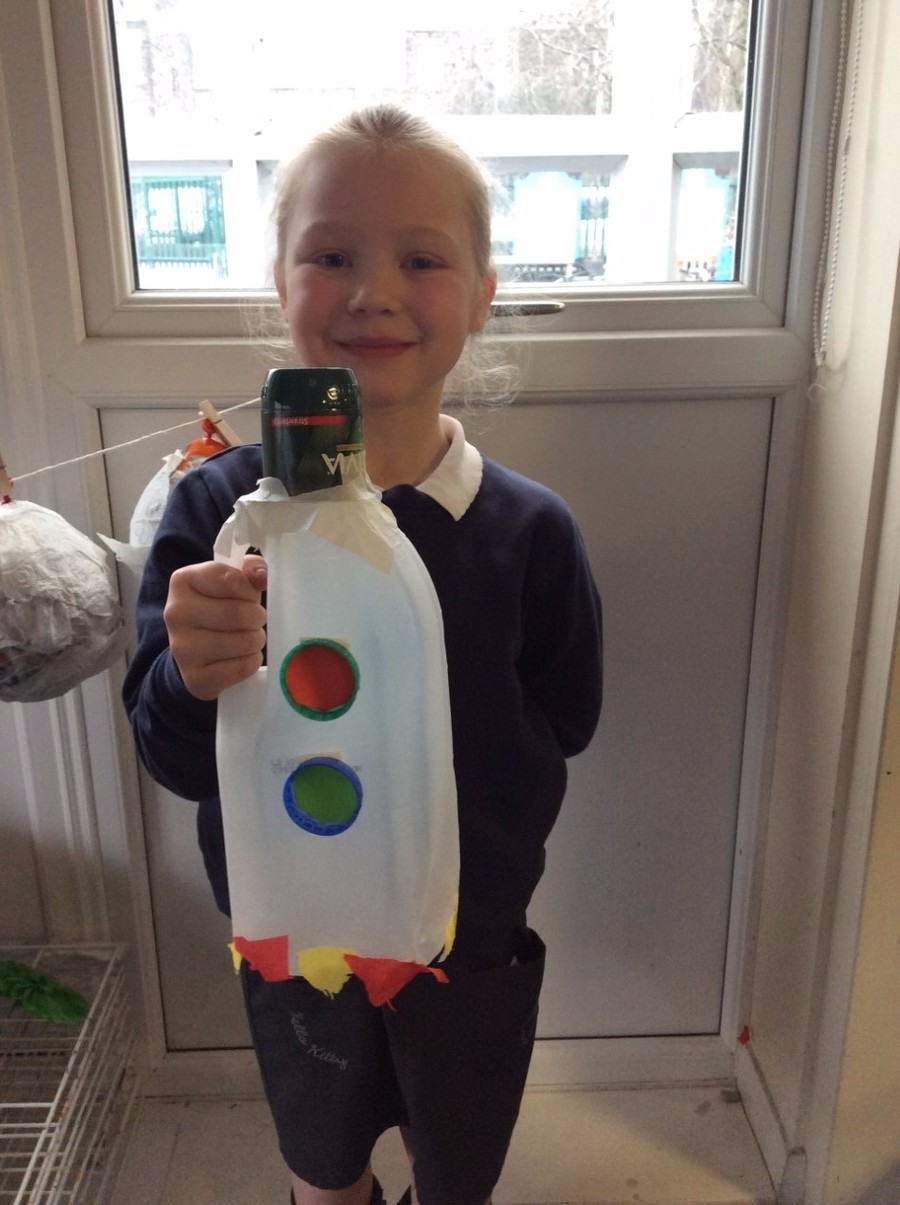 Teacher's Blog: Week 3
What another fun filled week! (I've even used an exclamation sentence which we have been working on this week in Year 2). In Maths the children have taken part in lots of estimating and measuring as we have been looking at capacity and volume. Maths has been very practical this week with children using measuring equipment and glittery water. In English we have continued looking at space and we have focused on Encylopedias. All the children have been really interested in finding more out about space and everything thing else in the world! In class we have started writing our own encylopedia pare and next week we will be creating this using word in the ICT suite.
We have all been scientists this week investigating materials and thinking about their properties. The children had to create a collage of themselves using a range of materials but thinking about the different textures. Thank you to everyone who has brought in junk material for us to use for rocket building, keep it coming!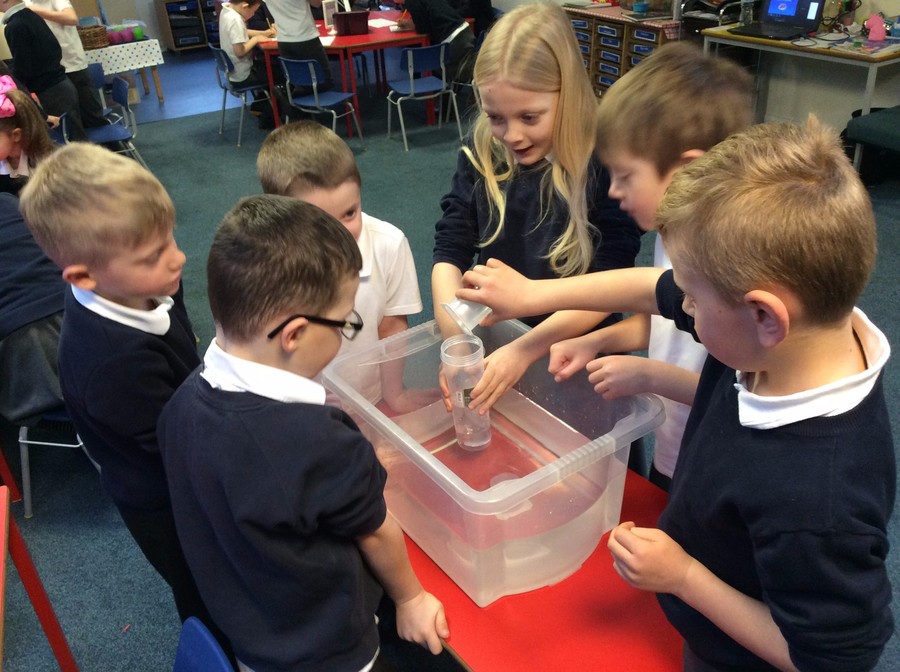 Teacher's Blog: Week 2
The children have made a fantastic start to our new topic 'Explorers'. Last week we all had the chance to become explorers for the day and we even made moon slime, explored ice blocks and made our own play dough boat. In English we have learnt about why Neil Armstrong is a famous explorer and have begun to write our own recount of his events. The children are becoming very good in spotting different the sentence types; questions, statements, commands and exclamation. Can you spot any at home in your reading book?
In Geography we learnt about the 7 continents and were able to match where many different Explorers have explored in the past. We are really enjoying learning about Explorers and look forward to building our own space craft in a few weeks' time!
This half term in PE we are continuing with gymnastics and working together in partners to come up with mirror balances. The children have worked sensibly on the apparatus and in the hall space.Just a reminder please make sure children are sent to school with full PE kit, this includes blue shorts/joggers, a plain white t-shirt and pumps/trainers.
This week's homework is Maths Investigation, it may involve lots of discussion about numbers!
Have a great weekend!
Teacher's Blog: Week 7
What an amazing week we have had in Year 2! We have had our Christmas party where we watched an amazing magaician and we have even watched Beauty and the Beast with the whole school. Thank you to everyone who came to support us during our Christmas performance. We would like to wish you a lovely Christmas and a happy new year!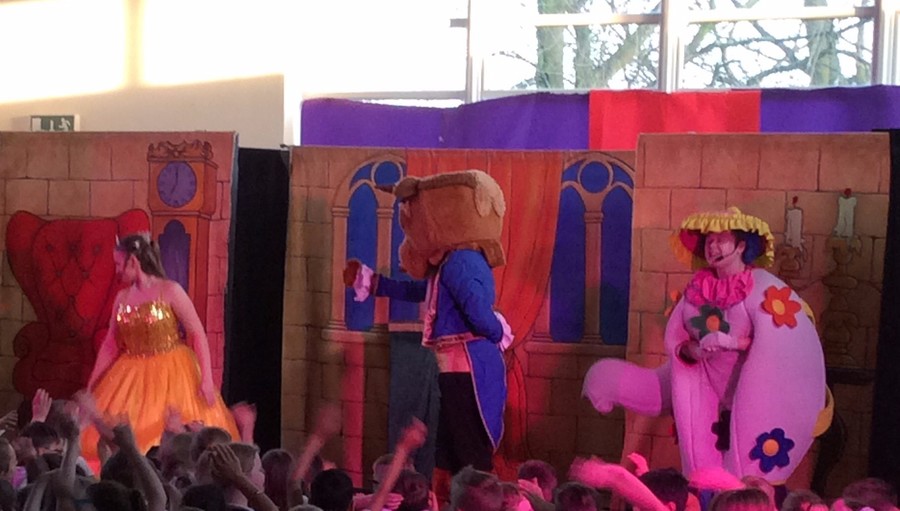 Teacher's Blog: Week 6
Another jam packed week in Year 2! We have had a visit from a real postman! All of the fountains worked together on different challenges to reveal letters that spelled SANTA! All of our lessons this week have been based around our Christmas book, "The jolly Christmas postman". In Maths we have looked at position and direction and in English we have been writing letters to fairy tale characters. On Thursday we had our Christmas dinner which was delicious! Just a reminder our Christmas party is on Monday so please remember to bring in your party food and send your children's party clothes or jumpers in. Have a good weekend!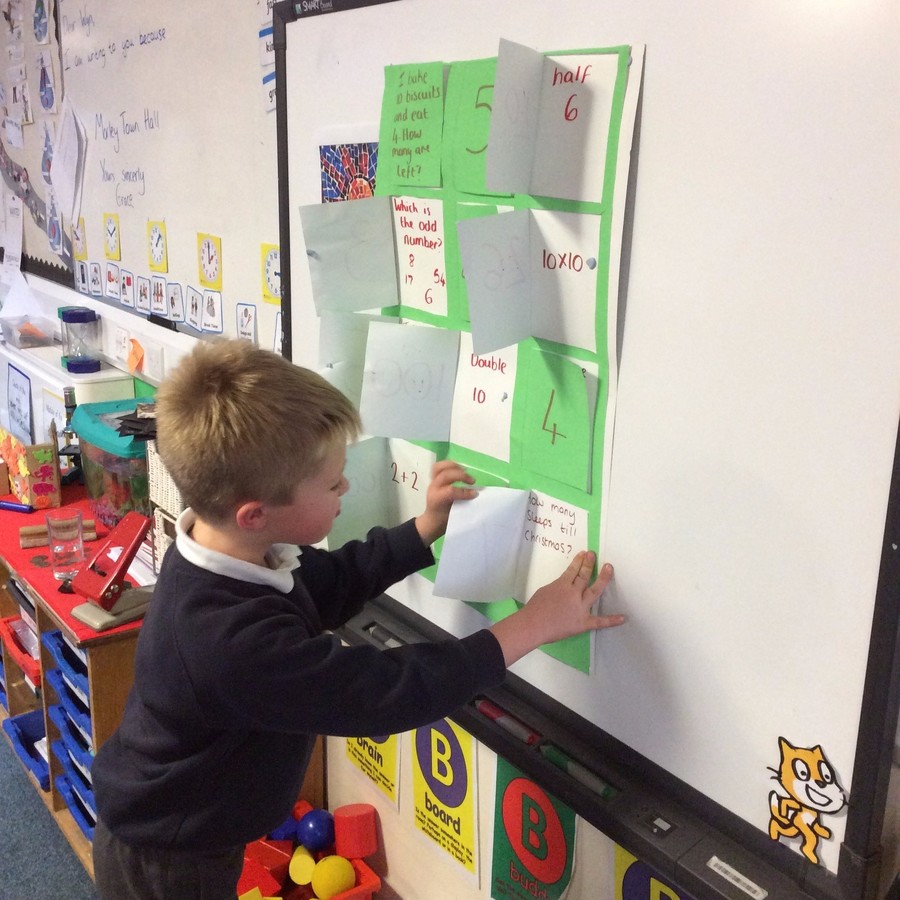 Teacher's Blog: Week 5
What an exciting end to our topic 'Step Back in Time'. We had a great visit to Morley Town Hall on Thursday morning and found out so much about the history of Morley. The children were fascinated by the old cells in the cellar, however they didn't fancy spending the night down there! We continued our day back in school, taking on role as a Victorian school class. Both classes were split into boys and girls and were given the challenge to write using chalk and practise their timetables. The children finished their afternoon by tasting marmite and spam sandwiches. We were surprised by how many children enjoyed the marmite! It was lovely to see the children come dressed up as somebody from the past, we were very impressed. Thank you for your input and effort in costumes!
We look forward to starting our Christmas based topic and completing all the fun activities planned over the next two weeks!
Please continue to read with your child at home and develop their understanding of texts.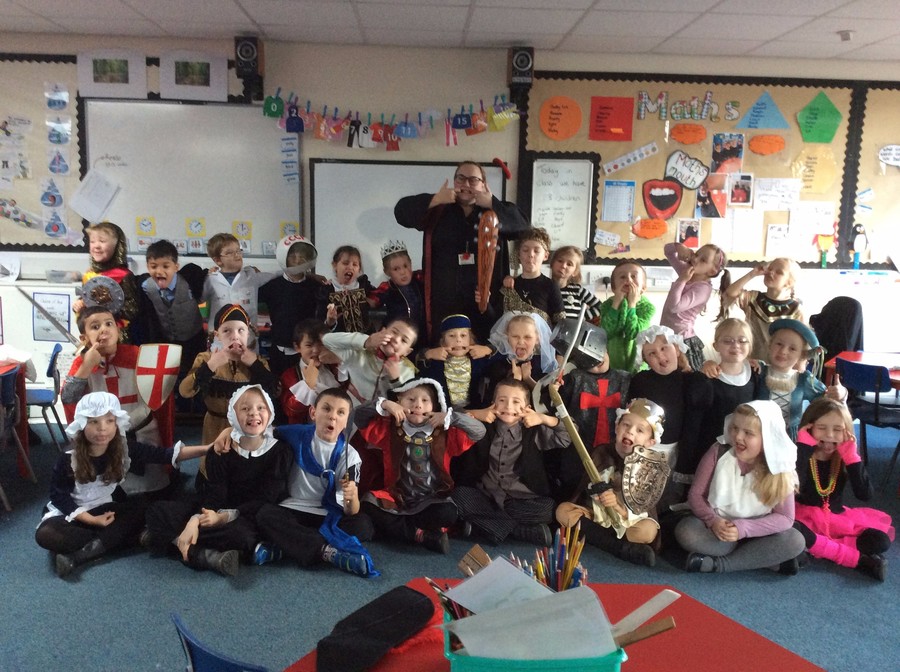 Teacher's Blog: Week 4

This week we have been focusing on traditional tales in English. The children have had the opportunity to empathise with the characters by using puppets. In Maths we have been focusing on shape, so we hope they will enjoy their shape homework this week.In Topic we have been learning about the history of Morley particularly looking at the Morley Mills. The children recreated the mill by using their I.C.T skills.

J

ust a reminder about P.E kit, now that it is getting colder can all children bring in appropriate P.E kit for outdoors. We are all really excited for our trip to the Morley Town Hall on Thursday, we are looking forward to seeing everyone's fancy dress!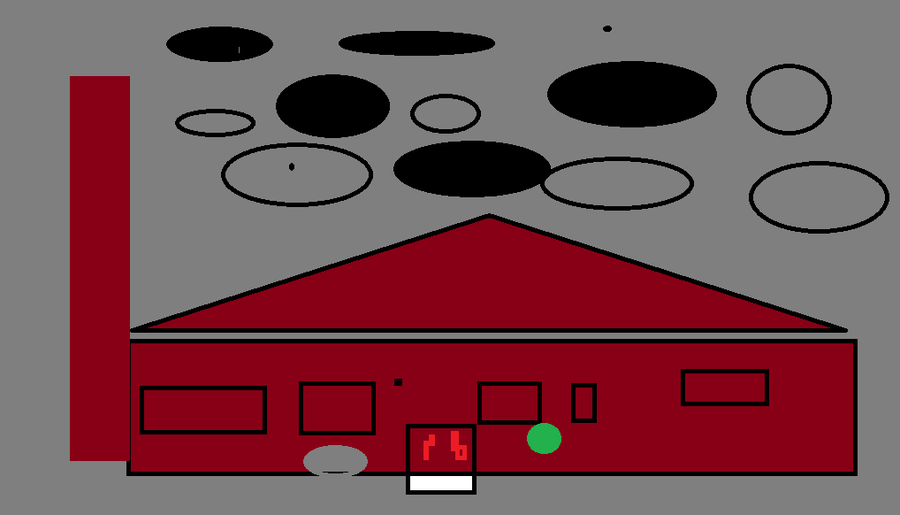 Teacher's Blog: Week 3
Year 2 have been very busy this week in English, learning about a fable called 'The Frog and The Scorpion'. The children were able to spot the moral of the story and did really well at retelling the story too!
In maths this week we have been adding and subtracting a one-digit number to/from a two-digit number, using a 100-square to help us. We did really well at identifying which numbers bridge 10. Also well done to the children who completed last week's maths investigation homework.
Continuing our topic 'Step Back in Time' the children were able to work with somebody from the opposite class to put a selection of pictures in order. The children did well to notice the old ways of washing to the newer ways. We were also very lucky to have Mr Stokes in to visit us and tell us about his childhoods stories in Morley. The children asked him very interesting questions and really enjoyed having a special visitor in class. Thank you Mr Stokes! We look forward to continuing our topic over the next two weeks and finishing with our celebration day on Thursday 1st December. Have you decided who you are coming dressed up as?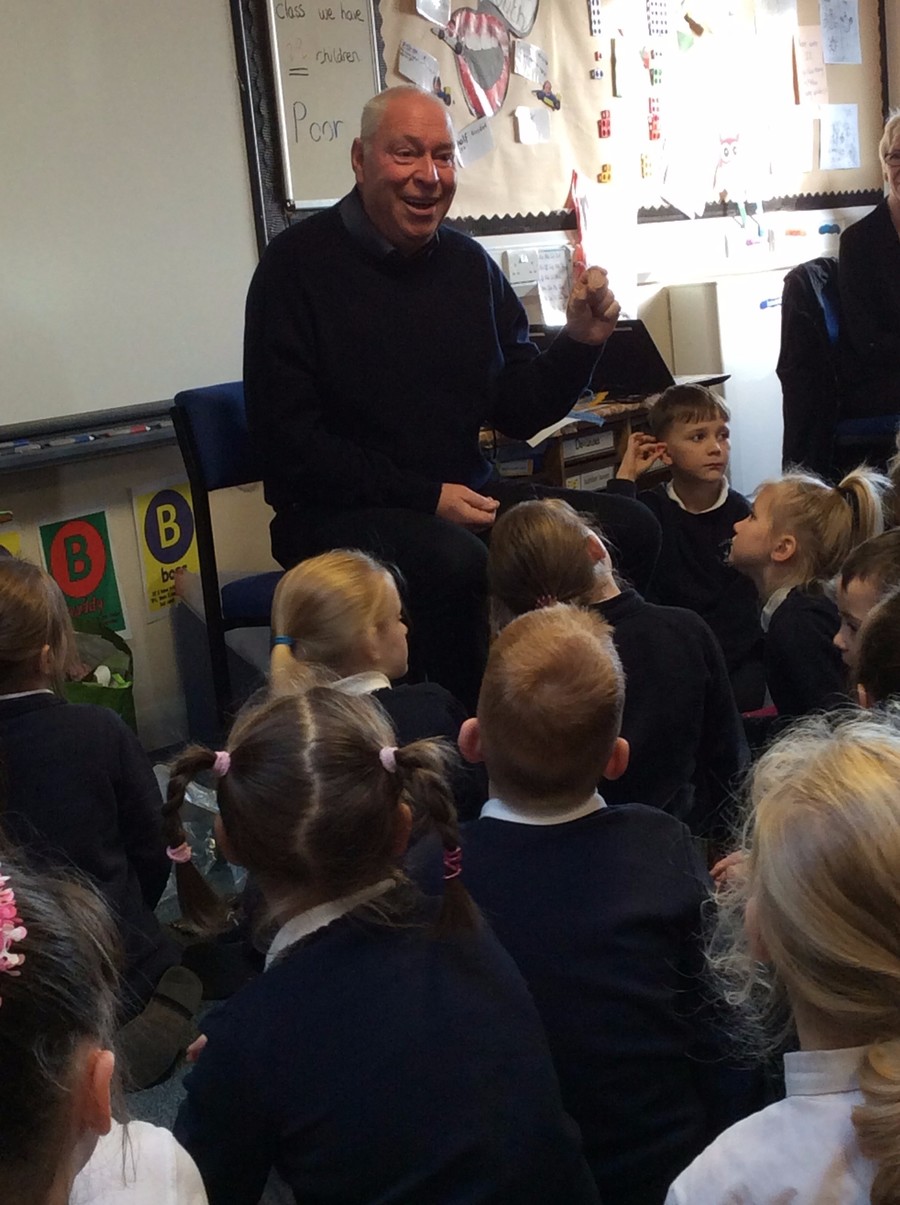 Teacher's Blog; Week 2

Another brilliant week in Year 2. This week the children have been learning all about poetry and even created our own limerick about Morley!

There was a young lad from Morley,

who felt incredibly poorly,

he bought some cheese

made friends with bees

and even ate a story.

By 2ER

F

ollowing on from our 'Step back in time' topic, the children have started looking at the history of music. This week both classes experimented with a range of musical instruments and explored how we can make different sounds. This was a very noisy afternoon in Year 2! Just a reminder if you would like to come into Year 2 to help with our Step back in time topic, please come and speak to Miss Ropson or Miss Smith. The children were very excited this week as we had a snowy day on Wednesday. We used this day to create interesting sentences with lots of describing words.

In Maths the children have been busy trying to beat their scores in our Big Maths tests and when recalling our number bonds. Well done Year 2!
Teacher's Blog Autumn 2: Week 1
The children have had a great week back starting our new topic 'Step back in time'. On Monday the children completed a treasure hunt around the school grounds and had the opportunity to be Archaeologists for the morning. The children discovered some old artefacts and had many questions about what they had found. In History we looked at even more old artefacts such as; a washing dolly, money, a hot water bottle, a carpet beater and even a flat iron!
In English this week we have focused on poetry, looking closely at a well-known poem by Edward Lear. Can you ask your child what the poem was called? The children were fantastic are reciting the poems and improvising speech with actions. We have found some great actors in Year 2!
Have a lovely bonfire weekend, wrap up warm and keep safe!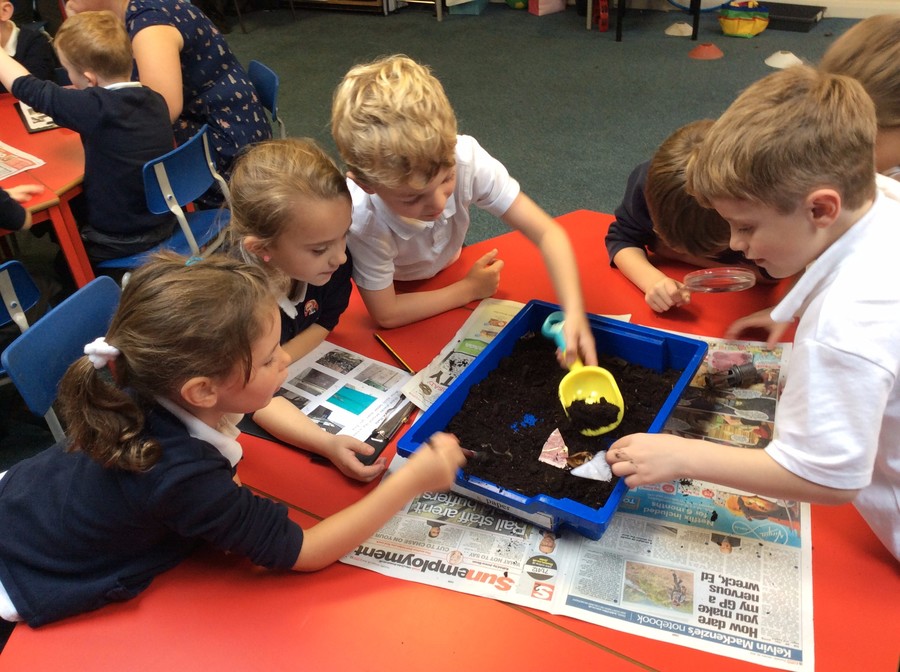 Teacher's Blog: Week 7
Wow! We are at the end of our first half term in Year 2 already, can you believe it? 7 weeks in and the children have already achieved so much, Miss Smith and I are incredibly proud of them. This week alone we have had parents evening, 2ER's class assembly and the Year 2 football tournament. We were so proud to see the children take part in the football tournament, they all played fantastic even though we were faced with lots of rain! The children were even happier when the sports coaches announced that we were the winners!
Unfortunately this week 2RS had to bid farewell to one of their goldfish, Dynamite the 1st. As a year group we were very sad to say goodbye, however Grace in 2RS saved the day and brought in Dynamite the 2nd.
2ER did brilliantly when they performed their class assembly to the whole school and their parents! The 2RS class assembly will take place in February. We hope you all have a lovely half term.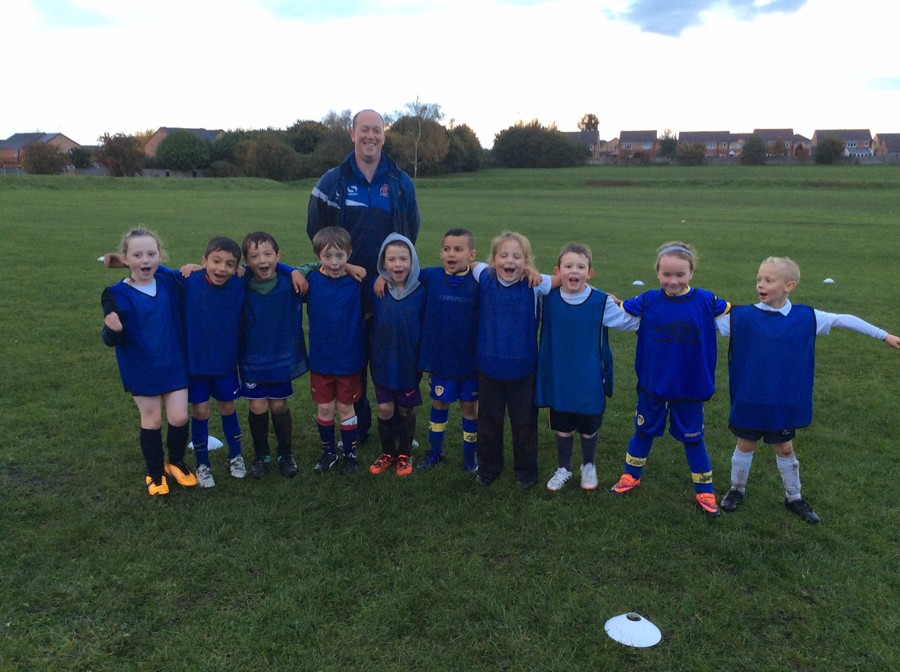 Teacher's Blog: Week 6
Wow, what a busy week we have had in Year 2. This week the whole school performed in our Harvest Assembly, Year 2 sang brilliantly and remembered all the actions too! Class 2ER also won the P.E class of the week trophy, well done 2ER. In Maths we have continued with our measuring and estimating skills using decimetre strips. The children had fun whilst estimating their heights and ordering themselves form the shortest to the tallest. In English the children have been discussing information texts and have used the computers this week to research their own animal. In dance this the children have continued to move like Mini-beasts to Jungle themed music. Remember it is parents evening next week, if you have not received a time confirmation slip, please speak to a member of the Year 2 team.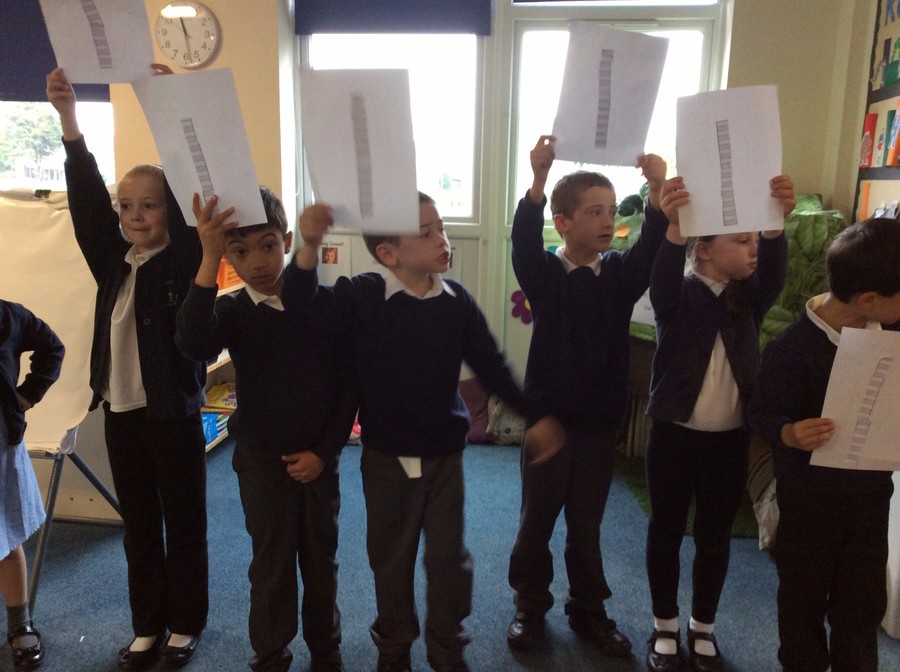 Teacher's Blog: Week 5
This week in Year 2 we have looked at two stories by the author Emily Gravett. We made links between these and or own pets, discussing characteristics and appearances of animals. In Maths we have covered money and time, the children have enjoyed using money in a practical context.
Linking to our Topic 'I'm Alive' we have learnt about the artist Henry Matisse, who is well known for his montage and still life artwork. In each class we set up our very own still life using natural things that were once alive, and the children drew what they saw. We looked closely at the shape, lines and tried to use shading in our drawings.